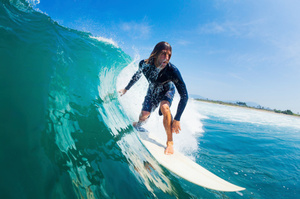 FULL THROTTLE SURF: You don't really expect to surf on a calm lake. Unless, that is, your surfboard includes a two-stroke engine, as the 15 Kg JetSurf board does. Its 100 cc engine can boost you to around 55 kph. Epic.
CLING SKIN: Imagine cling film with embedded electronics. Then imagine it ten times thinner. That's what one researcher at the University of Tokyo has come up with. To make the material thin-film transistors are printed on plastic film at room temperature. The e-skin can be stretched, folded or even crumpled like paper but most important it clings to human skin and flexes with it. The material could be used for health monitoring or perhaps as a skin for prosthetics or robots. The new morning check: wallet, keys, skin.
A FRACTION MORE FRICTION: The Bike Dynamo Charger takes energy from your bike's rear wheel to power up gadgets while you ride.
The device clamps to the seat stem and outputs standard 5V USB power through an included cable. You'll need to keep the speed up though to at least 12 Kph. It may just keep the GPS app from draining the phone's battery while you ride.
JUST AVOID WATER: The wing mirrors on your car are invaluable for seeing what's behind you on the road. Except when it's raining of course, and the mirrors are covered in raindrops. The Flexible PVC Car Side Mirror Rain Shade does what it suggests: it clips on to the wing mirror and helps keep the rain off. It's a simple solution really.
JUST ADD WATER: With cholera comes dehydration: easily handled with an IV bag. But while the bags themselves are cheap, the liquid in them makes shipping difficult and expensive. The Maji IV bag is designed to ship empty and use Forward Osmosis to fill with sterile water. An FO membrane draws water molecules from any water source, then uses ultrafiltration to achieve clean, sterile water. Combined with salt, the sterile water becomes a saline solution suitable for use as an IV bag. Medical workers could deliver many such empty bags on a motorcycle or even on foot, where filled bags would be impossible to carry in quantity. That's good thinking.
Miraz Jordan, knowit.co.nz