PM gives clear message that New Zealand is positioned as a partner to Asia in producing high-quality foods.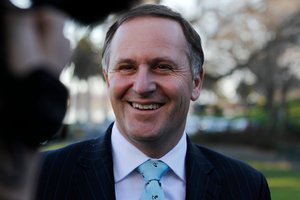 Kiwi business people will have to be smart. Australia, for instance, is now facing strong competition in the hard commodities space from Africa. John Key has become notably more bullish on the long-term outlook for the soft commodities that New Zealand excels in (aka food) as he prepares for his formal meeting with Chinese premier Li Keqiang.
Key's bullishness owes a great deal to his good fortune in being placed next to one of the most powerful of China's new Cabinet Ministers - Xu Shaoshi - at the luncheon President Xi Jinping hosted at the Boao forum for Asian business and government this week.
"Xu is like Gabs Makhlouf and David Smol rolled into one", Key enthused to subsequent business audiences in China as his official visit wended its way from Guangzhou and Shanghai up to Beijing, where the formal meeting will take place at the Great Hall of the People.
Kiwi business people travelling with the Prime Minister's delegation will get the analogy.
Makhlouf heads the NZ Treasury and Smol runs the Ministry of Business, Innovation and Employment. But it was lost on Chinese business people.
The New Zealand pair's combined power is much less than that waged by Xu, the recently appointed chairman of China's National Development and Reform Commission (NDRC).
The NDRC is China's top economic planning agency. Insiders have nick-named it the "mini-state council" given the immense power it wields and the ability of the commission to pull economic levers, direct investment and exert controls over the bustling Chinese market.
The intelligence Xu related to Key over the luncheon is of immense strategic value and will assist the Prime Minister with his positioning. Key let drop that the NDRC expects the major infrastructural investment phase to be completed by about 2025, flattening out between 2025 and 2035 then declining.
The upshot is that China's demand for hard commodities like the iron ore that Australia exports will also drop off over-time. Whereas New Zealand - which predominantly focuses on soft commodities like food production - is well-placed to supply high-quality proteins to China's growing middle classes, and be a player as China develops its domestic agri-business.
Key's second insight via Xu is that irrespective of China's enticing metrics - at Boao, Xi talked about 400 million Chinese tourists going into the world within the next five years and China's imports reaching US$10 trillion ($11.77 trillion) and outbound investment of US$500 billion in the same period - New Zealand business people need to be aware that many competitors from other nations are also focused on the opportunities.
Kiwi business people will have to be smart. Australia, for instance, is now facing strong competition in the hard commodities space from Africa.
Nothing is left to chance in high-level Chinese forums - particularly a political leaders' lunch hosted by the President.
Key was also flanked by Li Zhanshu, Director of the Communist Party Central Committee's General Office, later described by Key as Xi's chief of staff. Both men were also present at Key's pivotal meeting with the new President.
One area that had bothered Key was the fact that Australia has stolen a march on New Zealand when it comes to moving to direct convertibility of its currency against the Chinese yuan.
On his way to Boao, he read a NZ Treasury briefing, talked with his luncheon partners about the potential for New Zealand to follow Australia, then directly put it to Xi that New Zealand wanted to go down the same path.
Key relates that Xi then looked to Xu for affirmation. The nod was given. The upshot is that officials from both sides have been directed to take the proposal forward.
It probably does make sense for New Zealand to follow in Australia's footsteps on this one. The People's Bank of China had granted licences to Westpac and ANZ to be market makers in the direct trade.
ANZ chief executive Mike Smith was quoted by Australian media as saying the market was "likely to eventually run into billions of dollars when working capital requirements were taken into account".
The deal essentially means Australian businesses will not have to buy US dollars to settle Chinese transactions. The US and Japan also have direct convertibility for their currencies. It will cut the cost of doing business and reduce hedging risks.
There are two factors which will bear on the market development: the first is building liquidity, which will take time; the second is the fact that the global commodity trade - commodities are a large part of both New Zealand's and Australia's export profile with China - is still denominated in US dollars.
This will not change any time soon. But direct convertibility will be a plus for Australasian service exporters.
Then there is the strategic element. China has established an offshore Renminbi (RMB) centre in Hong Kong. It has also been waging a campaign for the RMB to be a "reserve currency".
ANZ's David Green notes that having the ability to transact in RMB is already providing a competitive advantage for New Zealand companies, making it easier to do business with them and often leading to better price outcomes.
"It's a natural step for the NZ dollar to also have direct covertibility to the RMB in time too, given the growing volume of two-way trade with China, and the increasing move for that trade to be denominated in RMB rather US dollars."
Li-Gang Liu, ANZ's chief economist (Greater China Economic Research), predicts by 2015 the RMB will be traded globally and by 2020 could be a reserve currency.
Yesterday, Julia Gillard clinched a deal for an annual bilateral meeting between the Chinese premier and the Australian prime minister, declared she wanted a more broadly based relationship with Australia and said Australia was open to stronger defence co-operation.
Key's visit does not have middle-power pretension. He read the signals well in Boao, by presenting a direct message to Xi that New Zealand was positioned as a "partner to Asia" in producing high-quality foods (both within and outside New Zealand) and also welcomed Chinese investment to increase high-value exports.
Unlike the tortuous rambles by some other leaders, Key was clear and unambiguous. The President's officials later reflected Xi felt Key's address was "one of the best". Today, Key will seek to capitalise on the careful preparation. It's been a good start.