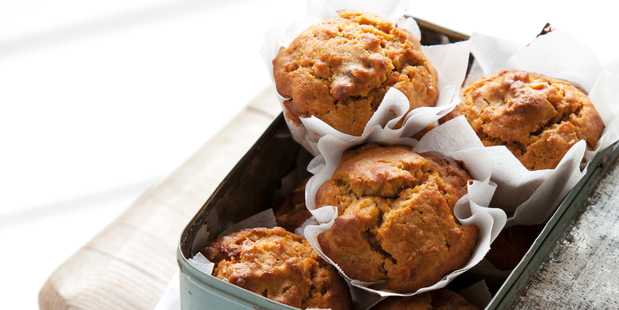 These muffins are a zesty treat. Photo / Annabel Langbein Media
• 3 eggs
• 1 cup neutral oil
• ½ cup honey
• ½ cup soft brown sugar
• 1 tsp vanilla extract
• 2 carrots, peeled and grated
• 2 cups flour
• 2 tsp baking soda
• 2 tsp cinnamon
• Finely grated zest of 1 orange
• ½ tsp salt
• ¼ cup desiccated coconut
• 1 cup chopped walnuts


1. Preheat oven to 180C and line 15 muffin tins with squares of baking paper.
2. Beat eggs, oil, honey, sugar and vanilla until evenly combined. Mix in carrots. Stir in flour, soda, cinnamon, orange zest and salt to just combine, then stir in coconut and walnuts (do not over-mix).
3. Spoon into prepared muffin tins to fill. Bake until springy to the touch (25-30 minutes).
Recipe extracted from Annabel's summer annual Annabel Langbein: A Free Range Life (Annabel Langbein Media, $19.95). For more great Annabel Langbein recipes see annabel-langbein.com.