Grant Allen finds old friends and new dishes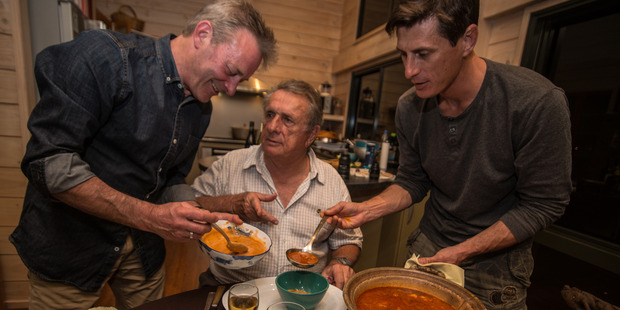 On a recent trip to New Caledonia, photographer Jason Burgess and I went on a mission to find food stories and I got the chance to catch up with Gabriel Levionnois.
It is always a bonus to have some local contacts when you go places and it's always great to see old friends.
Gabriel took time out from his restaurateur's life to introduce us to people and show us places off the beaten track, people and places that we would have never found by ourselves.
Gabriel is pretty well-known in Noumea because of his very popular restaurant Au p'tit Cafe and it was hard to go anywhere without a passing wave and chat.
We got to meet food suppliers, growers and marketers and shown some of the island's least-known spots.
Apart from his restaurant and his developing country patch - a free-ranging paradise for goats, sheep, pigs, game birds and their feathered friends - Gabriel is very much a man of the sea.
At a moment's notice he will be off diving for fish, lobsters and scallops.
I've eaten lots of Gabriel's food in his restaurant and at his place and it's always innovative and ingredient-focused.
He brings his classic French training and mixes it up with New Caledonia's indigenous produce and Kanak cooking. His food changes all the time. His restaurant will feature on its blackboard menu the freshest and most seasonal supplies, worked into imaginative offers.
He cooks in a free-styling manner, using what is on hand and building the dish on the way which is just the way I like to cook.
We had fun going to the market and cooking together, but that's another story.
One of the highlights of our few days there was being invited to his father's place for dinner. Normandy-born, Francois Levionnois is a delight to meet. Hospitable, warm and charming, he welcomed us to his table.
He lives in a Lockwood house he sourced from New Zealand, filled with marine memorabilia and artifacts, a reflection of his full and very active life. It sits right on the water and after a few minutes it was very clear where Gabriel's affinity to water comes from.
Francois holds a French record for catching New Caledonia's biggest lobster, attested to by a grainy published photo taken some 30 years ago.
Just that morning he'd been diving, so he had a bounty of scallops to cook us for dinner.
He had already made a fantastic bouillabaisse-style dish for our main and Gabriel joined forces with him in the kitchen to make the starter.
Gabriel had picked up a few ingredients from the restaurant kitchen for dessert and, joined by two of their friends, we sat down to a wonderful dinner.
It was such an excellent night, great food, a lot of laughter and high spirits, incredible hospitality, and way too much wine.
We left with a gift of shells that Francois had collected on his travels, lots of photos and a lovely snapshot of life in Noumea.
I did my best to keep track of the recipes and I think I have captured their essence.
These would make great summer seafood eating, a perfect way to show off your catch.


Recipes
• Gabriel's Scallops
• Francois' Normandy-style Bouillabaisse
• Rouille
• Gabriel's Dessert


Au p'tit Cafe: Gabriel Levionnois will be visiting Auckland next week. On November 6 he's teaching a class at Gourmet A Gogo's cook school. Visit gourmetagogo.co.nz for details.
Grant and Jason travelled to New Caledonia on Aircalin and stayed at Le Meridien Hotel, courtesy of New Caledonia Tourism NZ.