Leisha Jones her sister Renae opened gourmet takeaway and eatery Honeytrap in St Kevin's Arcade earlier this year. Leisha shares their story and some of their favourite recipes with Living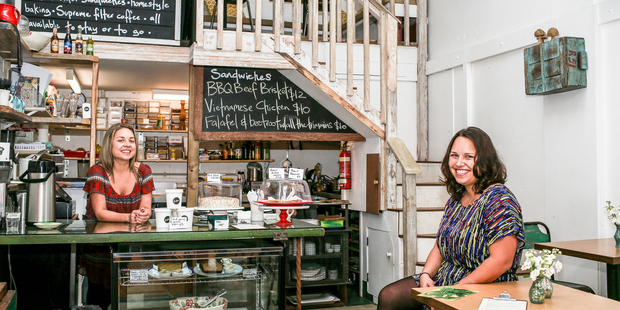 I wish I could say that as little girls my sister Renae and I were standing on stools mixing big bowls of cookie dough, or making breakfast in bed for our mum, but quite the opposite is true. Renae, older than me by two years, has always been a natural in the kitchen. She mastered white sauce at a very young age to pour over tuna mornay, her signature dish at the time, while I watched with frustration, attempting complex recipes like brioche before I could even fry an egg.
But as we grew up, working in hospitality while we studied, somewhere along the way I found confidence in the kitchen and we started cooking together. We now read cookbooks at the beach, spend whole Sundays lying on the couch watching cooking shows, have hosted more dinner parties than I can remember, and have travelled the world together, always with a focus of where and what to eat. Our home kitchen is our happy place. It's where we relax, catch up, listen to music, and hang out.
So when we both moved home to Auckland last year, Renae from Sydney, and me from Berlin, we did so with the intention of taking something we loved and making it our business.
Renae left her job as a primary school teacher and I mine as a journalist, and we took a bit of a risk, hoping that the old adage "Do something you love and you'll never work another day in your life" was true.
From the early days, before it even had a name, Honeytrap has been a real family show.
Our friend Olly spent the summer renovating the space, stripping it back to its barest form; his brother did our graphic design; our crafty friends made our table tops and upholstered our furniture; every tradesman we used we knew personally; and even our chef, George McNaughton, is my best friend Johanna's brother. As a result, Honeytrap has a very homely vibe. It's filled with bits and pieces we salvaged from all over the place, mixed with personal items of our own - kind of like an extension of our own home and kitchen.
We change the menu often according to our whims and the seasons. It's not uncommon for George to say to us, "I've been thinking of making ..." He'll spend the next couple of days playing around with it and then it might go on the menu.
In the end, we all have a say, but George is the one who executes it perfectly every time. We couldn't do it without him. Yes, Renae and I can cook, but I prefer to do so with a glass of wine in my hand, and I don't know if that's a good look when there is a queue of hungry workers out the door.
All of us are a little bit food-obsessed, eating out all the time and reading a lot about food, so we are overly critical of ourselves and put a lot of thought and care into everything we do. Although our small menu has influences from all our favourite places around the world, a lot of American dishes keep popping up. I guess we have a tendency to lean towards that comforting, delicious, homely, sort of soul food, because it makes you feel good. And for us, that is what food is all about.


Recipes
• Beetroot soup
• Vietnamese chicken sandwich
• Bacon-Cheddar Zucchini Bread
• Red Velvet cake


Honeytrap, Shop 22, St Kevin's Arcade, 183 Karangahape Rd, Auckland, ph (09) 550 5332. Currently open Tuesday-Saturday 11am-6pm, Honeytrap will soon be open Thursday, Friday and Saturday evenings until 10pm.