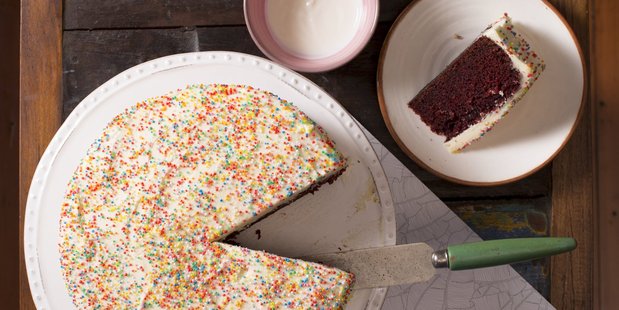 Serves 12
Although it is quite simple, this cake is our best- seller. I'm convinced it is because of its colour and the fact that we sprinkle it with hundreds and thousands.
• 2 cups plain flour
• 1 tsp baking soda
• 1 tsp baking powder
• 2 Tbsp unsweetened cocoa powder
• 1 tsp salt
• 2 cups sugar
• 1 cup vegetable oil
• 2 eggs
• 1 cup buttermilk
• 2 tsp vanilla extract
• 6-12 tsp red food colouring
• ½ cup of prepared plain hot coffee
• 1 tsp of white vinegar
For the icing
• 60g cream cheese, softened
• 30g butter, softened
• ½ tsp vanilla essence
• ¾ cup icing sugar


1. Preheat oven to 180C. In a medium bowl, whisk together flour, baking soda, baking powder, cocoa powder and salt. Set aside.
2. In a large bowl, combine the sugar and vegetable oil.
Mix in the eggs, buttermilk, vanilla and red food colouring until combined. Stir in the coffee and white vinegar.
3. Combine the wet ingredients with the dry ingredients a little at time, mixing after each addition, just until combined.
4. Generously grease and line a 9-inch cake pan. Pour the batter evenly into the pan.
5. Bake in the middle rack for one hour or until a toothpick comes out clean. Do not over-bake as cake will continue to cook as it cools. Remove the cake from the pan and let it cool.
6. For the icing, place cream cheese, butter and vanilla in an electric mixer and beat until pale. Gradually add icing sugar, beating until combined.
7. Ice cake with cream cheese frosting and sprinkle with hundreds and thousands.