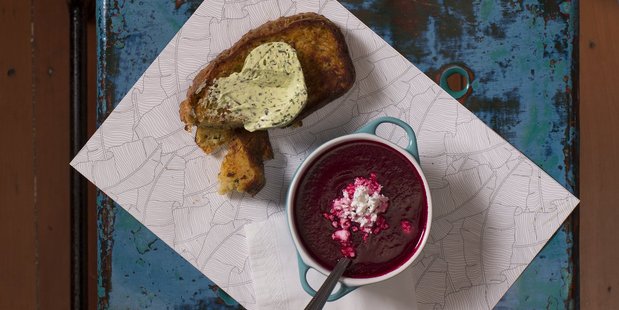 Serves 4
• 1 kilo beetroot
• 1 large onion, roughly chopped
• 1 large carrot, roughly chopped
• 3 cloves garlic peeled
• 1 litre vegetable or chicken stock


1. In a bowl lightly oil and heavily season beetroot. Wrap individually in tin foil and bake for an hour or until a skewer slides through the largest beetroot easily.
2. At the same time, roast the onion, carrot and garlic along with oil for half an hour, stirring once or twice during cooking time.
3. When they are cool enough to handle, put some gloves on (beetroot stains) then peel and roughly chop the beetroot.
4. Put all the vegetables in a large pot with the stock.
5. Puree with a stick blender, or puree in smaller batches in a normal blender. It will take a while to become smooth, but it's worth it. If it is becoming too thick add more water or stock to achieve desired consistency.
6. Return to the stovetop and bring it up to a simmer and season with salt, pepper and a little brown sugar*.
Serve topped with crumbled feta.
* Only add sugar if your beetroot isn't sweet enough, good beetroot shouldn't need any sugar.