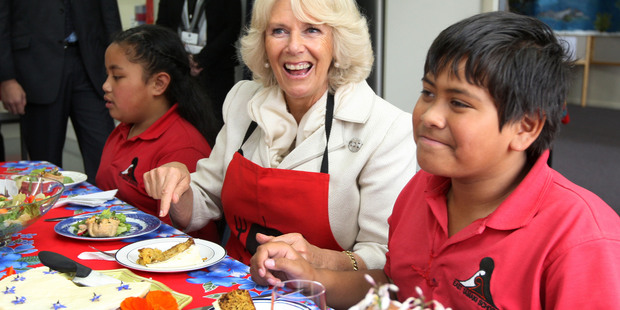 One of East Tamaki School's highlights last year was a visit from Prince Charles and The Duchess of Cornwall. Camilla was served this cake. Recipe sourced and adapted from Gretta Anna Recipes by Gretta Anna Teplitzky, Australia.
• 1 cup grated carrots
• 227g can crushed pineapple
• 1 cup plain flour
• 1 tsp baking powder
• ¾ tsp baking soda
• ½ tsp salt
• ½ tsp cinnamon
• ¾ cup sugar
• 2 eggs
• 5 tbsp oil
• ¼ cup chopped walnuts
Cream cheese icing
3 tbsp butter
3 tbsp cream cheese
½ tsp vanilla
250g icing sugar
Method
1. Preheat the oven to 175C.
2. Drain the juice from the can of crushed pineapple.
3. In a large bowl sieve the plain flour, baking powder, baking soda, salt and cinnamon together. Mix in the sugar.
4. Add the eggs and oil.
5. Mix very well.
6. Stir in the grated carrots, crushed pineapple and walnuts.
7. Pour the mixture into a greased cake tin.
8. Bake in a moderate oven 175C for 35 to 40 minutes.
9. Remove the cake from the cake tin and cool on a cake rack.
Cream cheese icing
1. Place all the ingredients into a medium-size bowl and beat very well with a spatula. If too thick, add a small amount of milk to give a smooth consistency.
2. Smooth a layer of topping over the cake and decorate (the school used lovely blue borage flowers).