Indulgent treats for days when only dessert will do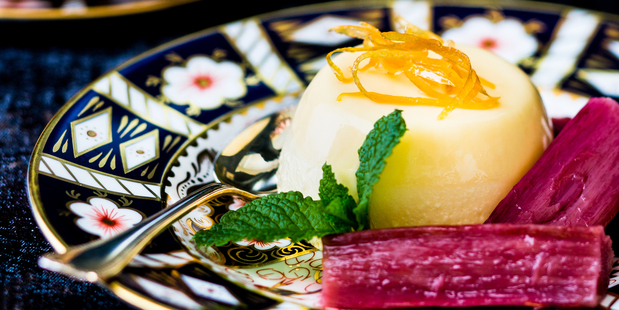 Makes 6
• 200ml milk
• 3 tsp lemon zest
• 2 stalks fresh thyme
• 4 egg yolks (keep the whites for the langues-de-chat)
• 150g caster sugar
• 2 gelatine leaves or 2 tsp powdered gelatine
• ½ cup lemon juice
• 1 cup cream, whipped
• 1 cup sugar
• 2 cups water
• 1 star anise
• 4 sticks rhubarb, cut into 4cm pieces
Langues-de-chat
Makes 20
• 50g butter, softened
• 65g caster sugar
• ½ tsp vanilla
• 4 egg whites
• 100g flour


1. Lightly oil 6 x 120ml moulds
2. Place the milk, lemon zest and thyme in a pot and slowly bring to the boil. Remove from the heat and discard the thyme.
3. Whisk the egg yolks and sugar until pale. Slowly add the hot milk mixture and combine well.
4. Return to the saucepan and stir continuously over a low heat until the mixture coats the back of your spoon.
5. Soften the gelatine in cold water, then squeeze it out and stir into the custard. Strain into the bowl of an electric beater, then beat until cool. Slowly pour in the lemon juice, then fold in the whipped cream.
6. Spoon the mixture into your moulds, cover and refrigerate overnight.
7. To make the poached rhubarb, place the sugar, water and star anise in a pot, and bring to a simmer, stirring to dissolve the sugar. Add the rhubarb and cook gently for 8 minutes. Remove from the heat and leave to cool.
8. To make the langues-de-chat, preheat the oven to 200°C. Beat the butter, sugar and vanilla until light, then add the egg whites and beat thoroughly. Fold in the flour. Pipe 4-5cm-long amounts of mixture on to a tray lined with baking paper, leaving a 2cm gap between each biscuit. Bake for 5-8 minutes, until golden around the edges. Remove and cool on a rack.
9. To serve, dip the bavarois moulds into hot water for a few seconds, then invert on to plates. Serve with a couple of pieces of rhubarb and langues-de-chat on the side.
- VIVA