Watch out, world, chenin blanc is poised to take its place in the spotlight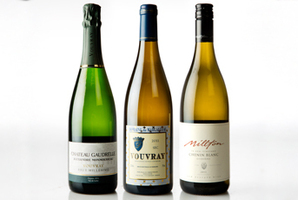 It's a wine of taffeta, well woven and of good yarn," said the French Renaissance writer and epicure Francois Rabelais of the charms of a chenin blanc. It's one of the most thrilling white grape varieties, yet is too often overlooked, certainly here in New Zealand, despite the fact local winemakers have shown we can make stunning examples.
Chenin made its name in France's Loire Valley. There it shows its many faces, from the dry, minerally and sometime austere savennieres, to almost every style imaginable - sparkling through sweet in vouvray and the rich dessert wines of the Coteaux du Layon.
Unlike its fellow Loire white, sauvignon blanc, here in New Zealand chenin blanc has remained largely below the radar, though it's been grown in our vineyards for decades. In the early days, it would be rare to see chenin on a wine label, given it was used as a workhorse grape, with much being blended with muller-thurgau and ending up in cask wines. However, an indication of the quality the grape could achieve in this country was offered by the likes of Collards in the 80s, with the baton then taken up by Millton Vineyard.
"I love the fact that [chenin] produces a discrete fruit complexity of apple, both green and red, and onwards towards pear, then quince, and then towards the floral notes of acacia flowers and honeysuckle," enthuses James Millton. "Then in conditions like 2013, she gives honey, beeswax and a subtle spice, quite similar to cardamom, and around all this is an ever-developing character of almond."
Millton has just released one of the most impressive locally produced chenins to date, the "La Bas" from the estate's top Clos de Ste Anne vineyard. This joins an array of other seriously good local examples of the variety from Millton and the likes of Esk Valley, Pyramid Valley, Forrest, Margrain and, most recently, Astrolabe.
"I love the structure and flavour, as well as the versatility," says Astrolabe's Simon Waghorn, who has recently started making chenin for his label. "Chenin has the bottle-ageing ability of riesling, but tends to edge riesling in the array of successful style variations that are possible. And it goes very well with all the seafood and fresh cuisine we like to eat."
Though chenin has been in decline in our vineyards over the past decade, now accounting for less than 0.2 per cent of land under vine, in Waipara, Black Estate has recently planted the variety.
"We were interested in looking at other varieties and tried to find those we enjoy drinking and that would be appropriate to our sites," explains the vineyard's Nicholas Brown of their decision. "We have also been able to source high-quality plant material with a number of new clones."
With plantings spread across the country, chenin is suited to more regions than sauvignon blanc. Even in warmer climates the variety has the ability to retain is trademark crispness, which explains why it's the most widely planted grape in South Africa. Known locally as steen, its new wave of examples are starting to illustrate the heights that chenin can scale beyond its French home territory.
"In my view, chenin is a much better and more suitable variety than many currently becoming fashionable, but there appears to be a general lack of awareness among consumers of how good it can be - or perhaps Spanish, Italian and Austrian provenance is more trendy?" laments Waghorn.
However, he adds, "Everyone in the trade around the world is positive about it, and I sense a renaissance is looming. We just need to tell the story - maybe a chenin roadshow is called for?"
I'd certainly be up for attending, as the thought of a total immersion in the wines from such a diverse and delicious variety has huge appeal. In the meantime, I advise you try some of the exciting examples currently available, from here and from its heartland.


Recommended
Chateau Gaudrelle Alexandre Monmousseau Vouvray Brut Millesime 2009 - $25
An effervescent chenin with crisp, concentrated apple and lemon fruit, and undertones of almond/marzipan. (From wineimporter.co.nz)
Domaine du Margalleau Vouvray Sec 2011 - $30
There's an attractive intensity to this dry vouvray, which has notes of smoke, flint, honey, fleshy peach and citrus. (From Wine Circle, Blanc.)
Millton Te Arai Vineyard Chenin Blanc 2011 - $28
Notes of jasmine infuse the palate of this great local example, joined by nuances of pear, nut, mineral and zesty citrus. (From Glengarry, Caro's, Fine Wine Delivery Company, Village Winery, Scenic Cellars, Advintage.)


- VIVA