Thousands left homeless in Queensland and New South Wales as more high tides threaten.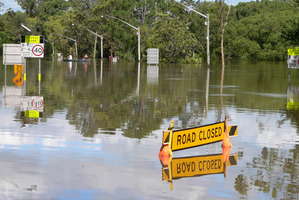 Anne Bolland wept yesterday as swirling brown floodwaters advanced on her home in the low-lying Brisbane suburb of Milton.
After her house was inundated two years ago, she had to renovate it from top to bottom. Now she faced a repetition of that nightmare.
"When I first heard the news, I cried and then had a panic attack and got the suitcases out," she said.
While the Brisbane River peaked lower than expected, sparing Bolland and other Milton residents, they face more high tides later this week.
Meanwhile, a 3-year-old boy hit by a falling tree in Brisbane became the fourth victim of this year's Queensland floods, and in Bundaberg, the city worst hit, military aircraft evacuated 130 patients from the hospital and scanned the rooftops for stranded locals.
About 7500 people have been displaced and up to 2000 properties flooded in Bundaberg, a sugar-producing town north of Brisbane. With the Burnett River at record levels, and amid fears that houses could be swept off their piles by raging waters, authorities have forced 1000 residents to leave, on top of those who went voluntarily.
In Grafton, in northern New South Wales, 2500 people were ordered out of their homes yesterday as the Clarence River peaked at a record 8.08m.
In Rockhampton, Queensland, which was badly affected by the 2011 floods, locals were warned to prepare for the Fitzroy River to peak at 8.35m this weekend. Supermarkets reported panic buying.
Ten homes have already been inundated in nearby Bajool.
Margaret Strelow, the Rockhampton mayor, told the ABC: "People have lost everything - fridges, washing machines. There are families living in the railway station at the moment. They had broken in because it's high ground."
Daryl King, a Bajool resident, said neighbours were helping each other to salvage what they could.
Ipswich, west of Brisbane, has also been hard hit by the floods, caused by heavy rain following tropical Cyclone Oswald. But the town, which also suffered two years ago, escaped predicted widespread damage, with about 50 properties - not thousands - affected, according to Deputy Prime Minister Wayne Swan, who visited yesterday.
Weary locals had begun leaving on Monday.
Lynette Kunst told Fairfax Media her family spent most of last year living in a shed while they repaired their home, which was flooded in 2011.
"I just had my nice kitchen put in," she said, adding: "Oh well, at least we got everything out this time."
Two years ago, with less than an hour's warning, they left with only their pets and valuables.
Swan said it was heartening to see the "mud army" - the people who helped clean up across Queensland two years ago - out in force in Ipswich.
"I think that's what ... the world admires about Australia: our capacity to pull together in a time of threat."
Yesterday 100 defence personnel were sent to Bundaberg, where four Black Hawk helicopters and two Hercules C-17 planes have been carrying out rescues and evacuations. Hundreds of people were plucked from rooftops on Monday, and about 2000 spent the night in evacuation centres.
Queensland Premier Campbell Newman said the "roar of the water" was frightening. "You see a lot of locations where there are literally ... rapids. There's white water out there, so it's very dangerous."