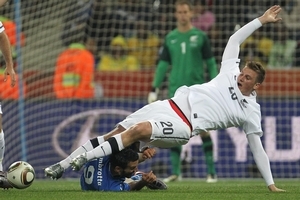 New Zealand football's future looks bright with a host of All Whites-eligible teens at professional clubs. We take a look at those who might play at the next World Cup.
MICHAEL BUILT
Northampton Town, England
Built was already on Northampton's radar before last year's Under-17 World Cup and strong performances in Nigeria saw them offer Built a two-year contract. The 17-year-old is a traditional winger who likes to run at players, which means he could enjoy a successful career in England, where they like direct wingers.
JAMIE DORIS
Hibernian, Scotland
Doris is halfway through a two-year contract with Premier League outfit Hibernian. The 17-year-old central midfielder is another who impressed at last year's Under-17 World Cup. His hard-working style should suit the Scottish game. When he first went to the club, he was asked by the trainers to quietly refrain from continuing the beep test because he was embarrassing the first-teamers.
JAKE GLEESON
Portland Timbers, United States
Gleeson impressed at the 2007 Under-17 World Cup, landing trials with Manchester United and Everton, but his career stalled after that. He played for Team Wellington and Western Suburbs but was recently picked up by Portland, coached by former All White Gavin Wilkinson. Gleeson is playing under-23s this year in the second-tier USL competition. But with Portland becoming a fully-fledged MLS club next season, there's a chance he could play in the US top flight.
SAM HEENAN
Rhyl, Wales
Heenan joined Rhyl from the Shrewsbury youth squad in 2008 and can play across midfield. He played five games in the Welsh Premier League last season. The 19-year-old was born in Papua New Guinea but also qualifies for New Zealand, where he played junior football for Central United.
MARIO HOFMANN
Kyoto Sanga, Japan
Hofmann is an attacking midfielder-striker who has been with Kyoto Sanga - the oldest club in the J-League - since 2006. He is another to come out of Wynton Rufer's Wynrs programme. Was in the under-17s in 2007.
CAMERON LINDSAY
Blackburn, England
One of the most exciting prospects, Lindsay has been at Blackburn for two years and recently signed a two-year professional contract with them. He is versatile; at the Under-17 World Cup, he played just in behind the striker but also filled in at centre back, where he began his career. He also plays wide midfield at Blackburn and his speed and technical ability on the ball is impressive.
STEFAN MARINOVIC
SV Wehen Wiesbaden, Germany
Marinovic is an All Whites goalkeeper in the making. The 18-year-old is 1.91m tall, athletic and has a professional contract with SV Wehen Wiesbaden, who play in the German third division. It's more difficult for goalkeepers to pick up contracts, especially in a country like Germany well served by stoppers. The former New Zealand Schoolboys representative previously had trials with Everton, FC Zurich and Schalke 04 and is expected to be a key member of New Zealand's next under-20 team.
JAMES MUSA
Wellington Phoenix
The tall defender came to the attention of Phoenix assistant Jonathan Gould at last year's Napier under-19 tournament and spent six weeks training with the Phoenix. He was even called up by Herbert to boost numbers in training for the All Whites before their playoff victory against Bahrain and last month was signed as one of Wellington's three under-21 players. Born in Zimbabwe, he is primarily a centre back but can play anywhere along the backline and in central midfield.
MARCO ROJAS
Wellington Phoenix
Rojas' journey to the Phoenix was an interesting one. The 18-year-old winger won a Yellow Fever fans' scholarship and impressed Herbert so much, he landed a two-year contract. Rojas was just 17 and still at school when he made his Phoenix debut last year and played four games in the A-League. The Hamilton midfielder was another product of the Wynrs programme and had trials at Werder Bremen, Hannover 96 and Borussia Monchengladbach before joining the Phoenix.
LUKE ROWE
Birmingham City, England
Rowe is the latest to bite on the lure Herbert put out four years ago to find New Zealand-eligible players. The 18-year-old left back was born in Coventry but his father was born in New Zealand, making Rowe eligible for the All Whites. He's rated a promising talent at the Blues and recently signed professional terms with the club. Herbert tried to get him to Austria during New Zealand's build-up for the World Cup and it seems only a matter of time before he is called up.
CALEB RUFER
SV Wehen Wiesbaden, Germany
There are easier things in life than trying to emulate your father, especially when he happens to be Oceania Player of the Century and European cup winner Wynton Rufer. But it's not something Caleb has shied away from. Like his dad, the young Rufer is a striker and is trying to make it in Germany, where he was born. He grew up in the Wynrs bubble and trialled in Japan and Germany with Hanover 96, Borussia Monchengladbach and, of course, Werder Bremen before joining SV Wehen Wiesbaden.
NEKO VUJEVICH
Gold Coast, Australia
Born in Hamilton, this 18-year-old has double-dipped internationally. He played age-group football for New Zealand before joining the Australian Institute of Sport and then playing for Australia's under-17 and under-18 sides. He missed out on their under-20s and has committed to playing for New Zealand again. A strong centre back, Vujevich plays in the Australian youth league.
CHRIS WOOD
West Bromwich Albion, England
Wood has already played 12 times for the All Whites, including three appearances at the World Cup, and in 2009 became the fifth New Zealander to play in the English Premiership when he made his first team debut for West Brom against Portsmouth. The 18-year-old signed a new deal in December which ties him to West Brom until the end of 2012-13.
LUKE ADAMS
The 16-year-old centre back is expected to be signed by Birmingham City, given he was invited back for a second trial.
ANDREW MILNE
The 18-year-old striker was recently released by Rangers after two seasons with the Scottish giants.
MARK WITHERS
The 19-year-old striker spent the last two seasons with Northampton Town.