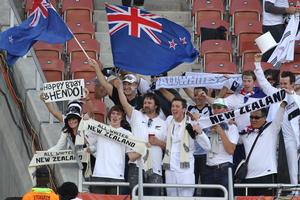 It's been a tournament of firsts. Not the least of which was my first man-love letter.
Well, what's the point in having Ivan Vicelich's email address if you only use it for work stuff? Nice bloke too. He was polite enough not to be embarrassed by my purple prose, but I don't think we're dating yet.
Still, if that's what it would have taken to get the All Whites into the second round ... ummm, what was I talking about again?
Oh yeah, sleeplessness.
Those 2am kick-offs have been murderous. With the prematch tension, I was lucky to doze before 11.30pm.
Then with the last-minute equaliser against the ex-commies and the endless, rearguard action against the preening eyeties, well, Mr Sandman gave me a miss altogether.
But that's what you have to expect when you sup too long on a cocktail of adrenaline, pride and low expectations. It's something peculiar to soccer. Perhaps it's the unpredictability.
All the same, my wallchart proved beyond any doubt how a series of backdoors and side alleys were going to get us as far as Brazil in the quarter-finals. Even my wildest dreams ran dry at that point.
But the fairy dust was nullified by a side who were too good and didn't need to take risks. If we could be said to have won our first two draws, then we lost the last one.
It was tense rather than exciting and by the final whistle we looked like the younger brother taking windmill swings at big brother while he kept us at bay with a hand to our forehead. It's just a shame we never thought to kick him in the shins ...
Oh well, I don't think my heart could take any more anyway. And I saw things I never dreamed of seeing in my lifetime. Finishing the World Cup unbeaten? Tell him he's dreaming!
All I'd wanted was for us not to get embarrassed, so what we got felt glorious.
Then there was the way we went about our work. That was the best of us on display for all to see, and the team did this country's image on the internatinal stage more good than two festivals of Lord of the Rings knock-offs.
Is there a more famous bank employee in the world right now than Andy Barron? Who didn't have a knot in their throat seeing Ryan Nelsen's dejection after the last match ... chin up mate, we're proud as punch.
And if nothing else there are a lot people in Slovakia, Italy and Paraguay who won't be thinking sheep when our name comes up, even if we may need to be cautious of Latin types toting violin cases and offers we can't refuse. We're better than Italy ... woohoo!
So, no, we weren't pretty, but by crickey we manned up, ran our guts out, and showed what heart, belief and tenacity can do ... sheesh, that crush still hasn't worn off.
But I do have one bleat, and that is the defensiveness from certain rugby types who don't seem to fathom what is happening. Just relax and breath through your mouths guys, you'll get the media back again next year.
As for the rest of us ... if you're feeling a little glum today, go and have lunch at a French or Italian restaurant. That should cheer you up no end.