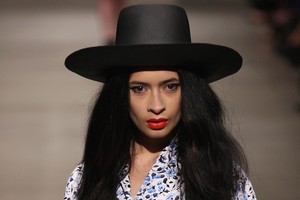 Designer Adrian Hailwood showed his latest autumn/winter collection to a full house at NZFW, one of the biggest crowds we've seen all day.
The collection, titled Catherine (after Hailwood's mother), featured a subdued palette of black, white and deep blues, with a subtle Spanish theme.
Stand outs included a beautiful bitsy blue and white floral print which came in beautiful cropped jackets with bell sleeves, silk jumpsuits with fringing along the legs, and Hailwood's signature Spanish Lady print on a sweet dress with simple silhouette with a double hemline.
Two dresses that closed the show - a sparkly black gown with vintage inspired beading, and a bold fringed dress - seemed somewhat out of place but added some drama; while an all black section of the show was a nice touch, including a dramatic black cape with pom pom edging.
OUR ONE-WORD REVIEW: Senorita!