Italian film star Sophia Loren christens luxury a cruise line with a face that could launch a thousand ships, writes Susan Buckland.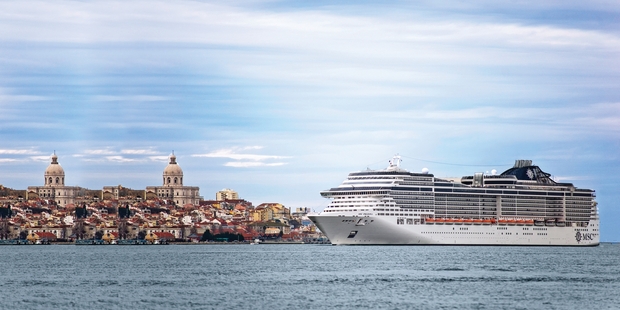 Looking magnificent in black velvet and much younger than her 78 years, Sophia Loren propelled a magnum of champagne across the bow of MSC Preziosa.
The face of Italy's famous film star could still launch a thousand ships but in this case she was concentrating on one - an 18 deck-high luxury liner.
MSC Preziosa is the newest member of the MSC Cruises fleet, and to celebrate her launch in March in her home port of Genoa, the Italian owners staged a glittering party on the dock with the fleet's glamorous godmother, Loren, crowning a line-up of top Italian and international performers.
Then it was back on board to begin Preziosa's maiden voyage around the Western Mediterranean via Naples, Messina, Tunis, Barcelona and Marseilles.
Stimulated by the prospect, I embarked on a walk-about of the ship. It began in a soaring atrium on stairs embedded with crystals. Loren's saucer-sized sunglasses would have come in handy on those dazzling stairs.
But there was a more pressing need - a map to guide the way around the floating colossus with its 21 bars and restaurants, four swimming pools, spa, gym, shopping mall, 120m-long water slide, children's playground, teen disco, Formula One simulator, bowling alley, 4D cinema, massive theatre and cabins to accommodate almost 4000 passengers.
A dapper steward came to the rescue: "Forward, aft, port, starboard," he beamed, his arms rapidly criss-crossing.
"And if you are looking for the Yacht Club it's up on the bow on the 16th deck."
The Yacht Club, he explained in reverential tones, is Preziosa's equivalent of first-class with its own lounge, restaurant, swimming pool, Jacuzzis and superior suites. It has a staircase that makes you feel like you are walking on diamonds.
So does the elegant central atrium, where there are also glass elevators floating up and down the sides the way they do in swanky hotels.
My cabin on Deck 13 didn't come with the Yacht Club's unlimited access to canapes, alcohol and personal butler service but more than fit the bill with its own balcony, en suite and television, desk, sofa table and huge comfortable bed.
As for access to food, all I had to do was walk up a deck to dip into an almost round-the-clock buffet. It was a popular option when the five-course dinners served at set hours were missed - usually because of catching a nap after a full-on shore trip.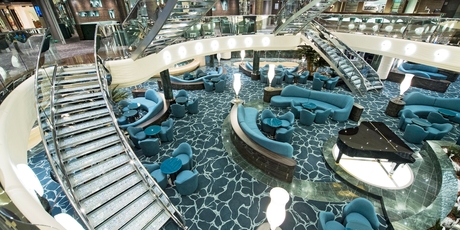 Pack your best suit, black tie and slinky dress because there are occasions to dress up. Halfway through a week's dining indulgence I had a nightmare about getting stuck in the ship's serpentine water slide. I enrolled the next day in Rumba classes and began taking the stairs between decks instead of the elevators.
However this burst of calorie-consciousness went out the port hole during lunch at Eataly. It is the first on-board member of a small group of haute cuisine Italian restaurants specialising in "slow food" dishes made by culinary experts from artisan-produced ingredients.
You pay extra to dine at Eataly and the adjacent Ristorante Italiano but it's worth every mouthful - and sip. I'm savouring the memory of the chemical-free blackcurrant- and cherry-flavoured wine from Piedmont, cured hams from Parma, cheese from Calabria, pesto from Genoa with Gragnano pasta from Campania, and handmade pistachio icecream that tasted as if it had come from heaven.
With trips ashore on all but one of the days of our cruise, and on-board recreational pursuits to fill every waking hour, it was a challenge sampling all on offer.
I never got to the spa to be pampered by the Balinese therapists, or to sink into a bubbling Jacuzzi, but did manage to get drenched by water cannons walking past the kids' playground. Because of the ship's dedicated children's areas and child-minders, the passengers included quite a few families.
Teens had their own disco, and even slouch couches for texting their friends.
Nights were active with musicians and dancing in bars and restaurants, shops open with half-price offers on brand-name products, punters in the casino and professional shows drawing packed houses in the ship's theatre.
On a big ship that feels like a small city it is good to be able to occasionally slope off.
My cabin, with its balcony for communing with the sea, was a sanctuary.
Other favourite retreats for watching wheeling birds and the sea melt into the horizon were the open upper decks.
We sailed from Tunisia to Spain under a cloudless sky. It was still early spring in the Northern Hemisphere but the temperature hovered around 21C and people were soaking up the sun and dipping in the pools.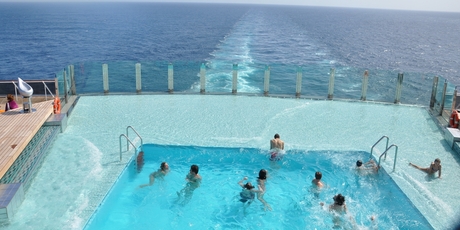 MSC Preziosa is a faithful ambassador of the warmth and hospitality of the Mediterranean, despite its melting-pot crew of 48 nationalities.
It belongs to a fleet that seems to be hitting the right spot.
MSC Cruises has grown to be one of the world's largest cruise companies.
CHECKLIST
Getting there: Emirates Airlines flies from Auckland to Milan's Malpensa Airport. Trains and buses depart from Malpensa and Milan Central Station for Genoa.
Cruise details: MSC Preziosa's seven-day cruises of the Western Mediterranean operate each year from March until autumn in the northern hemisphere.
Further information: See msccruises.com.
Susan Buckland travelled with assistance from MSC Cruises and Emirates Airlines.