Photographer talks of bloodbath in Sicily 20 years after murder of anti-mafia judge Giovanni Falcone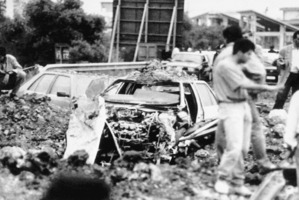 When Letizia Battaglia returned to Palermo in 1974 from a three-year sojourn in Milan, the city was enjoying a period of relative calm. There was the endemic corruption, obviously, and the usual posse of self-serving politicians. But no one was expecting a bloodbath, least of all Battaglia.
She was already a 40-year-old mother of three, enjoying her first steady job as picture editor of a city newspaper. She wasn't looking to cover a war. But war, it seemed, had decided to come looking for her.
In her Palermo apartment, Battaglia, now 76, flicks through some of the iconic images she captured during what Italians call the anni di piombo, the years of (flying) lead - 18 years in which the Corleonesi mafia clan would claim the lives of governors, senior policemen, entire mafia families and, ultimately, two of Battaglia's dearest friends: anti-mafia judges Giovanni Falcone and Paolo Borsellino.
This May marks the 20th anniversary of Falcone's assassination by a huge motorway bomb.
In the intervening years, the big drug-trafficking wars have shifted from Sicily to the Mexican border.
But Battaglia's photographs testify that nothing has changed. The techniques pioneered by the Corleonesi have proved their efficacy. Maximum violence. Total extermination of your rivals. Intimidation of the state.
Battaglia's reputation has steadily risen over the years, attracting awards and exhibition space as far afield as New York and Amsterdam. But long before the foreign prizes and plaudits arrived, she'd already received domestic recognition of a more heartfelt kind: death threats.
That Battaglia ignored the threats, despite being advised to lie low by Falcone himself, comes as no surprise once you've met her. At first she puts you at ease with her husky laugh and friendly little dog, Pippo.
But once her eyes have fixed on you, her intensity is revealed.
During the height of the violence Battaglia would get called out at all hours of the day and night, and be on the scene of a murder, pushing through ghoulish crowds of onlookers, before the blood of the dead had begun to dry. It was unrelenting: they would find as many as seven bodies at a time.
"Before you'd even dealt with the desperation and suffering of one murder, you were already on the way to another. More blood, more violence."
But she didn't stop. This was never just a job. It was her duty as a citizen, she believed. These urgent, often grainy shots were politics of the most incendiary kind. They were asking a question that no one at the time wanted, or dared, to hear: why?
"The worst thing was that we didn't understand at first where this inferno came from," she says.
"No one knew about the Corleonesi. No one was getting caught for these crimes. And they always killed the best people. The best judges, the best policemen, the best politicians.
"It took years to understand what was going on."
Battaglia's inability to shield herself from the horrors she witnessed is still evident. At one point she shudders and asks me to put away a photo taken by her then-boyfriend and fellow photographer, Franco Zecchin. The photo has an almost surreal quality to it - three bored-looking young men slouch in the back of a bus, looking as if they haven't realised they're dead yet.
But Battaglia didn't only photograph corpses. She ranged across Sicily, taking in religious festivals, psychiatric hospitals, crumbling slums and aristocratic salons. The stars of her photos are often young women, quietly enduring their lives.
Her art is not exploitative - it is about exploitation.
Though Battaglia describes her own childhood as serene, it was also suffocatingly cloistered. Palermo after the war was not a place for independent-minded girls and her father was possessive. He kept her locked up in the family home.
"I couldn't go out because men would bother me on the street, even at 11 years of age," she says. At the first opportunity, she bolted, which in those days meant marriage - at the age of 16, to a prosperous older man.
Three children followed, but little happiness. After 21 years she finally mustered the courage to walk out. In a country where divorce was still illegal and feminism just a distant rumour, she installed herself and her daughters in the single room of an "alternative" household in Milan.
In Milan she learned her craft as a photo-reporter and soon, despite her family's forebodings, she was enjoying success and creativity, independence, intellectual friends.
Among these was Sicilian author Leonardo Sciascia. It was he who later wrote a catty article that labelled Borsellino as a "professional of the anti-mafia". The article was seized upon by the judge's enemies and used to isolate him. Five years later both he and Falcone were blown up.
The judges knew it was coming. As Falcone said: "It is my destiny to take a bullet from the mafia one day. The only thing I don't know is when."
Says Battaglia: "Sciascia was an adorable person, but he had an outdated idea of the mafia."
As for Falcone and Borsellino, she has only praise. "I have two photographs of each of us together, taken by my daughter. They are the most important photographs of my life."
When she bought an apartment in one of the roughest parts of Palermo, intending to share the people's problems, she was repeatedly burgled under the eyes of her neighbours who, true to form, never saw a thing.
But at least the thieves didn't steal her negatives. Battaglia's immense archive would provide sensational evidence when former Italian Prime Minister Giulio Andreotti faced charges of links to the mafia.
Battaglia, years before, had taken a photo of him during a visit to Sicily which unwittingly showed him in the company of a mafioso. But the prosecution never secured a conviction.
"The mafia can be beaten, but only if people stop voting for dishonest politicians. It's no longer just a Sicilian problem. It's all over Italy."
She no longer chases news - "I'm too old to keep walking the streets" - but she regularly visits schools and attends anti-mafia events.
"It means setting an example," she says. "It means opposing the mafia in everything that I say and buy and eat. Every person that I meet, every gesture that I make, it's all connected to the need to liberate my country from the mafia."
Battaglia doesn't go out much any more. "Palermo is a bit of a prison for me ... I even moved to Paris for a year and a half, but I couldn't help thinking about Palermo."
These symptoms of embittered love will be familiar to anyone who has lived in Sicily for long. The place is infuriating, self-destructive and very nearly hopeless, but you can't shake it off. As Battaglia's friend Sciascia once said: "I hate and detest Sicily insofar as I love it, and insofar as it does not respond to the kind of love I would like to have for it."
- Observer