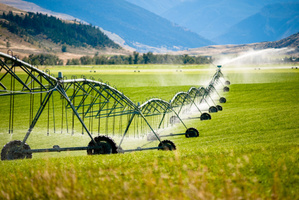 Like a great number of Kiwis, on a hot summer weekend, I enjoy a cold beer.
You might well understand my distress when I read that one of the most popular microbreweries in the US' water supply and existence is being threatened by drought. Is my frosty lager going to be at threat from the droughts that we seem to see every summer? Right when we need it most?
The short answer to that is no, my beloved beer will be safe because I am willing to pay for it, but the cost of droughts, which seem to be on the rise constantly, might impede my ability to do that.
Last year we experienced the worst drought in 70 years. While it is hard to gauge exactly, this was expected to cost our economy up to $2 billion.
This is not the first time (The Canterbury drought in 1987-88 cost about $360 million while that which occurred in Otago in '98-'99 cost about $600 million) and it certainly won't be the last: As shown in the NIWA graphic, in several areas we are way below our normal rainfall rates again and 25% of New Zealand's ice cover (where 68.9% of our water resources are stored) has been lost over the last 150 years.
So should we worry about droughts?
This time, the answer is unfortunately, yes. Even though drought has a major effect on farmers' livelihoods, for some reason we continue to pursue irrigation methods to convert land into dairy. Even in desert-like areas such as the Mackenzie Country, that are entirely unsuitable for large animals which require 95-190 litres of water per day to produce milk, crop circles are popping up in this previously pristine environment.
Somewhat obviously, when we run out of water, we also run out of grass. Less obvious is the fact that a large percentage of our dairy cows are now given supplementary feeds such as palm kernels. This allows farmers to ride out the droughts (many tonnes will be getting poured into feed troughs around our dry areas as you read this article). We imported 1.1 million tonnes of palm kernels into New Zealand in 2008, almost a quarter of the world's supply.
Getting into the palm kernel debate may be opening the proverbial can of worms, but the short story is that Greenpeace says only 4% of palm kernel comes from sustainable sources, while Federated Farmers defend their position by saying it is a waste product and has no impact on rainforests.
In 2009, we were told that supplementary feeds accounted for only 5% of cattle food but this is increasing.
The karma comes back around
There is plenty of literature showing that climate change causes drought. The pickle we find ourselves in here is that nearly half (47%) of our emissions come from agriculture, which is also a thirsty industry (the average water footprint to produce a litre of milk is 1,020 litres).
Particularly pertinent in this debate is also how we produce our electricity. The energy sector accounts for another whopping 43% of our emissions - a huge percentage considering renewable hydroelectric generators produce the vast majority (73%) of our electricity.
If we continue to irrigate away our precious water for thirsty Friesians as well as experience ongoing occurrence of droughts like last year, our hydro lakes will get low and we will need to burn more fossil fuels to charge up the computers you are reading this article on.
Then those of us who make noise about these issues via the Internet will have to feel even worse about what we are not doing about the issues at hand.
So what can I do about this?
* Reach for the heavens and capture water from your roof using this easy guide.
* Become a "demitarian". Research shows that every kilogram of beef we eat causes 22 kg of Co2 equivalents of greenhouse gases to be released and requires a worldwide average of 15,400 litres of water to get to your table. Even if you just eat meat half the time you currently do it will have a big impact here.
* Put your freight on the train and save the huge emmissions associated with truck-based transport.
* Choose an electricity provider that generates power from renewable resources, such as Trustpower or Meridian Energy.