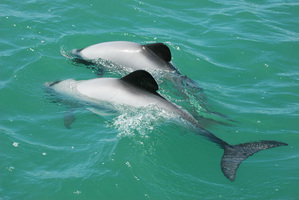 A dead dolphin, likely to be a critically endangered Maui's, was found floating in a marine mammal reserve yesterday.
A recreational fisher made the gruesome discovery, 15 kilometres south of Dargaville, within the North Island West Coast Marine Mammal Sanctuary.
It was thought the dolphin might have drifted north from somewhere around Kaipara Harbour, a known habitat for the Maui's.
Conservation Minister Nick Smith said he was "saddened'' by the death.
"I will be particularly concerned if the dolphin is found to have died from set netting as this is prohibited in the area in which the dolphin was found,'' Dr Smith said.
The dolphins remains were retrieved by Department of Conservation staff last night and are being transported to Massey University's specialist marine mammal unit in Palmerston North to confirm the species of dolphin, and determine its age and cause of death.
Maui's dolphins are considered critically endangered, with an estimated population of just 55 adults.
- APNZ