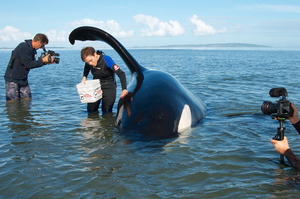 Commercial fishermen have been praised for looking after an orca stranded in the Kaipara Harbour until rescuers arrived.
Tutukaka orca expert Ingrid Visser was alerted by Kaipara Coastguard at 10.15am on Monday and reached the stranding site near Tinopai about 1.30pm.
There they found a male orca known as Koru - named for the distinctive, curled tip of its dorsal fin - stuck fast on a sandbank and being tended to by a group of fishermen.
Dr Visser said that at 6.45m in length, Koru was well short of the 9m record for the largest known male orca, "but he's no small boy either''.
The orca was one of at least eight seen by fishermen in the harbour on Monday morning, where they had been feeding on stingray.
"Hats off to the fishermen. They did a wonderful job of keeping him calm and wet," she said.
Dr Visser, accompanied by Warkworth cameraman Steve Hathaway and two Orca Research Trust volunteers, stayed with Koru until 3.10pm when the tide had risen enough for the orca to free itself.
Koru was joined by an adult female, known as Nicky, and Nicky's newest calf, as the orca headed towards the harbour entrance.
Dr Visser and her helpers trailed the trio for an hour and a half until they were confident Koru had suffered no ill effects.
It had a few small bite marks where its companions had tried to free it, but that was nothing unusual.
Mr Hathaway is working with NHNZ and the Orca Research Trust on a six-part TV series called Our Big Blue Backyard. Dr Visser has just returned from a research trip to Punta Norte in Argentina where orca deliberately beach themselves to prey on seals on the shore.
Remember to alert Ingrid Visser and the Orca Research Trust by calling 0800 SEE ORCA if you see an orca.
For more articles from this region, go to Northern Advocate