Amy Schumer's latest comedy is a love letter to her mother, albeit a rather raunchy one.
In the kidnapping caper Snatched, Schumer plays the reckless daughter of an overly cautious mother, portrayed by Goldie Hawn. Together, the mother-daughter duo search for common ground while their idyllic holiday in Ecuador turns to hell.
In 2015, when Schumer was promoting her surprise hit blockbuster, Trainwreck (which grossed $140 million worldwide), she explained that the movie was in honour of her father. "Yes, making movies has become therapy for me and I'm going through all my family members," she laughs.
Amid the hilarity and mayhem, Snatched offers some heartfelt moments.

Schumer says: "I wrote a scene where I wanted to say to my mother, 'I know I can be an asshole, and like every other daughter, I've taken you for granted, but I really wanted to say, 'Thank you. I'm sorry, and I know you did your best'." She smiles. "I wanted to highlight this complicated relationship."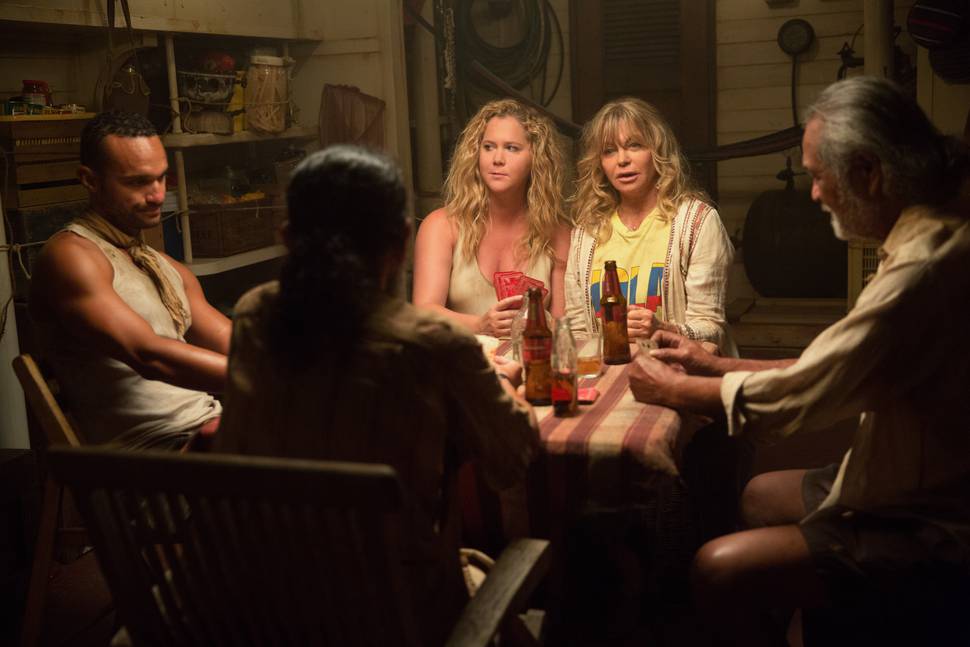 For Hawn, the movie ended a self-imposed 14-year hiatus.
"I took the time off because I felt that life should be full of different things, and I turned my gaze to projects outside of the movie business. Plus, as a woman gets older her choices are fewer," says Hawn. "But I read the script and I loved it. I'd seen Trainwreck and thought Amy was hilariously funny. But she's more than that. She can also be very emotional, and it's a hard thing to do both well."
The effusive comedienne has often been dismissed as "just another ditzy blonde", particularly for her role on the weekly TV comedy, Laugh-In (1967-1973). It was a time when pretty women were rarely thought of as capable of being funny, though in her movie career, her comedic abilities were taken more seriously after she won the Academy Award for Best Supporting Actress for Cactus Flower, in 1969.
One of Hollywood's most-respected veterans, Hawn says the entertainment industry has changed. "The perception of movie stars then was incredibly romantic because they weren't exposed or accessible. Now there's a level of interest I would describe as prurient in what everybody's doing, and no one seems to have any boundaries.
"I remember when you could say, 'I think I'm going to stay out of the limelight. I think I'm overexposed right now.' You can't do that anymore. You can't choose when you're in and when you're out of any form of publicity."
For Schumer, casting Hawn as her mum was a dream come true. "I seriously couldn't believe we got Goldie. I couldn't love her more and honestly feel that no one else could have done this role."
Unsurprisingly, Schumer didn't ensnare Hawn by the usual methods. "I was on a cross-country flight and she happened to be on it. I had the script on me and I waited until the flight was over so I didn't bother her. We got off the plane and I said, 'Excuse me. I'm Amy. I'm a comedian and actress and I love you. Thank you for everything you've done. And by the way, there's a movie and I really want us to make it together.' She was so sweet, she said, 'Oh, okay honey!' But I think she just thought I was crazy.
"I think it helped that her daughter [Kate Hudson] told her I was funny and that I was going places."
Like all Schumer films, there are expected levels of gross-out antics, perhaps vulgar to some, especially given that she is not shy about highlighting bodily functions. "Okay. Let me be honest and tell everyone that I am the only woman in the world who farts. No one should worry that women do that because it's just me.
"I think it's a powerful thing to see a woman play a human being in that sense, because we don't get to see it that much. I am a human being and I have a body and bodily functions, and I don't think I rely on that all the time. It is something that I am interested in connecting over, making people feel less uncomfortable in their own skin, less apologetic about being a human being."
In staying true to Schumer's familial theme, one of her next projects is about the relationship she has with her siblings, and stars Jennifer Lawrence, with whom she also wrote the script. "It's about sisters going on a road trip. We'll film it as soon as we have a window where we're both free." She says of her friendship with Lawrence, "I feel very connected to Jen. She's very open and honest and real. We enjoy a lot of the same things - a glass of wine, laughing with your friends, and family is very important to both of us."
Like a lot of comedic material, the funniest moments often come from the darkest or most angst-ridden places. "I fly so much and I always think that if I died today, am I in a good place and would I be happy with how I left things with my parents?'"
Snatched comes out just after Mother's Day. The subject makes her a little emotional. "You just crave your mom, you can't help it. To this day, if I have a nightmare, which happens once a year, like three in the morning, I will just want to talk with my mom. I call, and she always answers - she is just there, and no one will ever love you like that again."
LOWDOWN:
Who: Goldie Hawn and Amy Schumer
What: Snatched
When: In cinemas next Thursday