Scottish archaeologist Neil Oliver is back again exploring the ins and outs and ups and downs of the Kiwi coastline, writes Russell Blackstock.
His flowing locks and trademark ­neckerchiefs are fast making Scotsman Neil Oliver one of the most ­recognisable faces on New Zealand television - but his family isn't too happy about it.
The first series of Coast New ­Zealand, the show he fronts, was a No 1 ratings hit when it screened last year. A second season is ­expected to be as popular, starting on TVNZ 1 tomorrow night. The ­popular six-part series explores the panoramic beauty and history of our coastline.
The acclaimed archaeologist and presenter says his wife, Trudi, and their three kids - Teddy, Evie and Archie - fell in love with New Zealand when he brought them with him to make the debut series.
They are not best pleased he left them home in Stirling, Scotland, when he returned earlier this year to film a new batch of episodes.
"The whole brood was with me for a few months the first time, and Trudi home-schooled the children while we travelled around," Oliver tells the Herald on Sunday.
"They had an amazing time and when we got back to Scotland they talked about New Zealand ­non-stop.
"When I told them I was ­returning on my own there was an ­atmosphere of simmering ­jealousy in the house.
"However, I'm hoping my work in New Zealand isn't done yet. I hope to come back for a third ­series of Coast New Zealand, but this time I wouldn't dare leave the family behind. They would never let me forget it."
In the first series, Oliver and his scientific experts gave Kiwi ­viewers a bird's-eye tour of Fiordland - followed by the East Cape, the top of the South, Auckland, the Deep South and the Far North.
This time, the show explores North Island ­regions the ­Coromandel, Hawke's Bay and Taranaki, and the focus in the South Island will be stories of the West Coast, Banks Peninsula and Christchurch's ­surrounds.
Then he heads further south to the unspoiled Stewart ­Island.
"Some of the extreme and ­vastly different landscapes in New ­Zealand make it perfectly designed for a series like Coast," ­Oliver says.
"When I filmed Coast Australia, often I'd have to spend days travelling just to get to where we wanted to be. But with New Zealand being a similar size to the UK, most of it is pretty easy to get to by car, which is a big advantage over Australia.
"It is a ridiculously fast-changing landscape here. One day I can be on a sub-tropical beach in Northland and the next I'm at the Southern Alps. Keep going and I'm soon on Stewart Island, with all the unique diversity."
O
liver, 50, studied archaeo­logy at the University of Glasgow.
His UK television debut came in 2002 with BBC Two's Two Men in a Trench, which featured ­Oliver and close friend Tony Pollard, ­recreating battles on historic ­British battlefields using state of the art techniques.
Three years later he was hired as an academic expert on the fledgling Coast and in the second series he replaced ­Nicholas Crane as the show's main presenter.
He has never looked back.
Ten series of Coast have screened in Britain. And across the ditch, Coast Australia - which has run to three series - became the second-highest-rating show to date on the History Channel.
Oliver is joined on his epic ­exploration of New Zealand by experts who share his passion for the coastline. They ­investigate the people, ­history, wildlife, ­geography, geology, ­archaeology and events that make the ­seascapes and the communities scattered around the shoreline so compelling.
His co-presenters include leading Australasian maritime ­archaeologist Matt Carter, ­marine biologist Jacky Geurts, author Riria Hotere (Te Aupouri, ­Ngati ­Maniapoto) and renowned ­geologist and palaeontologist Dr Hamish Campbell.
Each hour-long episode examines a specific stretch of coastline, following up intriguing and often little-known stories along the way.
Oliver was persuaded to make Coast New Zealand by Great Southern Television boss Philip Smith, whom he now regards as a close friend.
"People think I must be on a big holiday when I film but the reality is I get a very confusing tour of a country because we dot back and forth all over the place to fit in with the schedules of the ­local ­people we are talking to," he says.
The extreme and ­vastly different landscapes in New ­Zealand make it perfectly designed for a series like Coast.

SHARE THIS QUOTE:
"When I first came to New Zealand in 2014 with the fam­ily, when we landed in Queenstown, we thought we had arrived in paradise.
"I kept wondering why it had taken me all those decades to find it. From that moment I was hooked."
Oliver admits he stumbled into television by accident but says he will keep making Coast as long as people want to see it.
"The format of the show means if I ­wanted, I could visit any ­number of countries in the world and do the same thing because I could never live long enough to run out of coastline," he says, grinning.
"Coast is now a big part of my identity and it has turned out to be my ideal ­retirement plan."
But despite the breath-­taking aerial tours of the ­countries he visits, Oliver ­insists it is the stories and ­local legends that make the show work so well.
"New Zealand is no different in that respect," he says.
"I have met some amazing characters here and there will be ­plenty more to discover when I next come back, I'm sure."
• The new series of Coast New Zealand starts at 8pm ­tomorrow on TVNZ 1.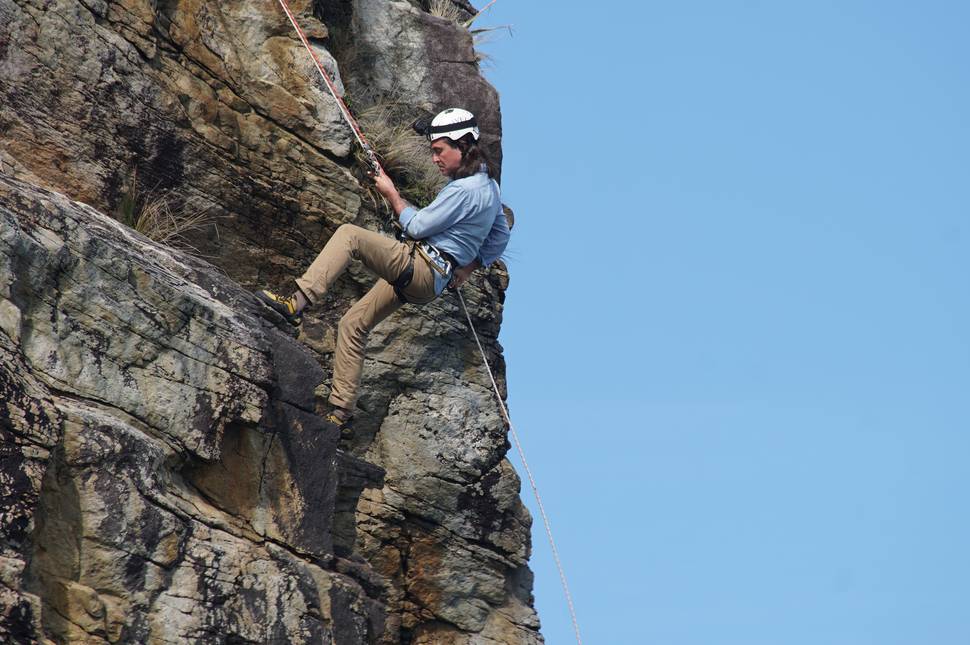 Tales from Godzone's highways and byways
In the new season of Coast NZ Oliver and his team visit ...
WEST COAST
Maritime archaeologist Matt Carter explores the West Coast's treacherous sea-faring history. Meanwhile, Oliver discovers a secret beach and goes out on a limb on coastal cliffs. Geologist Hamish Campbell encounters a school hanging on for dear life on the edge of the Tasman Sea in the tiny town of Granity, near Westport.
COROMANDEL
Oliver has his world turned upside down in Pauanui and marine biologist Jacky Geurts delves into Whangamata's mangrove wars and gets to grips with the treacherous surf rip at Hotwater Beach. Campbell also digs for this country's earliest human history on Great Mercury Island.
STEWART ISLAND
Oliver goes on a wild goose chase and uncovers the hidden history of a remarkable singing star and historian Riria Hotere reveals the plan to breed super kakapo on the remote island of Whenua Hou, off Stewart Island's northwest corner.
HAWKE'S BAY
Oliver tackles a coastal sport like no other and encounters one of the world's great survivors at an exclusive haven for vulnerable species. Hotere tracks down a former skating star on Napier's Marine Parade and goes to sea to see an innovative fishing method.
CHRISTCHURCH
In the South Island's biggest city, Oliver flies a kite, investigates the origins of the New Zealand accent and goes in search of a toxic arachnid with a tortured love life. Campbell uncovers groundbreaking research on Christchurch's watery past, which could have major repercussions for the future.
TARANAKI
Hotere finds out how a city embraced its coast through art, and drops in on a unique surfing contest in Waitara. Marine biologist Jacky Geurts uncovers an underwater creature that has amazing healing properties and Carter uncovers a rare shipwreck with important historical links.
Meanwhile, geologist Campbell investigates the energy-rich region's oil industry and Oliver encounters mysterious objects on the Taranaki coastline.