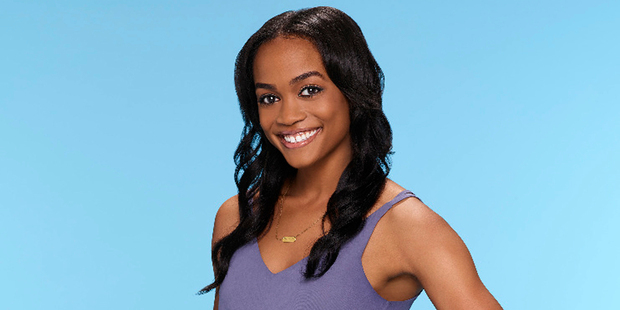 Rachel Lindsay was announced as ABC's next Bachelorette on Jimmy Kimmel Live! earlier this week after making it through yet another episode of The Bachelor.
The 31-year-old talked about her upcoming journey on Tuesday, which also happened to be Valentine's Day, with Good Morning America's Michael Strahan.
In addition to breaking tradition by being announced before the current season's After the Final Rose special, the attorney from Texas will also be the first African American lead for the reality show franchise, the Daily Mail reports.
READ MORE:
• No Valentine? No problem for these stars
• Shortland Street's epic 'penis' cliffhanger goes viral
"I'm just glad I don't have to keep it a secret anymore!' the raven-haired beauty shared with the host.
"You're making history," Strahan, 45, started the conversation. "You're the first African American Bachelorette. How did that make you feel? Is that added pressure, you think?"
"I don't feel added pressure," Rachel stated confidently. "I'm just trying to find love, and even though I'm an African American woman, it's no different from any other Bachelorette."
Never watched one episode of the Bachelor or the Bachelorette but I'm happy that a black woman is being featured. Congrats Rachel Lindsay!

— Charisse Price (@Charisse_Price) February 15, 2017
I'm still shook that we're actually having a black Bachelorette #TheBachelor

— zara (not the store) (@whoanormani) February 15, 2017
The eligible lady kept the focus on herself rather than attempting to be a spokesperson, adding, "I'm honoured to have this opportunity and to represent myself as an African American woman."
This isn't the first time race has been a topic of conversation for Rachel, who has spent season 20 of The Bachelor vying for the affections of a Caucasian man, Nick Viall.
Strahan got a sneak peek of next week's episode where the 36-year-old model and former software salesman meets Rachel's mother, and she asked Nick about his feelings on being in an interracial relationship.
"Did you know that conversation was coming?" the host asked.
"I know my mom," Rachel replied, matter-of-factly. "I am not shocked that my mom asked that. My sister is married to a white guy and so it's nothing new for our family and she just wanted to make sure Nick was comfortable with it."
Fans will have to wait until next week to see how The Bachelor responded, but they already know that no matter what he said, it ultimately didn't end well for those two.
Rachel from #TheBachelor is going to be the new Bachelorette! Ummm IM SO FREAKING EXICTED WTF SHSJDNN MY FELLOW BLACK SISTER

— Dee (@sorrysxdeluxe) February 15, 2017
It took 15 years to cast a black bachelorette....I'll tune in to watch.

— Suzanne (@nusue_22) February 15, 2017
After 33 seasons, we're finally getting a #blackbachelorette. But will the two token white dudes be the first to go home?

— Rebekah (@bekaloha) February 15, 2017
So naturally, looking forward to her shot at being ABC's next leading lady, Rachel shared that her skepticism didn't go unchecked.
"I was excited that they asked me to do it, but I was also equally nervous," she admitted. "But then when I started to weigh out the pros and the cons I decided that this is too good of an opportunity to turn away."
But there are pitfalls, thankfully, the Texan will easily be able to avoid, like her biggest pet peeve from her time, so far, with the show.
"[My] least favorite part was living in a house full of women," she shared with GMA. "Yeah, sharing a room with that many women... I mean, I was in a sorority, I haven't done that in years!"
Overall, the well-spoken woman articulated that she enjoyed the process and was surprised by how well she clicked with Nick. She remained optimistic about finding her own happy ending.
"I figure if I just stay true to my self then it'll be a successful show," she added.
Rachel's season of The Bachelorette is set to premiere in May.