Mariah Carey lashed out during a botched New Year's Eve performance, after the wrong lip-sync track played when she took the stage.
The diva stormed around the stage, repeatedly asking for the monitors to be turned on during her performance, before trying to rescue her set by dancing briefly.
However, she didn't last long, and then said into her microphone: "I'm trying to be a good sport here."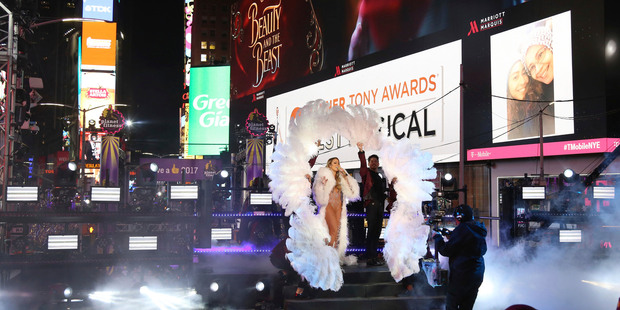 "We didn't have a check for this song... we're missing some of the vocals, but it is what it is. I'm just going to let the audience sing. We didn't have a sound check for this New Year's baby, it is what it is.
"Get these monitors on please."
At that point, Carey appeared to give up, and went over to one of her dancers and said:
"just for laughs, do the lift." The dancer then lifted Carey's leg in the air, as she sang a few notes.
"I wanted a holiday too, can't I just have one," she said as the first song wrapped up.
After the second song wrapped up, Mariah sarcastically said, "bring the feathers, it just don't get any better," before walking off.
She then remained on stage as one more song played, before walking off in a huff.
There had been panic all day after asking earlier in the night what time the famous ball drops in Manhattan.
Booked as the top guest for Dick Clark's Rockin Eve with Ryan Seacrest, the megastar was supposed to herald the start of 2017 as the Waterford Crystal dropped at midnight.
The first alarms bells rang when the star's team appeared not to be aware of the world renowned ceremony, according to the New York Post.
Producers of the show are so concerned she might be late, that they have hired an entire crew to ensure the legendary diva makes it to the ball on time.
I'm getting ready perform right before the ball drop on @NYRE! Are you ready to celebrate? #RockinEve #2017WithMariah @ryanseacrest pic.twitter.com/h7ibbxAsd2

— Mariah Carey (@MariahCarey) January 1, 2017

When producers asked what time she would arrive, Carey's people replied, "What time exactly does the ball drop?"
An apartment was reportedly booked for Mariah to have her hair and make-up done in at the top of the Times Square hotel, as organizers feared she would not make the trip from her Manhattan apartment in time.
"There's a team of top producers tasked to get her there on time and shepherd her to the stage," a source said, according to the Post.
In another bizarre moment earlier in the day, Carey had to be carried on stage for rehearsals by her boyfriend and back-up dancer, Bryan Tanaka.
#RockinEve Rehearsals
Let's do this, @NYRE! #2017WithMariah @RyanSeacrest pic.twitter.com/dj7FjjtFpQ

— Mariah Carey (@MariahCarey) December 31, 2016
Amid all the diva drama, New Year's Eve revelers - many donning oversized 2017 eyeglasses and green Statue of Liberty hats - filled the iconic square on Saturday hours before the glittering crystal ball was to drop.
Officials estimated as many as a million celebrants would descend upon the Crossroads of the World, braving cold temperatures and strong winds to ring in the New Year amid heavy police protection.