Reports that Guy Williams could feature in a 7pm weekday show tipped to replace TV3's recently axed Story, seems to be news to him.
The comedian took to Twitter to respond to this Herald story which revealed TV3 is understood to be launching a new entertainment-focused show - similar to Australia's The Project - in place of Story, which is tipped to involve him.
READ MORE:
• Mediaworks tells staff: End of Story
• Duncan Garner reveals tough times after current affairs show Story is axed by Mediaworks
He called the very notion a "comical nightmare" and referenced back to the last time he took the place of a "beloved 7pm current affairs show", saying he never wanted to be in that position again.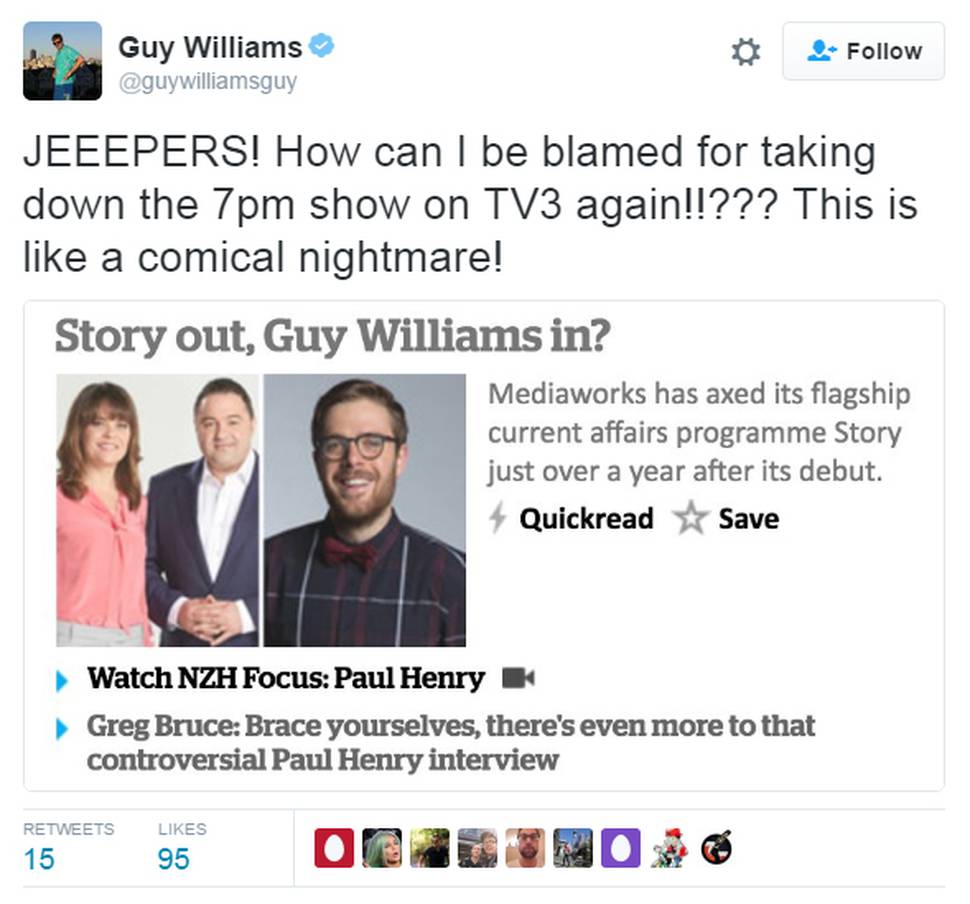 Williams was swamped by negative and abusive comments on social media after Come Dine With Me - which he hosted - filled Campbell Live's 7pm slot after it was axed last May.
He called it a "terrifying and weird experience" and was forced to defend himself against those blaming him for John Campbell's departure from TV3.
READ MORE:
• Paul Henry reveals why he hates people
• Greg Bruce: Brace yourselves, there's even more to that controversial Paul Henry interview
• Is this Paul Henry's next move? Host eyes US
He said: "We're just a small little entertainment show. It's absolutely ludicrous to think this show has anything to do with (what happened to Campbell Live) two weeks ago ... we have nothing to do with it."
"It wasn't originally in the 7pm slot. Anyone who links me to the ending of Campbell Live - it's absolutely ridiculous."
Questions about Story's fate were raised yesterday as news broke that high-profile broadcaster Paul Henry is set to step down from his role at the network. Garner is understood to be in line for Henry's morning news role.
Mediaworks has yet to respond to requests for comment labelling reports around Story's future as "speculation".