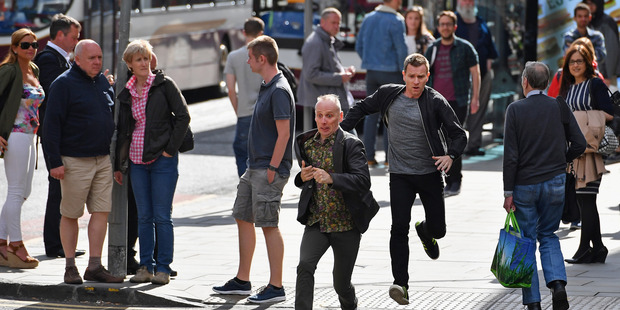 Ewan McGregor and his diminutive friend Ewen Bremmer have once again been spotted frantically sprinting through the crowds on Princes St in Edinburgh, 20 years after the iconic opening scene of Trainspotting hit our screens.
The pair, who play Mark Renton and Spud, were on location filming for Trainspotting 2 and don't appear to have lost their pace in the intervening years judging by their escape from the Urban Outfitters store.
The sequel will be entitled T2 and is due for release in January 2017.
It is thought the shop had been transformed into an Apple Store for the day, according the BBC, with onlookers gathering around director Danny Boyle as he set the scene.
Excited fans took to Twitter with one saying: "So was just in Edinburgh wondering why there was a film camera pointing in our direction then Ewan McGregor came flying past #trainspotting2."
Renton & Spud running at me See more @STVGlasgow @STVEdinburgh tonight 10:30#Trainspotting2 #T2 #Edinburgh pic.twitter.com/Q0UH4X6vxF

— Ewen Cameron (@EwenDCameron) July 13, 2016
Some guys running for a tour? #Trainspotting2 #Edinburgh pic.twitter.com/24GWizPACb

— #travelfeels (@Rabbies_Travel) July 13, 2016
Trainspotting 2 were filming an the chase scene on Princes Street today & Ewen McGregor was photobombed mid shoot pic.twitter.com/4fh9PkE4Dw

— Paul Harper (@impaulharper) July 13, 2016
The long-awaited film will likely be loosely based on writer Irvine Welsh's 2002 sequel to Trainspotting, Porno.