It might be the third Captain America movie but this isn't a stand-alone affair like his previous two.
His origin story The First Avenger and his second outing Winter Soldier were both fine examples of what Marvel superhero movies could be - that is, if you didn't cram them with Marvel superheroes.
This, though, is pretty much Avengers 3: Family Feud. It might lack one space Viking and one big green guy - they're off being made funny by Taika Waititi in the next Thor movie, hopefully.
But Civil War, based on a mid-noughties comic series, feels like it's emerged from the rubble of last year's mediocre Avengers: Age of Ultron.
It's crowded. It's long and it's got other stuff to do than just be Captain America III. It's acting as a launching pad for a couple of new Marvel men in spandex - the arrival of Spider-man/Peter Parker (Tom Holland) after he's recruited by Tony Stark is a joy - and developing some relatively new arrivals.
Which is all well and good but that overstuffed feeling that marred those Avengers films is present here, especially as it heads past the two-hour mark.
That said, Civil War makes some interesting moves along the way. It doesn't have a cosmic supervillain to overpower, just a smart guy (Daniel Bruhl) with his own agenda and deft puppetmaster skills.
After the movie's opening set-piece leaves yet more civilians dead to add to the toll from Ultron, the Avengers are pressured by the US government (William Hurt, now Secretary of State having been a Hulk-chasing army general) to accept the oversight of the United Nations (Paging Helen Clark, a Tony Stark is here to see you ... ).
Oddly, rich guy Stark is agreeable to the change in management while military vet Steve Rogers/Captain America thinks the super-squad should remain independent.
Their stances do kind of make sense - Stark is feeling guilty for unleashing Ultron and there is his arms dealing past; Rogers experienced the corruption and destruction of their supposed protectors S.H.I.E.L.D. up close in Winter Soldier.
And so the tension escalates between the factions, and after an event which introduces African superhero Black Panther, they are duking it out on the apron of a German airport. Because everyone gets grumpy while in transit.
There, the arrival of Spider-Man and Ant-Man on Team Stark and Team America respectively help keep the action in hyper-slapstick mode, before, inevitably, someone gets hurt and everyone feels guilty.
But, of course, that's not the end of it. And of course, this is just the beginning of it - this film marks the start of "Phase 3" of the Marvel Cinematic Universe.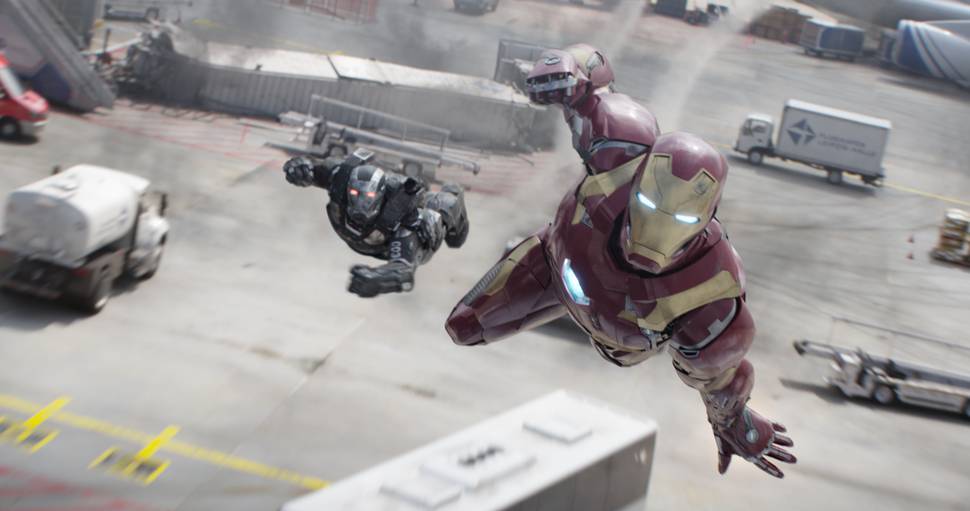 That might explain why - even as it tries to be different and attempts to be as distinctive as its Captain America predecessors, and spectacular and funny as it frequently is - Civil War feels like just another overstuffed Marvel movie working itself through a brand strategy checklist.
Plenty will he happy with that. And yes, it's rather more fun than the last time a couple of superheroes went at it on the big screen.
Captain America: Civil War
Cast:
Chris Evans, Robert Downey Jr, Scarlett Johansson, Chadwick Boseman.
Directors:
Anthony and Joe Russo
Rating:
M (violence) Running time: 147 mins
Verdict:
Another maximum mega-Marvel