Kiddie kitsch and darker psychological themes fill Jessie McCall's latest offering, writes Bernadette Rae.
Glitter and bling have featured prominently in dance artist Jessie McCall's recent works.
A bewitchingly tacky assortment of bright shiny things made Tassle Me This, created and performed with Shani Dickins, a highlight of Tempo 2015 and not just for its enthusiastic use of tinsel. The dance, the design, the music, costumes and concept all scored.
McCall's latest offering promises a similar juxtaposition of kiddie kitsch and darker, psychological themes. Your Own Personal Exister, made for Footnote Dance's 2016 season of New Original Work (NOW), features balloons and a Burger King crown, the highlight of many a Kiwi kid's birthday party.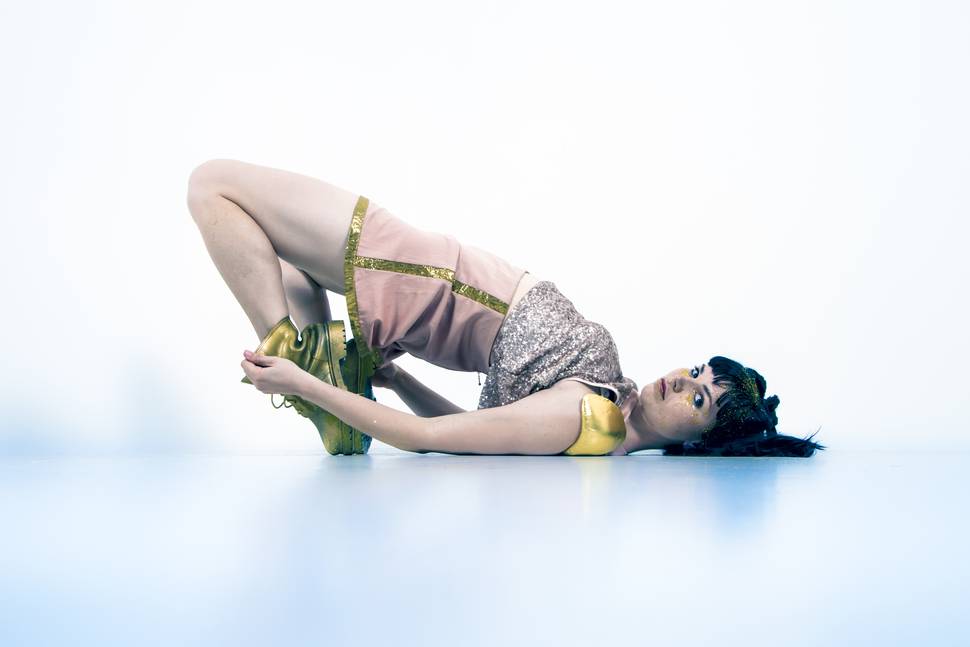 "I like to use bubbly images to look at the less sparkly elements of human behaviour," says McCall.
"Dance, especially contemporary dance, is often perceived as sombre, dark and moody. So I like the idea of changing that without losing the substance."
In the new work, her distinct memories of "awful" birthday parties at the popular hamburger restaurant initiates an exploration of the dynamics of power and idolisation. In the opening scene, a disembodied crown sits centre stage, a symbolic deity.
The dancers, four of Footnote's troupe of five, approach reverentially. One suddenly peels off from the group and dons the crown, instantly assuming a position of power that the others don't question.
"And that is how it frequently happens in life," says McCall. "Someone snatches the power and everyone just accepts it. And their very acceptance encourages the development of megalomania."
It is a dynamic that affects both sides and occurs in multiple human situations, she says, from the political to the romantic.
"Through idolising another, we can forfeit our own being. Who we are is devoured by their perfections. We dehumanise them through our worship asking them to be more than they can be and that severs our ability to connect with them as we assume ourselves to be less than we are. These ideas around self-regard and idolisation of the other are more active in our lives than we necessarily realise."
McCall enrolled this year in a special masters course at the Auckland University of Technology, in psychotherapy. But if psychotherapeutic concepts inform the work, they are dished up with an interestingly mixed soundtrack: Peking Duck, Jazzistic feat Karen Souza, Peaches, Scala, Kolacny Brothers and Kylie Minogue's Can't Get You Outta My Head.
A voice over delivers pre-recorded text, exaggeratedly channelled through the dancers' widely opened mouths, and a series of common hand gestures shift in meaning according to context, to further enliven the choreography. "I have been interested in psychology since my high school days," McCall says, "and curious about how people's brains work."
A curiosity about the form prompted her to undertake her own psychotherapy last year and "it made a lot of sense. It balances a rigorous methodology and a lot of academics with an holistic openness," she says.
"I am doing the course part time, just dipping my toes really. I don't want to dislocate myself from the dance world. But if I do pursue it and go on to practise as a psychotherapist I will be trying to find a way to provide for a different demographic not just those who can afford $100 a week."
Other works in the NOW 2016 programme are Sarah Knox's Disarming Dissent, inspired by the energy of protest; Julia Harvie's Elephant Skin, on the subject of body dysmorphia and Lucy Marinkovic's Centrefolds, inspired by the history of social division by gender.
Performance
What:
Footnote New Zealand Dance's NOW 2016
Where and when:
Q Theatre, April 15-16 Contemporary dance choreographer Jessie McCall.