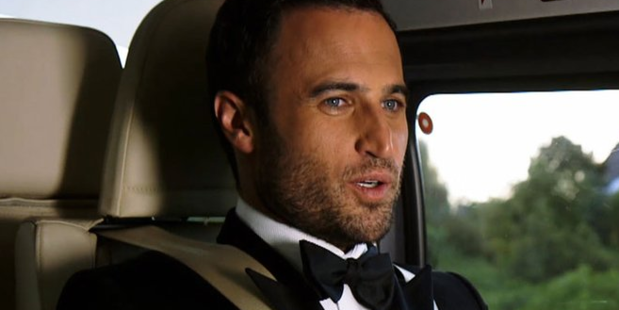 As The Bachelor Jordan Mauger endured 23 awkward introductions to meet his bevvy of beauties, Twitter had something to say.
The meet and greet cocktail party caused a stir with couch critics - who have taken aim at everything from the women's dresses to the myriad of gifts they brought along.
They certainly did not come empty handed, offering up bliss balls, juice, bubbles, a purple rose with extended explanation and a tiny red heart, to a nervous Mauger.
There were nerves, annoying voices and one Bachelorette declaring "I did give him my heart from the start".
All of the women this season appear to know what they want, and they are making no bones about setting their eyes directly on the prize.
Serious question; were all these girls dressed by Pagani, circa 1999? #TheBachelorNZ

— Angela Renee (@AngelaQuigan) March 7, 2016
"What did you really think of my bliss balls?" - something we've all said at some point #TheBachelorNZ

— Eli Matthewson (@EliMatthewson) March 7, 2016
I just looked through the pictures of all the girls from #TheBachelorNZ and based on looks I would give none of them a rose.....

— Stephen Gallagher (@SWTGallagher) March 7, 2016
"Can I interrupt?" - Ancient Proverb #TheBachelorNZ

— Natasha Hoyland (@NatashaHoyland) March 7, 2016
Naz is such a villain I LOVE IT #TheBachelorNZ

— Hailey (@pflailey) March 7, 2016
Some were even speculating about what's to come, with one referring to an incident from the first series where contestant Poppy Salter farted in front of adonis Art Green on a beach date.
Which one is going to fart on the beach? #TheBachelorNZ

— _JOSH_ (@_OUA_) March 7, 2016
While the ladies bore the brunt of most social media commentary, The Bachelor himself could not escape it entirely.
How good is Quagmire going on The Bachelor? #thebachelornz #giggity

— ben lloyd (@henceforthBEN) March 7, 2016
Jordan doesn't have a good poker face. You can see the fear in his eyes growing ever more desperate after each introduction #TheBachelorNZ

— Andy Pickering (@AndyPickeringNZ) March 7, 2016
How does a man who owns a DeLorean not have a girlfriend #TheBachelorNZ

— Ben Irwin (@BenGIrwin) March 7, 2016
Is he really short or are they all giants? #TheBachelorNZ

— Joanne Hollis (@HollisJoanne) March 7, 2016

- nzherald.co.nz