Festivals, theatre, art exhibitions, concerts and public art springing up ... everywhere. Now we've got an annual Auckland Arts Festival, an ongoing 'creative thinking' project at the University of Auckland and the first Arts and Cultural Strategic Action Plan. Dionne Christian asks whether Auckland is now the city of arts?
Late last year, as Aucklanders prepared to take a summer break, the council held a modest gathering in the restored foyer of the St James Theatre. Depending on your point-of-view, it was either an early Christmas present to the region or an example of council spending on something it has no business being involved in.
It was the launch of the council's inaugural "whole of Auckland" strategic action plan designed to make arts and culture part of our everyday lives. Called Toi Whitiki -- Auckland's Arts and Culture Strategic Action Plan, it was five years in the making and cost $348,000.
Toi Whitiki is driven by a growing recognition that the creative sector -- visual and performing arts, design, publishing, screen production, digital content creation, radio and music -- has far-reaching benefits across all sectors of society.
It's a cornerstone of making Auckland the world's most liveable city by 2040 (as outlined in the Auckland Plan) and one of a number of regional, local board, town centre, economic and Council-Controlled Organisation strategies drawn up to plot the way to reach that goal.
There's a lot about the importance of arts and culture in fostering identity and pride, increasing the sense of belonging we feel and promoting cultural tolerance, of the way they can help to improve health, self-esteem and build interpersonal relationships. Mention that to some and the almost inevitable comment is, "That's all very well and good -- if my rates don't rise ..."
But Toi Whitiki also strongly emphasises the role of arts and culture as an "economic enabler" to contribute to a strong economy, generate jobs, support businesses, increase employability and improve school performance.
A growing number of Aucklanders say they're happy for public money to go toward arts and culture. It's recognition that going to a concert, seeing a play, visiting a neighbourhood community arts centre or an event like the Lantern Festival -- or even a heritage walk or a movie in a nearby park -- brings economic, social and cultural gains to Auckland at the same time as -- hopefully -- having a good night or day out.
In short, it makes life better, but could it ever help to lower rates? Chances are no, but consider this.
In the same week Toi Whitiki launched, English Professor Jonothan Neelands spoke at the University of Auckland about why arts matter. Far from being a jargon-riddled and incomprehensible lecture, Neelands was loud and clear: in the United Kingdom in 2014, the creative industries grew at almost double the rate of the British economy as a whole and are driving economic recovery.
Latest figures show they are now worth a record £84.1 billion ($183.5 billion) to the British economy. Professor Neelands, a self-described cultural activist, stressed there was more to the creative sector, arts and culture than being an "economic enabler" but said if something was good for business, it tended to be taken seriously.
We're breaking free of those perceptions and Auckland is going from being a city in New Zealand to being a global city.

SHARE THIS QUOTE:
"Arts and culture illuminate our inner lives and enrich our emotional world, but we have to change the perception of that as a luxury, something that's nice to have but perhaps not of much practical use.
"The economy may provide a way to move past that."
He spoke about the role of government in helping increase access and participation -- across all groups -- to arts and culture, saying if we did not diversify what was made and seen, "it's going to be bad for society as a whole and bad for business".
Auckland Mayor Len Brown said traditionally not enough was done, and never in a coordinated manner, to recognise, develop and promote the sector, particularly in a region -- indeed a country -- where sport and outdoor recreation have dominated talk about how we "brand" ourselves and spend our leisure time.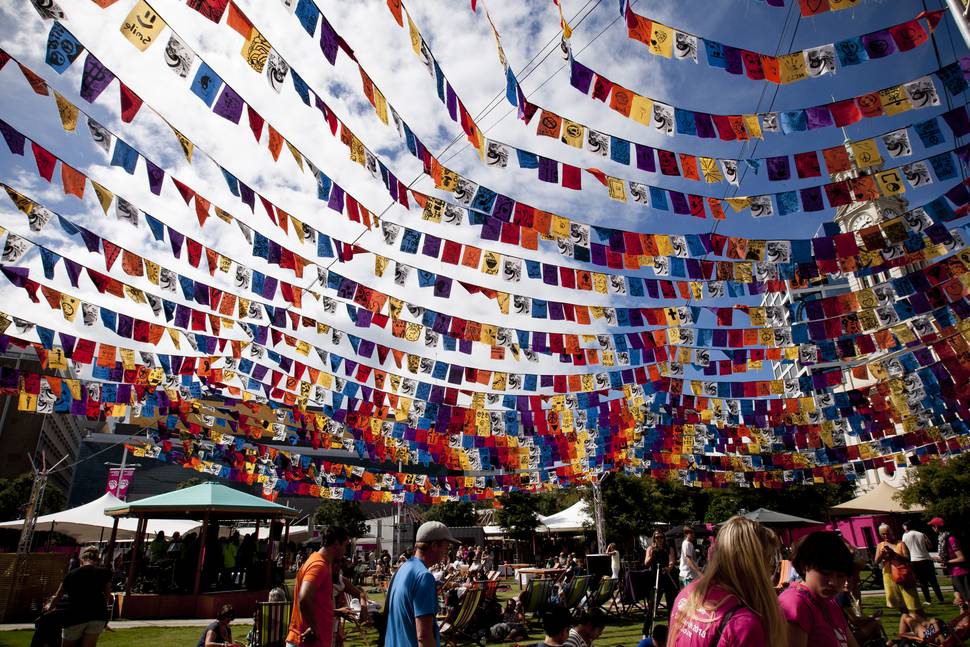 "But we're maturing as a city and as a nation. We're breaking free of those perceptions and Auckland is going from being a city in New Zealand to being a global city," said Mr Brown. "We need a new narrative to express who we are and what our story is. I love the fact that we're good at our sports -- and we always have been -- but I also love the fact that our creative talent is taking the world by storm."
Auckland Council's manager for community policy, Liz Civil, said Toi Whitiki represented a "quantum shift" in the approach to arts and culture but it did not necessarily mean spending more money.
"It's not just about council's role in developing the creative economy," she said.
"It's about how we bring all sorts of different organisations, groups and individuals together to take a whole-of-sector approach to the development of arts and culture.
"It means thinking and working more strategically."
The master plan
What:
Toi Whitiki - the first whole of Auckland Strategic Action Plan to make arts and culture part of everyday life in Auckland; six goals, 15 objectives and 61 actions. Goals include ensuring Auckland has a robust and flourishing creative economy.
How do we do this - The Council:
• Champion the creative sector to grow Auckland's economy
• Foster education, collaboration and professional development for the creative sector.
How do we do this - The Artists:
• Help to ensure there's a network of affordable maker spaces, rehearsals spaces and venues.
• Diversify at the top.
• Support professional development opportunities.
By the numbers
Arts events create business boom for scaffolders
It's like a crazy midsummer night's dream - use scaffolding to build an exact replica of Shakespeare's second Globe theatre for a Pop-up Globe theatre in central Auckland. Indeed, it's the type of project Mick Spratling and Phil McConchie would have never imagined taking on when they started their scaffold business, Camelspace, nine years ago.
"Yup, it's definitely one of the more unusual ones," says Spratling, somewhat understatedly, as he surveys the round three-storey structure made of 100 tonnes of steel scaffolding and 100 tonnes of ballast.
It might surprise to know roughly a fifth of Camelspace's business is building specialist structures including stages, towers and platforms for events like the Lantern Festival, Laneway, Splore, the University of Auckland's Summer Shakespeare (at the Pop-up Globe this year), Cirque du Soleil and the Parachute Music Festival.
The business is not directly involved with arts and culture but benefits because of Auckland's thriving arts scene.
"When you think 'arts', you don't automatically think scaffolding."
Pop-up Globe artistic director Dr Miles Gregory approached Camelspace after hearing a radio advertisement and says he's been impressed the company never once shied away from the challenge.
Working from designs by associate Professor Tim Fitzpatrick and Russell Emerson, of Sydney University, Pop-up Globe replicates exactly the dimensions of the second Globe theatre built of the ruins of the first one in 1614. While it's a temporary structure which can be dismantled and re-erected in about eight weeks, Spratling says it still has to compile with the New Zealand building code in terms of strength and safety.
In addition to being paid for the job, he says there are other advantages to working in the arts, entertainment and cultural sector.
"A lot of what we do is cookie-cutter type structures but this is something truly creative and as we see ourselves as working in a creative industry, a project like this gives a chance to be involved with something totally different. It keeps the guys energized because it's a creative endeavour and that type of work is important to keep all of us fresh.
"We've used carpenters, roofing companies, corrugated iron manufacturers and suppliers - it's a huge team."
Josh Fraser, executive manager of SkyCity's signature restaurants, says the hospitality sector that thrives in Auckland would struggle without a lively arts, entertainment and cultural scene. The Canadian, who arrived just over a year ago after five years in Sydney, was surprised - and delighted - to find we have the flourishing arts scene his industry depends so heavily on.
"I didn't expect there would be so much diversity with so much going on. It means there's no real lull in the calendar and that's a good thing."
Fraser says there are definite trends. A one or two night event, like Fleetwood Mac's concerts, brings an older crowd to the more upmarket restaurants - "it's definitely people wanting to make a night of it, a special occasion out" - while things like the International Comedy Festival, held across a couple of weeks, see a younger crowd at places like Federal Street Deli and Depot. If there's an early evening show, drinks and nibbles at the likes of tapas bar Bellota are popular.
"We can provide the food and drink, but we can't provide the show as well and that's what often attracts people into a restaurant," says Fraser. "Any sort of metropolis that does not have a thriving arts scene - at least a modicum of one - is going to struggle to attract hospitality businesses. We'd certainly be a lot quieter without it."
Jonothan Neelands was a guest of the University of Auckland's Creative Thinking Project, which aims to increase understanding of the role of creativity in everyday life, and to promote it as essential to individual and community wellbeing and development.