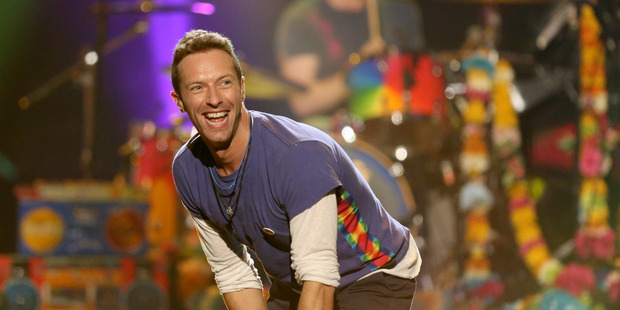 Coldplay will headline the Sunday night slot at this year's Glastonbury Festival, but some festival fans are so upset they've launched a petition to ban the band.
The four-piece announced the gig on social media with a picture of the festival's famous Pyramid Stage mid-construction and a sign saying "Sunday, June 26" with hot air balloon imagery from their new album A Head Full Of Dreams.
February 16, 2016
Coldplay will be the first band to headline at Worthy Farm in Somerset four times, after outings in 2002, 2005 and 2011.
Petitioners are calling for organisers to axe the group in favour of a "rock band" in 2016.
Felicity Martin started the campaign, with the hopes of gaining 100 signatures, by Wednesday night, it had reached 193.
She explained the reason behind launching the change.org petition saying: "Coldplay are an insult to music fans all over the world.
We spend hundreds of pounds to attend glasto, and by doing so, expect a certain level of entertainment. Lets prevent this musical injustice now!"
The Glastonbury announcement follows a performance at the Super Bowl 50 half-time show when the band played a selection of their greatest hits only to be outshone by Beyonce and Bruno Mars.
Supporters of the petition also left negative comments about the band.
"Just because Bowie and Lemme died doesn't mean music has to too!," one read.
"Glastonbury is a major acheivement for so many artists and should be respected as such, not handed over to a mediocre, boring band who want to be Radiohead but don't have the talent," another added.
Twitter feedback was mixed, with some choosing to stand up for the act, while others were clearly unhappy.
Don't like Coldplay? Piss off to a field 4 miles away and see something else then. IT'S GLASTONBURY. THERE'S OVER 100 STAGES.

— Claire Rollins (@Claireyyyy) February 16, 2016
Coldplay are headlining Glastonbury and everyone is freaking out, Brits can be so fussy and whiny with music nowadays! #CalmYourTits

— Jack Walker (@JackTheFact29) February 16, 2016
Coldplay headlining Glastonbury proves how boring and bland music seems to prevail over more sincere artists a lot these days.

— ? (@sveifla) February 16, 2016
Come on Glastonbury and other festivals/events, bands other than Coldplay are available. I'd rather listen to someone reading the phone book

— Michael Randall (@Derblin_Randall) February 16, 2016
But it's not all bad for Coldplay whose Super Bowl performance, saw their latest album jump to No 1 in the charts, having been kept off the top spot by fellow Brit Adele's 25 when it was first released in December.
More from Spy:
• Pic of the day: Lorde's praise for 'beautiful giraffe'
• TrueBliss ready to reunite
They are the first headliners announced for the festival, although Jeff Lynne's ELO has been confirmed for the Sunday teatime slot.
• Glastonbury Festival will run from June 23 to 26.

- nzherald.co.nz and AAP