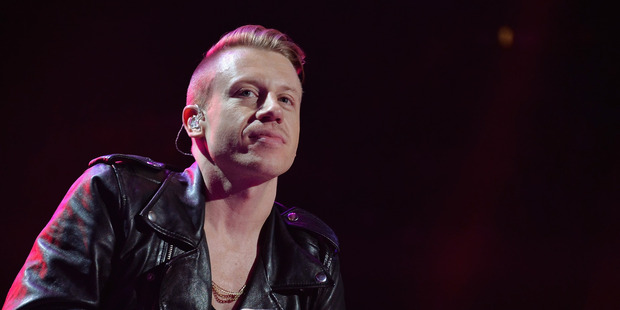 Critics have called a song about deciding whether to be the "big spoon" or "little spoon" while cuddling in bed "the worst song ever recorded".
The new single by hip-hop act Macklemore, released on Valentine's Day, has been panned for including lyrics like: "I'm a man, but every now and then in bed / I know when to say, 'All right, it's my turn to be the small spoon'."
Other lyrics include, "Her knees are bony / I need my homies," and, "Cause my girl's thick / She got a booty man / And a big old belly / Looking like Gucci Mane."
Near the end, the rapper says: "Tonight, I put my hands around your waist ...
feel those little prickly hairs that you missed shaving your legs."
Critics haven't been kind to Spoons, with a Stereogum review calling it "the blandest, safest, most self-consciously twee piece of rap music I have ever heard" in a story headlined: "Macklemore's Spoons is the worst song ever recorded".
Esquire headlined its story, "Cancel the Grammys: Macklemore just dropped the worst song in music history," and said it was like "a bad Flight of the Conchords song".
"This is like if Sesame Street did a horrible job teaching kids about hip-hop. Somewhere, wherever he is now, Tupac is crying."
Uproxx urged anyone who enjoyed the song to seek help.
"To fans who wanted a hip-hop love song that features references to pooping with the door open, impromptu Macklemore handjobs, The Giving Tree and Netflix queues, congratulations. Also, perhaps you should seek help."
Twitter users were equally unkind.
Listened to Macklemore's new song "Spoons" and now I hate spooning and music.

— Louis Peitzman (@LouisPeitzman) February 16, 2016
WAIT. EVERYBODY STOP. Macklemore is kidding with Spoons right??? I mean like, HE'S JOKING, RIGHT?

— Ashley McGirk (@amcgirk) February 16, 2016
Spoons by Macklemore ??????????????????????????????????????????????????????

— Taylor Ort (@Taylorort) February 16, 2016
Me listening to the new Macklemore single "Spoons." pic.twitter.com/LlyWjuCsUu

— Justin Buchanan (@justinbuchanan) February 16, 2016
I really want Macklemore to have a Scooby Doo mask reveal and be like "psych!" #spoons

— erin mitchell (@locoliinda) February 16, 2016
Spent most of my day in the ER because of my ears bleeding without explanation, then I got home and listened to Spoons by Macklemore.

— Rude Dude (@rare_earthworm) February 16, 2016
The song adds to a controversial build-up for Macklemore's second album, This Unruly Mess I've Made, which will be released on February 26.
The duo earned mixed reviews for their last single White Privilege II, a song that tackled race issues in hip-hop and America.
This Unruly Mess I've Made is the follow-up to 2012's Grammy-winning The Heist.
- nzherald.co.nz