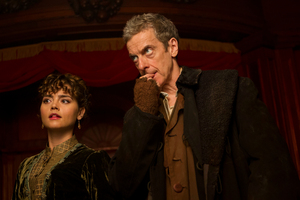 The lesbian kiss that sparked complaints in the first new episode of Doctor Who was cut for Asian audiences, reports have revealed.
The scene, between lizard-woman Madame Vastra and her human wife Jenny Flint, led six UK viewers to complain while other critics branded it "inappropriate" and "gratuitous".
TV regulator Ofcom confirmed last week that it would not be investigating the complaints further, explaining that their rules "do not discriminate between scenes involving opposite sex and same sex couples".
But the kiss was edited out of the sci-fi drama's premiere ahead of broadcast in conservative Asian countries, including South Korea, Hong Kong, Malaysia, Singapore, Taiwan, Thailand and Indonesia.
The Independent understands that the episode, called Deep Breath, was altered to meet Singapore's strict MDA broadcast code and avoid a fine for BBC Worldwide.
The Asian BBC Entertainment feed is relayed from Singapore, hence why the show was forced to adhere to the country's legislation.
"In order to comply with broadcast regulations in Asia where our BBC Entertainment channel airs, BBC Worldwide made a brief edit to the first episode of Doctor Who series 8, but did so without detracting from the storyline," a statement from BBC Worldwide read.
Singapore's rules state that "information, themes or subplots on lifestyles such as homosexuality, lesbianism, bisexualism, transsexualism, transvestism, paedophilia and incest should be treated with utmost caution ... and not in any way promote, justify or glamorise such lifestyles".
Any "explicit dialogue or information" concerning any of the aforementioned topics is banned from being broadcast.
The new run of the popular BBC show sees Peter Capaldi take over from Matt Smith as the twelfth Time Lord. It airs on Prime on Sunday nights in New Zealand.
- Independent