An approach from Fred Hollows Foundation encouraged Shortland Street to move from studio to Fiji for atoll storyline
Hidden on an island in the midst of a slow-flowing river stands a grand but crumbling cathedral. Its stone walls are blackened by age and weather, but its green-painted doors show signs of recent care and attention. Above the doors in a blue alcove looms a statue of a saintly bearded man with a small child. The white carving is strewn with decorative leis, revealing it to be an object of esteem.
It is a beautiful yet eerie spot; a good location for a spine-chilling ghost story or vampire movie. The semi-neglected stone structure wouldn't look amiss in Mexico or Spain where such haunting architecture is common.
But this dramatic edifice is much closer to home. The Naililili Catholic Mission is on a tiny island accessible only by river boat less than an hour from Fiji's capital, Suva. And rather than playing host to blood-thirsty vampires, the mission is the location for the last Fijian scenes of New Zealand's most popular drama, Shortland Street.
The cast and crew of the nightly soap filmed on location in Denerau Island, Suva, and surrounds this month. Locations included a resort, Wainibokasi Hospital near Nausori Airport, and the beautiful mission.
Actors Kerry-Lee Dewing, Ria Vandervis, Sam Bunkall and Michael Galvin were swamped by fanatical fans delighted to meet their favourite soap stars.
Galvin is subject to adulation of "Beatle-mania-esque" proportions. He is accosted and jostled: shouts of "Chris" sound in the streets, by the pool, in the airport.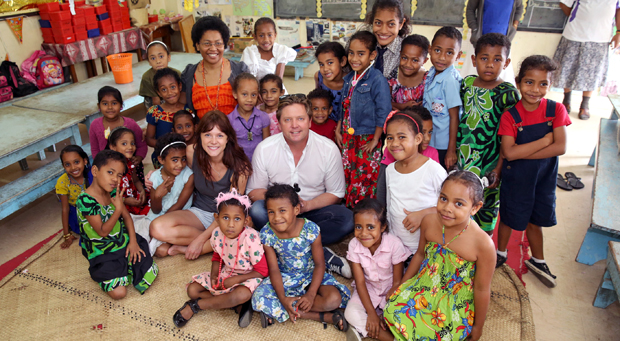 Michael Galvin and Ria Vandervis at Dilkusha Girls School in Fiji. Photo / Jae Frew
Dr Chris Warner has been in the lives of Fijians for most of the 22 years that Shortland Street has been running here.
"The people are so enthusiastic it's really uplifting," says Galvin. "But after about half a day, it can become pretty challenging."
Bunkall agrees. Although he's a relatively new character compared with Galvin (two years to Galvin's 18) he is still swamped by fans, something he finds hard to deal with, particularly when he see faces "light up" when they recognise him.
Each location had its challenges — from mouthy, sunburned Aussies lounging by the pool, to more sobering sights at Wainibokasi Hospital. And for a week cast and crew roused themselves from their comfortable hotel beds between 4am and 5am to brave humidity, fans, unpredictable weather, and off-screen dramas to make episodes to be shown next month.
Vandervis says: "It was hot and sweaty. And because there were only a few cast members there, we had very early starts — getting to makeup at 4.15am, and travelling great distances to get to set — and late finishes, so we were worked harder than we would be in the studio."
The Herald on Sunday has been sworn to secrecy about the Fijian storyline, but expect dramatic changes in the life of one of the characters. And the tropical location will be the backdrop to a drama that's bound to get Shorty watchers excited and exasperated in equal measure.
The idea for the Fiji trip came about after producer South Pacific Pictures was approached last October by the Fred Hollows Foundation, which works in Fiji and other Pacific locations,
A storyline was developed and fine-tuned around six months ago, then sent to the show's writers for development. Line producer Liz Adams had to facilitate all the non-creative aspects of the project.
"We started to work with the writing team in April to set the parameters around how many days we would shoot, how many scenes we would do a day, how it would work with a single camera — this was a huge job in itself."
Adams also had to organise the day-to-day running of the shoot. It's a massive project — 17-hour days in the heat. "I've been doing this for years, so I know what to expect," she says.
Early morning on Tuesday and the crew are getting ready by the lagoon pool. Cast and crew arrived the previous day from Nadi airport to be greeted by spear-carrying warriors and rousing song, and entertained by dancers who created a spectacular fire show for the guests.
Poolside, director Kiel McNaughton is quietly orchestrating proceedings, aided by assistant directors and a raft of technical types.
All the actors are on set today — Kerry-Lee Dewing and Ria Vandervis rocking tiny bikinis, Bunkall in board shorts and Galvin modestly clad in a T-shirt and shorts.
The scenes here are incidental — picturesque tropical backdrops that will do a lot for Fiji's reputation as a hot holiday spot — but there are multiple takes to get everything right.
Then there are the obligatory beach scenes — hot babes on the beach sipping cocktails while soaking up the sun.
A jet-ski rider keeps zipping past and making a nuisance of himself. A line about "pina coladas" is repeated over and again, the sound crew pray for a jet-ski free take, the camera operator changes position to ensure the scene gets the requisite number of perspectives.
Having just one camera is a challenge. At the beachside restaurant, publicist Rachael Keereweer explains that a scene in South Pacific Pictures' Henderson studios would take only about 20 minutes with the multiple cameras available; on location the same scene may take a couple of hours, to allow for various angles. These time constraints make split-second accuracy essential.
Filming moves to Nadi Airport in the afternoon. Local media have been invited and it's a bit of a scrum — family members have been brought along and the cast are subjected to crazy levels of attention.
Filming is then done inside a Fiji Airways plane, before everyone boards another plane fro more action.
Extreme wealth can be found around Fiji's beautiful beaches and resorts, but inland there's poverty of a Third World level.
Wednesday and Thursday's shoots at Wainibokasi Hospital reveal the realities of the latter.
It's a tiny working hospital, but not of the sort New Zealanders are used to — hand-written signs indicate where clinics are, toilet paper is rationed, and very, very ill people crowd into under-resourced wards.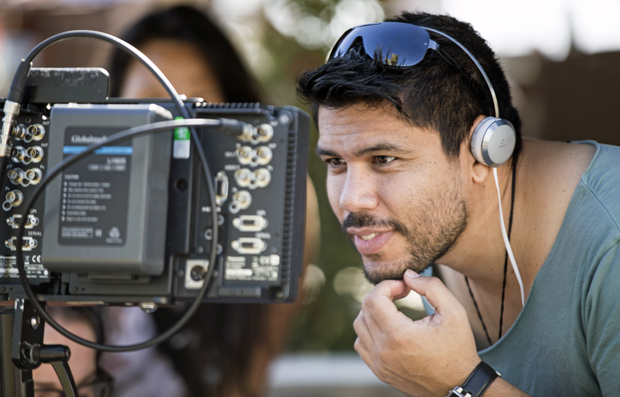 Kiel McNaughton filming in Fiji. Photo / Jae Frew
Medical adviser Sally Geary is helping oversee the stories set here. She finds the conditions sobering.
"It's not like any hospital I have ever worked in. When I came here a few days ago there was a pack of dogs roaming outside."
Geary works half of her time as an adviser and half at Auckland hospital's emergency clinic, so is well used to medical dramas on and off screen.
She came to Fiji earlier than the main cast and crew to discuss procedures that would be recreated during filming, and watched an eye operation at the Pacific Eye Institute.
"It was fascinating," she says, revealing rather gory photographs on her phone.
"I was really curious to see how such an operation would take place in Fiji — they are far less resourced than in New Zealand."
Filming takes place on a path that leads from a crumbling ambulance ramp up to the hospital. Extras come from the local community, and villagers gather to watch. The excitement is palpable, the queue for autographs seemingly endless.
A few metres away on a concrete porch attached to a tiny cottage, men are preparing a body for burial. The inevitable play of life and death goes on as always in the village: it's an eye-opening and sobering experience to be filming with such a backdrop.
A few hours later at the makeshift crew hospitality area, Bunkall is mulling over the realities of working in such an impoverished area.
"It's really hard, especially when you come to a working hospital and they can't really afford to treat the people and the tiles are coming off the floor," he says.
"I feel like we have just swooped in and done our fancy show, and then will leave. Being presented with the two extremes I think, wow, could we be doing more?"
We are interrupted by a group wanting to get their picture taken with Bunkall. He's more than happy to oblige, but acknowledges he's not the main attraction for fans.
"It's mainly Michael they want to meet. Once they have their pictures taken with him, they'll come and ask to meet us. But he is getting 80 per cent of the attention."
This is certainly the case on Friday morning, when filming moves to the Naililili Catholic Mission.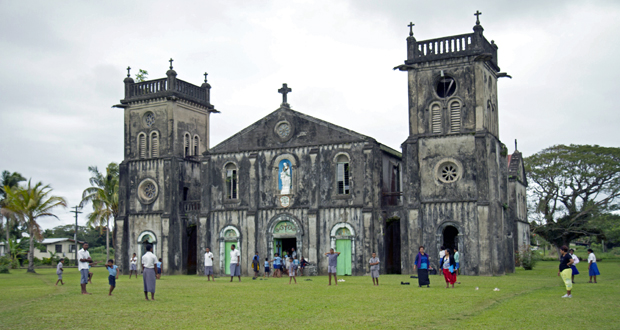 Naililili Cathedral is an eerie backdrop on a Pacific Island. Photo / Jae Frew
There is something rather surreal about seeing Dr Chris Warner in medical scrubs mobbed by hordes of Fijian children beneath the towering walls of a monolithic church; it must be even stranger in the eye of the storm.
The mission and school are an unexpected treat — the church is as dramatic inside as it is out, with pastel pink and mint green walls, crumbling altars and dramatic, geometric ceilings. It is in bad need of repair, but basic upkeep is provided by people who live nearby and it's still a living, breathing place of worship.
"We call it the mother church," says Bernadette Lamba, the local contact on the island.
Built by French missionaries in 1849, it's much celebrated by locals who still attend services here.
Lamba explains that although it's actually exam time, 15 students have been exempted so they can be extras on set. But 15 turns to dozens as the children get wind of the visitors and flock to see the stars — their excitement abates only after multiple whistles and alarms force them to head back into their classrooms.
Post-shooting, Galvin heads to one of his final destinations — Dilkusha Girls' School near Suva, where Vandervis will join him for a quick visit.
He's quiet and polite, but obviously feeling the effects of five days as the "king of Fiji" — a moniker given in joking reference to his extreme popularity here.
As we near the school, he becomes quiet — presumably steeling himself for the rapturous welcome ahead. Later that day he'll be asked for more photos by the hotel swimming pool, have his hand shaken and his back slapped by airport officials, and will smile endlessly as numerous strangers shout out "hello Chris".
But for now he is enjoying the luxury of silence.
Scenes to remember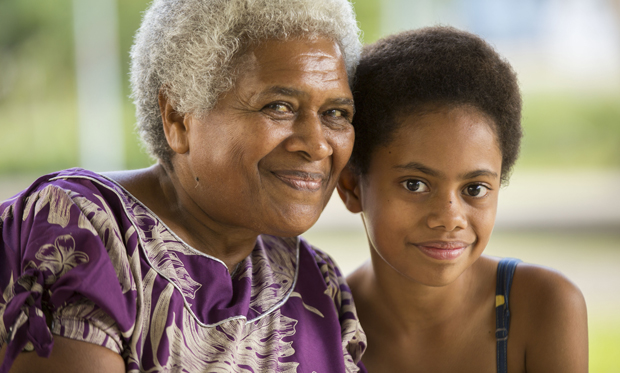 Reapi Navuku and Reama Vulaca, 12, had roles as extras. Photo / Jae Frew
For two Fijians, the Shortland Street visit will be particularly memorable. Reapi Navuku, in her 60s, and Reama Vulaca, 12, didn't just get to meet the cast of the show, they got to act in it as well.
"We were contacted by a friend who used to babysit Reama," says Vani Catanasiga, mother of Reama. "She did a video audition, and we found out she got the part last week."
Reama says that though she's been very nervous, she remembered all her lines on set.
"Mum and other people helped me to memorise them," she explains.
Reama lives with her mother, grandmother and sister and Catanasiga says that her other daughter was put out that she didn't get to be on set.
"She was complaining because she watches the show more than any of us," she laughs.
Fans mob Street stars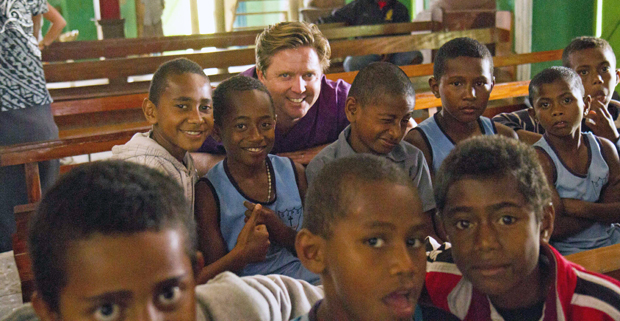 Michael Galvin was popular wherever he went. Photo / Jae Frew
Cast members like Michael Galvin are almost royalty in Fiji: the show started screening there in the early 90s and runs six months behind New Zealand.
Throughout the trip "Dr Chris" is mobbed on the street, in hotels, in the airport by fans keen for handshakes, autographs and selfies with the star.
The other cast members in Fiji — Sam Bunkall who plays Boyd Rolleston, Kerry-Lee Dewing who plays Kylie Brown, and Ria Vandervis who plays Harper Whitely — are also subject to mass adulation, as is director Kiel McNaughton, who previously played James "Scotty" Scott.
"It's still really hard for me to get my head around," says Bunkall. "But it's amazing how people here just light up when they see you."