Modern Family's Julie Bowen has one of the best comic roles around. It's no wonder she rarely bothers with films, writes Gill Pringle.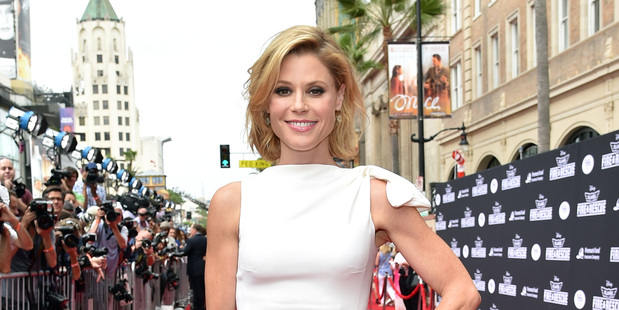 She stars in one of the most popular shows on television so it's surprising when Modern Family's Julie Bowen reveals that she has imposed a TV ban in the bedroom for more than a decade.
Arriving in New York in the 1990s, hungry for new experiences, her TV ban began as an experiment. "I wanted to see what I'd do with those hours that would otherwise be spent watching TV. Of course I didn't do much. I didn't write a novel, I didn't compose poetry."
Instead, in an odd mirroring of her other, on-screen life as Claire Dunphy, wife to Ty Burrell's estate agent Phil, she began dating a real estate investor named Scott Phillips whom she married 10 years ago.
They are now parents of three sons: Oliver, 7, and 5-year-old twins Gus and John. "He thought my refusal to have a TV was ridiculous. When we moved in together, I surrendered and we got a TV and now we have tons. But I said, 'not in the bedroom!'. And that's the one room I have won."
The middle of three girls born to Suzanne and John Luetkemeyer jnr (a real estate developer, to continue the theme), in Baltimore, Maryland, Bowen attended private schools before earning a BA in Renaissance Studies at the prestigious Brown University.
She spent a year in Florence from where she returned fluent in Italian. College also introduced her to acting, and she appeared in several stage productions before moving to New York and enrolling at the legendary Actors Studio.
While she featured in a number of films including Happy Gilmore, An American Werewolf in Paris and Horrible Bosses, her greatest recognition came on the small screen with recurring roles in Ed, Boston Legal and Lost.
"Look, I've had the opportunity to be the wife in a lot of movies but if I'm weighing going away from my kids for six weeks to work a couple of days and go, 'Oh! Where is he? Where's Timmy?', then it either needs to be really compelling and interesting, or pay a shit-load of money - there, I said it. But I don't get paid a lot of money to do movies. That goes to the big, top people. So I'd rather be with the kids."
Aged 44 and under no illusions about her bankability as a movie actress, she adds, laughing: "Anybody can do the math and see there's not that many film roles for women over 35 and, if there are, it's going to be the A-list gal; it's going to be Cameron Diaz. She's got that slot. Not me.
"But then you go to TV and there's Orange is the New Black and you say, 'Oh my God, Jenji Kohan [the show's creator] you crazy genius! Look at all these roles for women'.
"Even with Game of Thrones, there's far more of a balance and more opportunity to drive the story."
She was heavily pregnant with her twins when she shot the pilot for Modern Family five years ago. Her sons have never watched the show, and they don't enjoy the circus it has created in their young lives.
"They hear the words, 'blah blah blah - Modern Family', and it's almost always accompanied by a stranger who's going to interrupt their time at the park or the bowling alley or wherever we're together."
Not that she's complaining. "If I was raising my kids in Oklahoma, I would be a big, huge star but, in LA, I'm just this B-level TV person.
"They go to school with Gwen Stefani's kids and Dave Grohl's kids and, let me tell you, no-one gives a rat's ass about my kids when those kids are around."
Still, she has her fans.
"It's usually girls around 12 to 14, which is an age where girls travel in packs so they're at their most dangerous and feral. That's why the Beatles' bus was almost flipped over. I am certainly not the Beatles. I have experienced a crumb of that and have been terrified. They start screeching and circling like wasps. But they're always lovely, not mean and they're not stalking me at my house."
It was her comic timing as Claire Dunphy that convinced Disney producers to cast Bowen in her latest role, voicing a sassy air-tanker named Dipper in the animated movie, Planes: Fire & Rescue. As Dipper, she is enamoured by a famous air-racer. Has she ever had a crush? "I had a huge crush on Johnny Depp for years - I mean, didn't every girl?" she asks, giggling over tea in Beverly Hills. "When I first moved to LA in my early twenties, Johnny had the Viper Room [nightclub] and my friend and I went there all the time. He was dating Kate Moss at the time, but I had this fantasy that when he saw me, our eyes would meet and he would know. But I never once saw him there."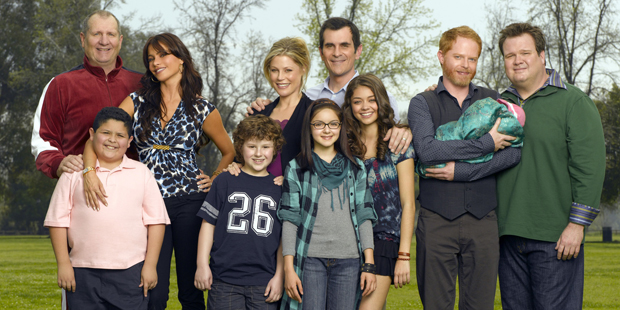 The cast of Modern Family.
A guest role on TV's Party of Five finally brought her into the same orbit as her idol. "I was playing a clumsy waitress and I had fallen and was covered in crackers. In the middle of the scene, everybody stopped rolling because Johnny Depp had walked in, and there I was lying on the ground and he's shaking hands with everybody and nobody could remember my name; I was just the extra that week. And I didn't want to get up because they'd got the crackers just right so I just grimaced, thinking, 'This isn't how I was meant to meet you ... '."
As for her own modern family, her husband works from home and she counts on him to juggle day-to-day life. When she's not filming the sitcom, guilt propels her into taking over most of the duties.
"But it's also a real pleasure to kind of 'Don Draper' them, when you come home at the end of the day, and they're clean and in their pyjamas and they've had dinner and they're just being presented to you as these little gifts to hug and hold; that is fantastic. It isn't really parenting your kids, but it is super fun when you get to do it.
"Being a parent is really hard, and I don't have endless stores of patience. I wish I did. Somebody, perhaps it was Reese Witherspoon, once said, 'if you don't yell at your kids, you're not seeing them enough', and I took that to heart because if I'm with my kids all day every day - there's yelling."
Who: Julie Bowen
What: Modern Family season 5
When and where: Screening Thursdays, 8pm
Also: One of the voices in the animated movie Planes: Fire & Rescue which opens on September 25.
- TimeOut / The Independent