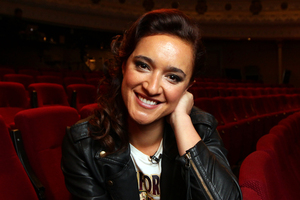 Warning: This story contains Season 4 spoilers
Keisha Castle-Hughes has been confirmed in the cast for season five of Game of Thrones.
The announcement was made today at the Comic-Con convention in San Diego.
Castle-Hughes joins other notable newcomers to the cast of the hit fantasy epic including veteran English actor Jonathan Pryce.
The Whale Rider Oscar nominee will be playing the role of Obara Sand, the eldest of eight bastard daughters - also known as "the Sand Snakes" - of Dornish prince Oberyn Martell, who died at the end of season four of the HBO series.
It's likely Castle-Hughes will face some big fight scenes in future episodes.
According to the Game of Thrones Wiki, Obara is "a daughter of a whore of Oldtown, and given to martial pursuits as she considers herself a warrior, wielding a spear and whip.
She is a sturdily built woman of swarthy coloring and no particular beauty."
Watch a video of the cast introducing themselves, which was screened at Comic-Con.

Castle-Hughes had earlier dropped heavy hits via her twitter account about her casting.