As the 2014 games begin in Glasgow, NZ On Screen Content Director Irene Gardiner takes a look back at our most loved moments from the three Commonwealth Games held in New Zealand.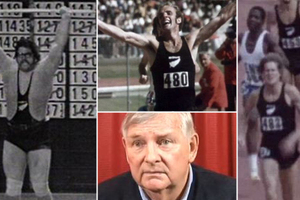 Strictly speaking we've only had two Commonwealth Games in New Zealand - the 1974 games in Christchurch, and the 1990 games held in Auckland. But we also staged the British Empire Games in Auckland way back in 1950, which was the Commonwealth Games by its old name.
I'm not sure quite what it says about the New Zealand psyche or sense of humour, but the Commonwealth Games moment that seems to be our most beloved isn't a great and glorious win, it's about something going spectacularly wrong.
It involves weightlifter Graham May, a dropped weight, and a dramatic face-plant - and it went on to become a Minties moment and a favourite piece of footage on bloopers shows the world over.
The 1974 games were known as "the friendly games" and they still seem to be our most fondly remembered of the NZ-staged events. They also hold a special place in our broadcasting history, as they coincided with the arrival of colour TV.
Not all sports were covered in colour, only the track and field events, and it was the running track that provided Kiwis with our other favourite moments from 1974 - Dick Tayler winning the 10,000 metres (and his famously delighted reaction), and John Walker battling with winner Filbert Bayi in the 1500 metres, where they both broke the world record.
You can see both of these great runs in this National Film Unit documentary - Games 74. Dick Tayler features in clip two, and the Walker/Bayi race is in clip seven:
As an interesting aside - the decathlete Mene Mene, whose story features in clips three and four of the documentary, is the father of netball star Bernice Mene. Mene only ended up coming sixth in the decathlon, but he was certainly a big crowd favourite.
The famous Dick Tayler and John Walker races also feature in this 2006 documentary Join Together - The New Zealand Commonwealth Games Story, a comprehensive look at all the Empire and Commonwealth Games Kiwis have participated in over the years, both at home and abroad.
Other highlights of the documentary include 20-year-old Yvette Williams winning long jump gold at the Auckland Empire Games in 1950 (clip one); swimmer Anna Simcic winning gold in 1990 (clip six); and bowler Millie Khan competing after the tragic death of her baby grandson (also clip six).

You can view Join Together - The New Zealand Commonwealth Games Story here:

For a bit of inside information on the 1974 games from a broadcasting perspective, this interview with veteran news and sports anchor Bill McCarthy is interesting. He talks about the challenges of such an enormous undertaking with still relatively primitive technology - it's about 50 seconds into the interview:
As mentioned earlier, Yvette Williams' long jump gold at Eden Park was the big highlight of the 1950 British Empire Games in Auckland. For a more in-depth look at the 1950 games, this National Film Unit documentary from the time shows them in all their black and white glory.
And lastly, a bit of a Commonwealth Games curio - the epic Lee Tamahori-directed promo for the 1990 games, with a war theme, and a cast of greats including Bruno Lawrence, Tony Barry and a young Joel Tobeck.