Labretta Suede has spent much of the past five years in New York with her band The Motel 6. The daughter of Greek immigrants who moved to West Auckland in the 60s, she wants to save New Lynn's few remaining heritage buildings.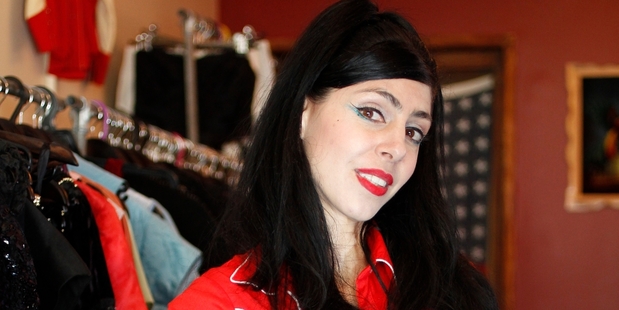 1. How did your family end up in Auckland?
My parents are from Lesbos - yeah, where lesbian came from and also Wonder Woman! Mum came here with a group of other young Greek women to work in hospitals and as a cook. Dad followed her and, being a green thumb, Waitakere was right for him. I've travelled the world myself and thought about settling in different places, southern Spain or Germany, but the language is a real barrier. It's hard. I'm in awe of my Mum coming to New Zealand not speaking a word of the language, wanting to explore, but she wouldn't see herself as adventurous.
2. Were you the only Greek girl in New Lynn?
There are maybe 40 Greek families here now but it was pretty tiny then. Greek was my first language and going to school, everyone was like the Aryan race or Polynesian. I was the only one with lips and eyebrows. What was my name then? I'm not going to reveal that. If you know, you know. I changed it about 10 years ago. Many of us carry around baggage and some people seek counselling, some religion.
You're a bit lost sometimes in life and you want to reinvent yourself. I found that when I changed my name I changed my outlook.
3. How were you lost?
I was at that age where I just felt like I was becoming a woman, a mini crisis kind of, I wasn't being the dramatic teenager any more, looking at life from a more mature perspective, losing the negativity of drugs and my lifestyle choices. Yeah, there was a pretty bad drug phase. I won't say what. I had a relationship breakdown, kicked drugs, got a real job. Some people took a long time with (the name). My Mum and Dad still use the old one sometimes. But it's a powerful thing. Changed everything.
4. How did you end up in New York?
We got an O-1 - an artists' visa for "Aliens of Extraordinary Ability". That gave us three years and we extended it to five. It was hard, doing things from the ground up, we lived it tough and very real. I had never thought that I would be destitute in my 30s with not even enough money for a tampon, having been kicked out of our dodgy apartment bed-sty in one of Brooklyn's roughest neighbourhoods and living out of a van. I saw a 3-year-old girl get shot outside our window while sharing a piece of toast with (husband) Johnny. I saw my neighbours get shot by a sort of drive-by. The guy was on a BMX.
5. Do you like the danger?
Yeah, well growing up out West there was a bit of that too. You meet gang members in casual situations and working in cafes a lot were gang owned. I think certain personalities can invite danger. I like the edge.
6. New Lynn seems a long way from there now. Why did you come back?
We still tour all the time - we're just back from Spain actually - but my parents are getting older and I wanted to be near them. It feels like a lifetime has passed and so much has changed here. New Lynn has changed. The apartment blocks - which I think will become projects much like the ones we lived near in Brooklyn - have gone up. Everything seems to be being demolished. In cities overseas, the old and the new work together. The worst thing was when I found out that they are demolishing New Lynn's original and first shopping area Totara Avenue. They want to pull down the lovely 1925 Oag's building and make a facade of it, surrounding it with more horrid 80s-looking glass and steel structures. This building is older than anyone involved in wanting it removed and is made from the original brick that was made in New Lynn. How a building of this age and beauty is allowed to be destroyed I just don't know.
7. What's the best advice you've ever been given?
It was advice passed down from my husband, Johnny Moondog, who was told it by Fats White. "Be who you want to be on stage as an artist. It's a character. Be the character you wanna be." Oddly, for me there is no turning back. I embodied it all the way. I think people want to feel the music when they watch a band. Not just hear the album. If I see another guy in black playing guitar looking at his feet ... that's so boring.
8. Are you a feminist?
I believe in women an awful lot because they are fierce but I'm an equalist. I've got three brothers, have worked in the film and music industries, I've seen the differences and struggles each gender battles. Growing up as a New Zealand male ain't no picnic either. Be strong, don't show emotion - it's pretty strange. My family life and band is full of emotion, passion, tears, laughter.
9. You sell vintage clothes you've brought back from the US: what's the appeal in the old?
They're beautiful, well-made garments. You're recycling rather than mass producing more stuff to fill the world with. They're made by people in generally okay work environments and there's the wonder of who might have worn it and where.
10. What's the difference between a Kiwi chick and a New York mama, in your opinion?
Kiwi chicks are brave, courageous, independent, not very girly in the broader sense of the term, strong, kind, will answer back, don't use their sexuality much, are fairly equal with men. New York mamas can be very girlie and complex, competitive, unsure, extreme, emotional and game players. But street-smart, loud and hilarious too. Sluttier, maybe, and they mother their men. It's probably due to there being one male for every five women in New York City.
11. What is love to you?
A gift that should never be taken for granted.
12. What will life be like at 60?
I don't want to be too much different from how I am now. I want to still be in touch with art and subculture, seeing young people rebel and be normal teens. I enjoy humanity and fringey folk. I want to be around to push boundaries, let people know you don't have to live your life only one way. Some people don't know what they want to do with their lives. I'm the opposite. There are many things I want to do.