Cirque du Soleil's latest Totem is about to pitch its very big tent in Auckland for a month-long season. Lydia Jenkin saw the show in Vancouver and talked to the performers about their roles in the spectacular, muscular production.
Walking into the enormous yellow and blue striped support tents that surround the grand Cirque du Soleil big top, is like entering a little parallel universe where everyone can fly, leap, spin, and somersault like the world's most impressive animals.
It's home for the 170 people who travel with Totem, which has been on tour for four years - where they train, eat, talk, work on equipment, costumes, or music - and it's a true hive of activity.
There are performers throwing themselves around bars, dangling from the roof, pedalling about on crazily high unicycles, checking props, and rigging. And they all make it look easy - a task or trick that seems impossible to the rest of us is routine for them, a daily activity, a job.
Photos: Cirque Du Soleil's Totem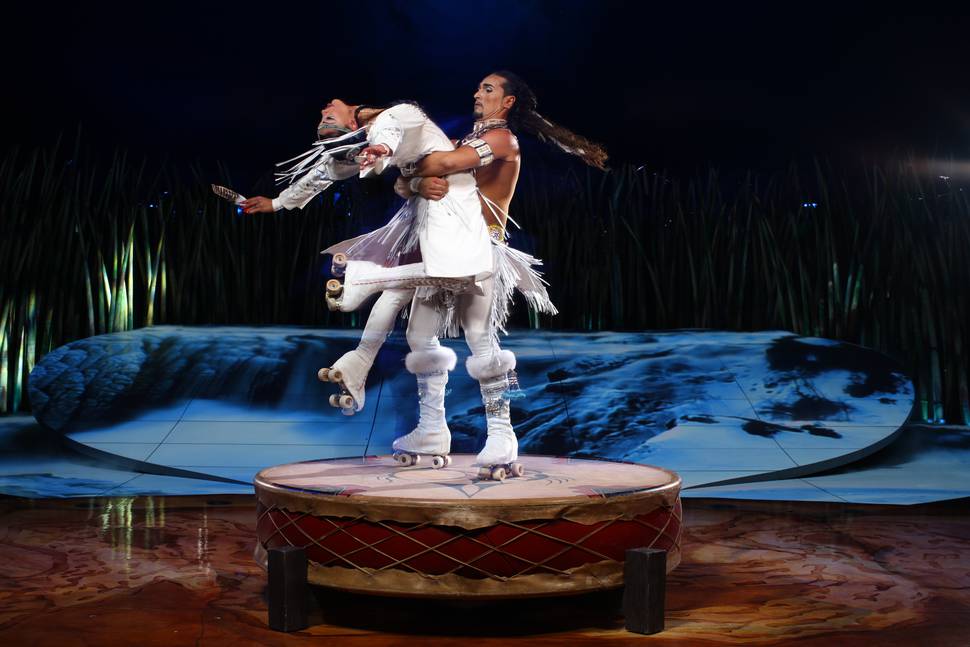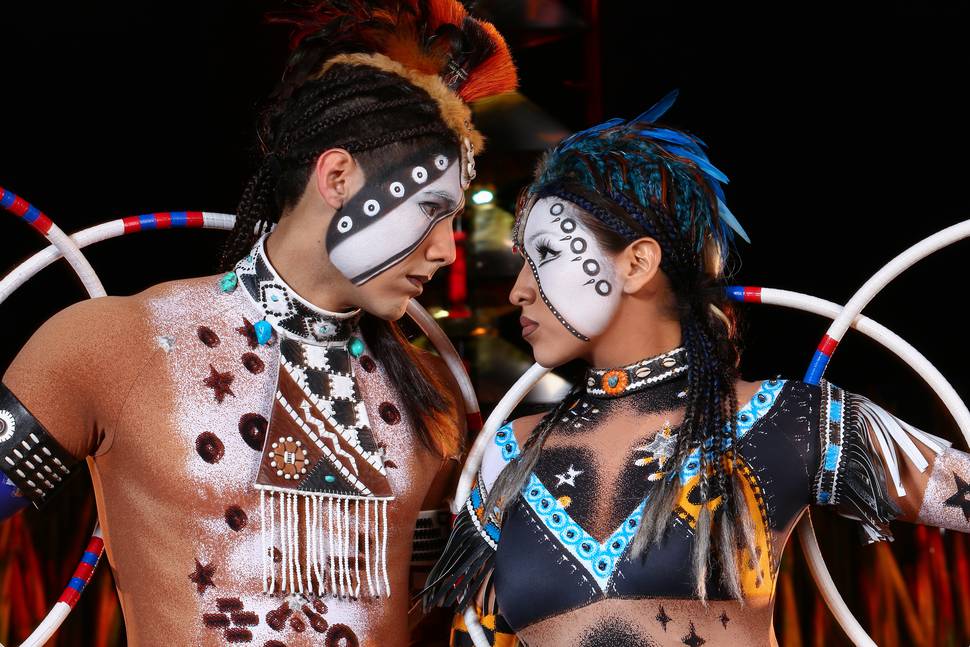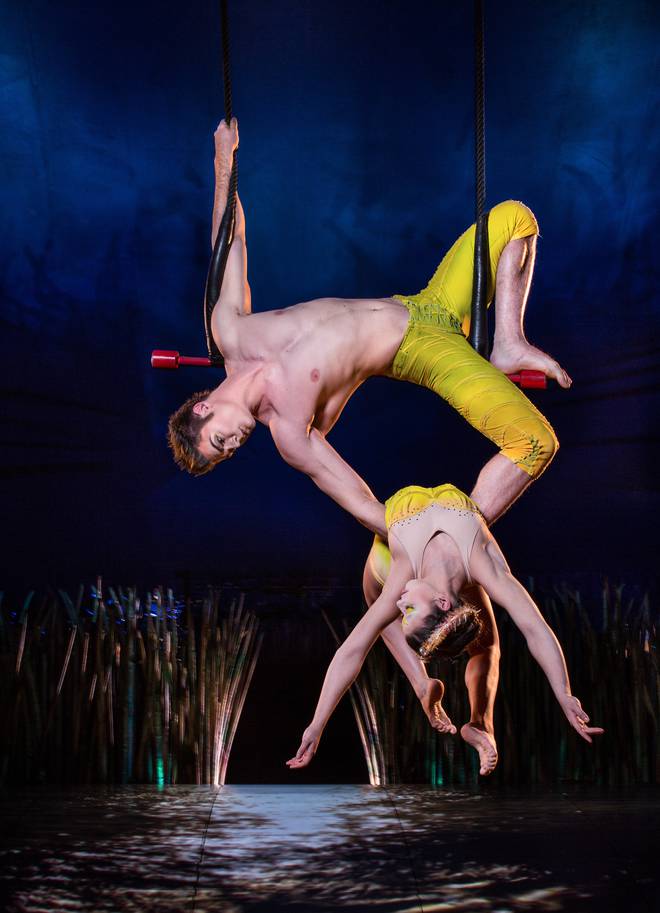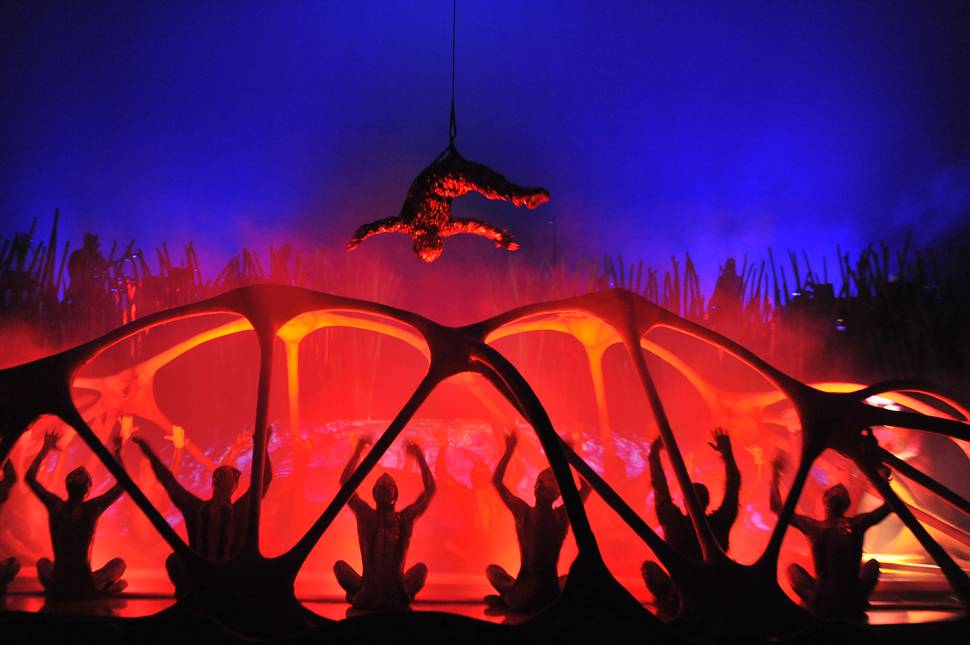 As the afternoon wears into evening, things get progressively sparklier and more colourful as costumes are donned, and make-up is applied.
There are frogs, cosmosnauts, and beach babes ambling around, Native American costumes, an eccentric scientist, a man entirely covered in crystals and mirrors, and some cheeky monkeys are among the cast of 46 in Totem.
Read an interview with Totem creator Robert Le Page here
Cirque's 26th creation, it takes inspiration from themes of evolution, transformation, and the natural world, and is an effervescent, joyful show which returns to Cirque's key aim of stretching human endeavour. Talking of which ...
Just how do they do that?
Talking to the stars of Totem about their high-flying careers
Lady of the Rings
Alevtyna Titarenko
Rings trio and dance captain
She's one of those people who look like they have a body carved of stone, but Alevtyna Titarenko didn't even really want to join the circus. When Cirque du Soleil went to Ukraine to find some new talent, friends convinced her to audition anyway. This was in 1995, when Titarenko was in the National Team of Ukranian Sports Acrobatics, and had won several European and world championship titles, so she was a perfect candidate for a spot on the show. She got the call-up two years later to come to Las Vegas for the creation of O and, 17 years later, is still leaving people open-mouthed with her impressive strength and agility.
"I really didn't want to go, because I was in the middle of studying, I was really involved in competing in fitness in Europe, but my mum, she's always wanted to be a trapeze artist, and she said, 'Come on, try it, give it a shot'. And so I agreed. It was kind of like a ticket to a new life."
Since then she's done seven different acts on four different shows, and has continued to experiment with different disciplines.
"I'm really spoiled by Cirque du Soleil, because there's so much theatre involved. I don't know if I'd be able to work in a traditional circus, for all sorts of reasons, but Cirque has such high standards, there's something magical about it."
Video: Cirque Du Soleil's Totem
The mind-boggling imagination of Cirque du Soleil will again be on display in Auckland as it opens here on August 22 in the Grand Chapiteau tent, which will be set up at Alexandra Park.
She started out on the floor acrobatics, doing work in duos and trios, spending a lot of time with other people standing on her shoulders. She moved on to Chinese poles and bungees in Saltimbanco, and then fell in love with aerial straps work, and trained herself up (even though she doesn't like heights). Somewhere in there, she also found time to have a daughter (her partner is also in the show, and her daughter travels with them), and to compete in a bunch of fitness competitions - but most recently she was offered the opportunity to work on an aerial rings act for Totem - which really shows off her mind-boggling strength.
"It's a very male apparatus, girls don't usually do rings. Because I had been doing straps, they knew I was strong, but my first week on the rings, I almost gave up, because my body was in constant spasms. But I'm very stubborn, and so I kept pushing, pushing, pushing, and now, well, I've been doing it for five years."
The act has two men (including our Gael Ouisse in the top picture) competing for her affections by showing off their own strength and abilities, much like they do in the wider animal kingdom, and during their creation of the act, they drew inspiration from one creature in particular.
"One of the things that we watched was the birds of paradise, you know the very funny way that the males attract the females and they will do anything they can think of, all these funny dances and performances, they'll be very colourful and ridiculous to try and impress her, but then the female can just look away and say, 'No, I don't care'.
"That's how the act ties into the theme of evolution, with the idea of males competing for a female's attention, and how choosing mates is part of the survival of a species."
Magic carpet ride
Marina and Svetlana Tsodikova
Foot juggling act, Crystal Ladies
Identical twins from Belarus, Marina and Svetlana Tsodikova have been involved in the circus world for most of their lives. They wanted to join the circus as children and their mother encouraged their performance skills in a variety of areas - dancing, singing, ice-skating, clowning and trapeze work. The pair eventually went off to Moscow to study and train in the art of circus performance for six years. They joined several other circuses ("we used to work in a traditional circus with big animals and a big troop, caravans - it was 200 years old, and there was lots of travelling from city to city,") before developing their own foot juggling act, where they spin squares of bejewelled, carpet-like fabric on their feet and hands, tossing them to each other, and contorting their bodies in all sorts of unexpected ways.
"Foot juggling is a circus discipline that comes from China and Russia, where you juggle with all sorts of props. But we wanted to do something special, unique, so we played around, had a lot of fun trying different things."
They won a Bronze Clown at the Monte Carlo festival (the equivalent of a circus Oscar) for the act, and were spotted by Cirque du Soleil, who thought they'd fit right in with Totem, which was being created at the time.
"They said we would be crystal ladies with all the Swarovski crystals, and we went, 'Yeah, we love this idea, for sure!'"
The idea is that the crystals represent the evolution of the earth.
"The crystals come from the earth, through the lava, becoming another element, and so we have to sparkle like crystals, and have knife-like precision, and be cool and cold. It's about the natural, dynamic beauty of these things."
The pair run through the routine every day, warming up their legs, maintaining flexibility and staying limber ("we warm up like ballet dancers, really"), but a key part of their training is keeping up their synchronicity - yes, even though they're identical twins they still have to work at it.
"It's comfortable to be together because we can fight and argue and resolve it, and we can also have a lot of fun. But I don't know if it makes us better at the physical act. To be perfect on the stage, you have to train. And Marina is 15 minutes younger, so we always have this thing about who goes first, and who goes second, and who is ahead and who is behind."
Dressed to thrill
Amanda Balius
Head of wardrobe
Amanda Balius was taught to sew at a young age - her mother encouraged her to make little clothes for her dolls, but being only 6 years old, Balius often didn't have the patience for it and quickly decided she hated sewing. Many years later, while studying theatre at college, Balius found herself facing a technical course in the costume department as one of her requirements.
"I ended up in the costume shop thinking, 'ugh, no, don't make me sew again', but I enjoyed it, and I prefered it much more as a 19-year-old than a 6-year-old, so I stuck with it."
She joined Cirque du Soleil when a job on Allegria came up after she graduated, and has been on the road with them ever since.
Though all the costumes are designed and produced in the Cirque du Soleil costume shop in Montreal (they source black or white fabric and take it from there with sewing, printing, painting, silk screening, computers, and even a 3D printer), the work Balius does on the road goes far beyond simple repairs and washing.
"We do spend a lot of time updating, and modifying, because the lifetime of a Cirque show isn't just a year, it's 12 years, so we want to keep the show up-to-date, and part of that is constantly developing costumes in tandem with new tricks, new acts, new people, new imagery, new characters, and so on."
With the costumes for Totem, there are a lot of intricate pieces that involve natural world influences.
"We have shells, things that look like wood, plants, and so on, to remind us of where we come from."
Certain aspects of some costumes were drawn from animals too - the monkeys, who are impressively lifelike, and also the acrobatic frogs.
"The green in the costume is the green from the frog, and we tried to get the proportions of the body lines the same, the patterns, the shape, that's what they're directly drawn from."
"But the way the theme approaches evolution, we're not just dealing with the scientific side, we're also talking about the evolution of our intellect and our humanity, and evolution of our relationships, so that allows us to bring other aspects into the designs too - crystals, mirrors, nuts and bolts, different aspects of technology. The Cosmonauts represent our future, or our desire for the future."
There's also a good deal of influence from indigenous cultures in the show as well - Asian, South American, North American, pan-Asian, and African - and it was about blending these influences and bringin these cultures together rather than separating them.
"We're celebrating the impact that these indigenous cultures have had on our evolution, and our humanity, and reminding people to think about it and remember it. But at the same time, this is a show, so there needs to be sparkle and eye-catching things which work under lights, and so it's been a lot of fun to develop."
Hoop for the best
Eric Hernandez
Native American Hoop Dancer
Eric Hernandez was taught to hoop dance by his uncle Terry Goedel, a four time world champion, as soon as he was old enough to be interested. It's a discipline that requires rhythm, flexibility, co-ordination, and core strength, but for Hernandez, who's half Mexican, half Lumbee - a North Carolina tribe, it's an opportunity to express his culture in a joyful way.
The director of Totem, Robert LePage, saw some hoop dancers while he was creating the show back in 2009, and knew he wanted hoop dancing to be a feature. Cirque du Soleil plucked Hernandez from the hoop dancing competition circuit two years ago and asked if he would join the Totem cast, and take his hoop dancing abilities to a global level.
"When Cirque approached me, I'd never seen a show before, but since I'm from California, I'd always see the signs and billboards, so I knew what it was about. I also knew the original hoop dancer who worked on the creation of Totem four years ago, so I was happy and surprised when they called me up.
"The hoop dance has never really been put on a scale like this before, until Totem. There are certainly hoop dancers around, doing big shows every once in a while, but to be travelling around the world, doing that many shows per week, that was unheard of really. I didn't ever expect that hoop dancing could be a full time job for me."
He performs with a female partner (though this is not traditional) and the hoops (they have five each) spin around their bodies, through the air, and across the floor as they dance around the circular stage, interweaving the hoops to create interesting, often mind-boggling formations, and contorting themselves to fit. Though the performance takes all inspiration directly from traditional hoop dancing, it's also been moulded and updated for Cirque.
"Even though the music is traditional and the singer is singing in a native language too, the beat is completely different. It's faster, everything is more flashy, we project to this huge crowd, so the dance is bigger and faster, flashier, circusier. More tricks, and more movement" he laughs.
It fits perfectly into the show's theme of evolution though, telling the story of different plants and animals the natives were surrounded by.
"One of the main images in the show is the eagle, and you'll see the eagle growing throughout my routine, his wings expanding. At the end of the dance, as everything comes together, the hoops come together to create a globe, to signify the world in harmony.
"I was taught that hoop dancing was originally from the Taos Pueblo Indians of New Mexico, which I think is what most people say, and that it was developed as a wedding dance, or a healing ceremony, but it seems it has had a lot of different meanings and purposes attached to it over time. Ultimately it's about the relationship between man and animals though, and the growth of that relationship"
LOWDOWN
What: Cirque du Soleil's Totem
When and where: Under the Grand Chapiteau at Alexandra Park from August 22 to September 28
Tickets: www.cirquedusoleil.com

- TimeOut