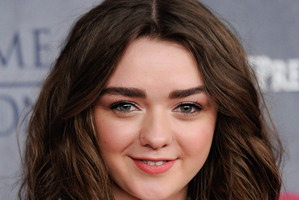 Filming for Game of Thrones Season 5 is about to get underway, if Maisie Williams' Twitter account is anything to go by.
The young actress who plays Arya Stark in the popular series tweeted a hint that she was preparing to film the next instalment of the fantasy show.
"Removing jewellery and cutting off festival bands can only mean one thing.. #GoT5," she tweeted, posting an Instagram photo of an array of silver rings, festival wrist bands (including Glastonbury) and bangles.
The modern adornments would certainly look out of place in the show's rustic setting in the fictional realm of Westeros, where Williams' character dresses more like a tomboy who is ready for battle at a moment's notice.
The 17-year-old also used Twitter to complain when British Airways wouldn't let her use the Business Lounge.
"Denied from the business lounge once again for being under 18 and without an adult..
@British-Airways sort your s*** out," the actress tweeted.
However, the airline said the actress wasn't allowed to use the lounge as she was underage.
"We're sorry if you were disappointed, lounge guests must be 18 or older. We look forward to welcoming you soon," British Airways tweeted in reply.
"Yes.. @British-Airways fully understand that, my question is why? Why can we travel alone but not use the lounge? It makes no sense," the actress tweeted in response.
However, the airline made no further comment on the social media site regarding the actress' complaints.
The Games of Thrones Season 5 premiere is expected to screen in the first half of 2015.
- AAP