As Queen head to Auckland with Adam Lambert as vocalist, Brian May talks to Russell Baillie about why the band keeps going, his life off stage and being an axe hero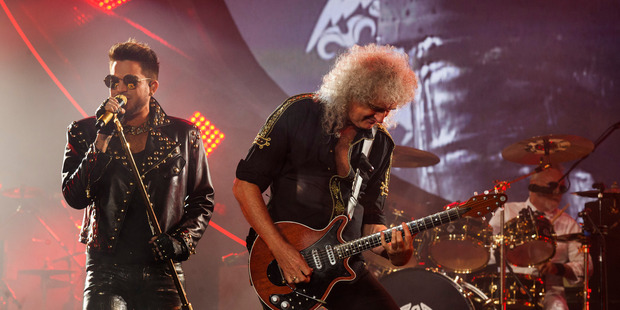 When he's not being the guitar hero of Queen - a player who helped set modern standards for fretboard fireworks - Brian May spends a lot of time peering through telescopes.
It's a passion that certainly makes for easy quips and cosmic comparisons. He is, after all, astronomically rich.
Queen's album sales over the years are estimated to be between 150 million and 300 million and he wrote a lot of those anthems many of which, 30 years after they were written, were revived for the hit musical We Will Rock You.
And May well knows the perception that Queen orbited around a superstar with a planet's name - one Freddie Mercury - and that once he was gone, that was meant to be The End.
Well bang goes that theory.
Or so it sounds talking to an upbeat and engaging 66-year-old Dr May, CBE, PhD in astrophysics. A few years ago he completed the doctorate that had been interrupted during his post-graduate days as the band's rocket took off.
TimeOut finds May mid-soundcheck in Toronto, another show on the North American tour billed as "Queen + Adam Lambert", which makes its way to New Zealand and Australia in September.
Lambert would seem proof of another astronomical comparison: May knows a star when he sees one.
And while May says he may not necessarily approve of the American Idol reality television world that Lambert sprang from - albeit with an established theatrical style than has carried him to an international solo career - he can't say enough good things about the singer who was born a year after Another One Bites The Dust ruled the airwaves.
"The fit is incredibly good and from the point of view of Queen fans, Adam is just 100 per cent better than anyone realised. Adam has got a voice in a billion and his range is stupendous. He has now learned, as Freddie did, to bring it into harness - he's not a boy any more and his interpretation of songs is breathtaking."
May refutes the notion that he and Taylor are effectively playing in a tribute band to themselves with yet another ring-in - as they did briefly in the late noughties with Free and Bad Company singer Paul Rodgers.
"The tribute band will reproduce what we used to do, whereas what we are doing now is taking it to a different place, evolving it in a different way and it's a joy.
"Within our show we have little points of nodding to Freddie and we are very conscious that it could be too much and it could be too little. But we think we've got it just fine to make that connection and reinforce that Freddie, in a sense, is very much still part of this."
So what does he think would Freddie think of all this?
"Obviously it is in my mind the whole time. I am sure he would love it, because we are doing great things with the songs that he left and the things that we all collaborated on and he would be astonished at Adam, I have no doubt whatsoever.
"He would probably say to Adam 'you bastard' - in a very pleasant way."
May says he remembers well Queen's last appearance in New Zealand. It was 1985, the year the band - seemingly on the wane after their run of early 80s hits - showed who was boss at Live Aid.
"Oh my God. You bet I remember it. It was one of the greatest moments of our lives. It was such a stupendous gig, on and off stage, Auckland was just incredible. Incredibly memorable ..."
Er, why?
"That would be telling. It was a very strange day and Tony Hadley [Spandau Ballet] was there, who was a great friend of Freddie's and I think the show was delayed for some technical reason and the two of them had a lot to drink before the show started.
Mercury brought Hadley up on stage for a duet. One review at the time observed it didn't appear that the two frontmen were singing the same song -- which makes May laugh: "But he gave it some attitude.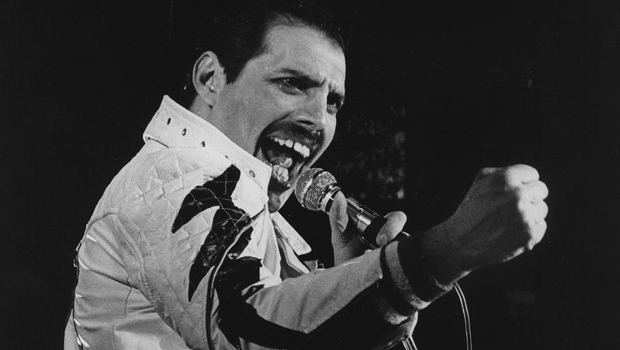 Freddie Mercury performs with the band at Mt Smart stadium in 1985.
"It was an absolute one-off. Freddie was never affected by drink or drugs before he went on stage -- except that night. So if YouTube had existed in those days ...
"So it was very memorable for us and quite exciting. I still think it was a great show."
Six years later Mercury was dead of Aids-related complications. May took his bandmate's death hard, eventually emerging to front his own Brian May Band, an exercise, he says, that taught him some lessons.
He may well have been a key part of those stacked Queen vocal harmonies on the likes of Bohemian Rhapsody but he says he realised he's not a singer or a frontman.
He is, though, quite a guitarist. He regularly makes the top end of greatest guitarist lists. He's guested on albums of everyone from Black Sabbath to Lady Gaga's most recent album.
May is also the one who Queen (the other one) and country call on for special events. He and Taylor played the London Olympics closing ceremony with Jessie J as guest vocalist on We Will Rock You - a May song - in 2012.
Ten years before that, during the Queen's golden jubilee, there was May atop Buckingham Palace delivering a searing God Save The Queen to the world.
Watch May's Buckingham Palace performance
You have to ask: What was that like?
"Well, very frightening ... thunderbolt and lightning -- and very frightening. Not because of the height but how big a fool I could have made of myself in front of a billion people, live.
"If I screwed it up forever I would have been the guy who screwed it up on the top of Buckingham Palace. So that was a real journey for me. That was an exercise in management of fear. Add it turned out great but a hell of a lot of work went into that."
May was made a Commander of the British Empire in 2005, not for bringing a bit of Woodstock to Her Majesty's royal bash, he thinks, but more for his activism in animal welfare, fighting against the repeal of the fox-hunting ban and against the culling of badgers.
Video: Queen coming to Auckland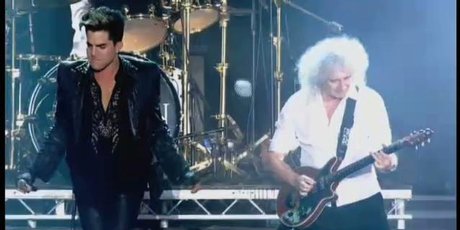 These are feelings he's always had, but ascending to the rock aristocracy has allowed him to do something about them. "Now I have achieved so many of the dreams I had, I have time and I make time to try and change things for animals and lessen their suffering."
Oh yes, and he was Chancellor of Liverpool John Moores University from 2008 until last year. Which might sound like a token position but for that PhD and his continuing interest in astronomy, as well as his interest in the lost art of stereoscopic photography.
Had it not been for his first band with Taylor, Smile, evolving into Queen when they met a ambitious young singer by the name Farrokh Bulsara in 1970, May might have stayed in academia, gazing at the stars rather than becoming one.
"I suppose I think it was the right decision. I think astronomy always benefited from me leaving it but it possibly benefited from me coming back to it - I am able to build a lot of bridges - so many astronomers are really into music. You can mix the two. It's a good place for me to be," he says, citing an conference he'll be attending after the tour, which will feature both Stephen Hawking and progressive rock keyboard star Rick Wakeman, with May presumably the man in the middle.
May's father didn't speak to him for a year after he jacked in his studies to become a musician, which was a little ironic as Harold May built the trademark "Red Special" guitar his son still plays on stage today.
"Yeah, I carry it to make sure my dad is with me always and also it's so much a part of me it's like another limb and I can be so much more expressive and instinctive on that than I can with anything else.
"My dad didn't speak to me for about year hardly, he was so upset I was giving up my education as he saw it to play rock 'n' roll but the irony is he made the guitar. I remember saying 'Dad, you helped me along this course'.
"But it was a very difficult time and it wasn't until we played Madison Square Garden and flew him out there on Concorde to hear it, that after the show he said, 'Okay, I get it now'. That was a big thing for me."
Who: Brian May of Queen
When and where: Vector Area on Wednesday, September 3
Tickets on sale: Thursday
- TimeOut