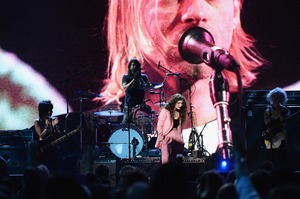 Lorde has responded to Iggy Azalea's critical comments about her Kurt Cobain tribute performance at the Rock & Roll Hall of Fame induction concert in April.
But she's refusing to spark a war of words with the rapper.
The Kiwi singer took to the stage with remaining Nirvana members Dave Grohl and Krist Novoselic as part of a tribute to Cobain and his music.
Azalea enjoyed Lorde's performance, but did not find it "appropriate", stating she thought the singer-songwriter's former bandmates should have chosen Cobain's peers to front them at the induction ceremony.
She told Billboard magazine: "Nothing against her, but I think when you're doing a tribute to someone that's dead, generally it should be the person's peer. Lorde is not Kurt Cobain's peer. No matter if she killed the performance or not, I just don't think it's appropriate."
Lorde has now responded to Azalea telling the Herald Sun: "I enjoyed it. I had a good time. That's all that mattered.
"I've been in a position where I've said something in an interview where I've thought, 'Damn, I wish I could take that back'. I don't know how (Iggy) is feeling about it.
"But anyone who's doing well deserves respect, and I respect what she's doing."
Meanwhile, Lorde insists "comfort is important" when performing concerts.
The 17-year-old star shuns the notion of wearing revealing ensembles when singing to large crowds.
Instead she chooses something which makes her feel secure and gives her freedom to move about.
"I don't like to be constricted when I'm on stage, so comfort is important. I've been wearing a Stella McCartney suit and a bunch of really crazy Rick Owens jumpsuits," she told the British edition of InStyle magazine.
"I usually wear flats so I can dance around."
- AAP