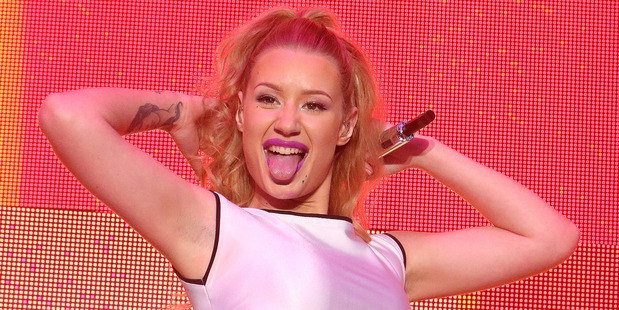 Iggy Azalea has taken to Twitter to refute claims the pop stars are feuding, saying she considers the Kiwi star to be a "very talented friend".
The 24-year-old Australian rapper told Billboard magazine in a recent interview she thought Lorde's performance with the remaining members of Nirvana in April was "inappropriate".
Soon after her statement went public rumours began circulating the women were engaged in a feud.
But Azalea took to Twitter to deny these claims.
"I consider lorde my very talented friend. I find it ironic 2 girls tell the media theyre full of shit & weeks later supposedly I dislike her (sic)," Azalea wrote to her nearly 1.5 million followers.
The hip-hop artist went on to explain she didn't intend to insult Lorde at all with her comments.Instead Azalea insists she was simply sharing her point of view.
"My opinion on the makings of a touching musical tribute wasn't meant as some back door way to take a dig at her or the performance she gave," she detailed.
"sorry if it came across that way, it's not what I intended & I feel genuinely bad about it because I still think lorde is an awesome chick. And I just don't want the world thinking I don't support the girls, because I do," she said, signing off with a peace sign emoji.
Lorde collaborated with Nirvana for a performance at the Rock and Roll Hall of Fame Induction Ceremony, which took place on April 10.
Azalea made it clear to Billboard Kurt Cobain is too much of an icon to mimic.
"Nothing against her. But I think when you're doing a tribute to someone that's dead, generally it should be the person's peer," the rapper told the magazine.
"Lorde is not Kurt Cobain's peer. No matter if she killed the performance or not, I just don't think it's appropriate."
I consider lorde my very talented friend. I find it ironic 2 girls tell the media theyre full of shit & weeks later supposedly I dislike her

— IGGY AZALEA (@IGGYAZALEA) June 9, 2014
My opinion on the makings of a touching musical tribute wasn't meant as some back door way to take a dig at her or the performance she gave.

— IGGY AZALEA (@IGGYAZALEA) June 9, 2014
sorry if it came across that way, it's not what I intended & I feel genuinely bad about it because I still think lorde is an awesome chick.

— IGGY AZALEA (@IGGYAZALEA) June 9, 2014
And I just don't want to world thinking I don't support the girls, because I do! Anyway I'm off to paint my kitchen! Lots of love. ??

— IGGY AZALEA (@IGGYAZALEA) June 9, 2014
- Cover Media