Five Game of Thrones addicts give their thoughts on last night's eighth episode of season four, The Mountain and the Viper.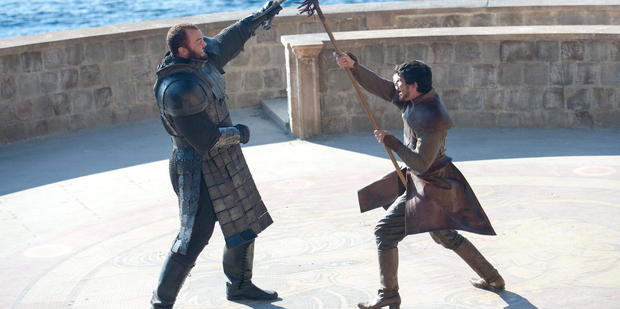 * The following story contains mega spoilers.
Hayden Donnell (has memorised every word of every book and spends his evenings correcting historical inaccuracies on the Westeros Wikipedia page):
Toward the end of The Mountain and The Viper, sandwiched between scenes of horror and betrayal, there was a five-minute conversation about beetles. On the brink of learning whether he would live or die, Tyrion Lannister thought back to his mentally impaired cousin Orson, who dedicated his short life to killing the bugs that littered his backyard. Why think of him then? It seemed Tyrion saw something in Orson's lengthy killing spree. Perhaps it was a metaphor for a world without meaning, where fate comes to the good and bad alike and justice constantly evades our grasp. A world where even Oberyn Martell, fighting to avenge his sister and her murdered children, can be snuffed out at his moment of victory, a giant's hands crushing him like the downward thrust of a rock.
Here's a quick list of people who I'd want to represent me in a trial by combat: Metta World Peace: NBA basketball player; Charles Bronson: Criminal, artist; Liam Neeson
Cameron McMillan (a Thrones trainspotter who can always be relied upon for up-to-date statistics and random factoids):
The Mountain gets into Viper's head, remains undefeated
The calls for helmets to be made compulsory in all fights to the death will no doubt be loud across Kings Landing on the morn, following the brutal ending to today's highly anticipated battle between Gregor 'The Mountain' Clegane and Prince Oberyn 'The Red Viper' Martell. The Mountain improved his career record to 1451-0 but needed a late comeback to defeat the Viper - killing Martell by crushing his head with his bare hands. In front of a sell-out crowd at Joffrey Lannister Arena, Martell wore little armour and that worked to his advantage as he used speed to take control of most of the fight against the 7'11" Clegane. But his mouth moved just as quickly which proved to be his downfall. Martell talked throughout the fight in an attempt to get a confession out of Clegane for the rape and murder of his sister and her children. Oberyn eventually downed The Mountain with a slice to the achilles and spear to the chest - setting up certain victory before having a complete brain explosion. Clegane managed to land one final punch before rolling on top of the Viper and crushing his head through his eye sockets. The victorious Mountain suffered a number of injuries himself and could be out of action for the near future due to possible death.
Robert Smith (has read every book, watched every episode, owns several T-shirts, and possibly has a George RR Martin shrine in his bedroom):
Game of Thrones can get awfully talky sometimes, with serious people discussing serious subjects in serious rooms, but it also has some stunning fight choreography and outrageous gore, and this latest episode certainly delivered on that score. The show can rarely afford the big battle scenes its epic scope requires, but it more than makes up for it with plenty of smaller, one-on-one conflicts that showcase a bewildering variety of fighting styles and techniques. The face off between the Red Viper and the Mountain was one of Thrones' best ever, with the Viper darting in and out of reach and finally bringing the giant down with some precise, deep cuts. It was a pleasure to watch, not just because the Mountain is a total psychopathic dick who deserves to die, and not just because it would save Tyrion's life, but because Oberyn Martell is fuelled by righteous vengeance. But all his dashing charm and roguish skills meant nothing when he fell into the hands of somebody who can pop his head like a pimple, and he's left shattered on the city stones like a dead beetle. The fight is exhilarating, but there is no justice for murdered sisters or framed dwarfs here.
Chris Schulz (has watched every episode, is halfway through book one, and has a not-so-secret obsession with Brienne, the Maid of Tarth):
For those of you shocked by last night's eye-popping fight-to-the-death, I've got news for you: Anthony Starr already done did it. In fact, he probably did it better. Yep, the Kiwi actor's fake cop character in Banshee (season one, episode four) took out a giant imprisoned albino by slicing off his penis, gouging his eyes out and smashing a metal weight disc on his neck. So the Red Viper's grisly death wasn't the highlight of last night's episode; for me, it came from the episode's LOL moments. It had plenty of them. Don't believe me? How about the burping contest that opened the episode? Or Arya's hysterics (Maisie Williams has the best laugh ever) after discovering the Hound wasn't going to get paid for dragging her halfway across Westeros? What about the bearded hype man announcing the fight who was cut off mid sentence by Tywin's house band like a bad Oscar awards speech? And surely you laughed at Tyrion's grand speech about beetle slaughter. Oh, those poor beetles!
Then there were these:
Russell Baillie (may possibly be hate-watching the show, we're not entirely sure where his allegiances lie):
So far as I can tell this happened: Really quite a lot. It was enough to make your head explode in what was a mind-blowing episode.
Yes, the ending of series four part eight will go down in Game of Thrones lore as one of the more memorably violent endings. This was the one were Prince Oberyn Martel (the Red Viper) couldn't keep his mind on the job, so ended up with his brains all over the King's Landing paving. And he was doing so well too in his fight against The Mountain. Even if he sounded a lot like like Inigo Montoya from The Princess Bride ("Hello. My name is Inigo Montoya. You killed my father. Prepare to die.") with his own incantation of revenge ("You raped her. You murdered her. You killed her children.").
Still, his demise was no laughing matter. His failure to survive as Tyrion Lannister's champion in the trial by combat - surely it was a draw? no penalty shoot-out to decide? - means the wee fella has finally been sentenced to death by father Tywin.
That was quite an ending to a gripping, surprising episode.
It was one which didn't start out too promsingly - though the answer to the question: What song was the prostitute burp-singing in the Mole's Town pub before she and the rest were massacred may come in hand in future GoT pub quizzes. (Answer: The Bear and the Maiden Fair).
But between the mutiple massacres and the combat finale, this episode managed to deliver some riveting talking-in-room scenes - Tyrion and Jaime's nostalgic chat about their moron cousin Orson was a classic - and put some question marks next to some characters that hadn't been all that interesting.
Like, is supposed eunuch Greyworm as asexual as he's meant to be? Is young Sansa Stark finally getting with the programme and developing her own line in treachery and cunning? Now he's been outed as a onetime spy against dragon queen Daenerys, is the ever-loyal Ser Jorah Mormont going to take it personally?
Two episodes to go. It's getting good.