Six Game of Thrones addicts give their thoughts on last night's epic seventh episode of the fourth season, Mockingbird.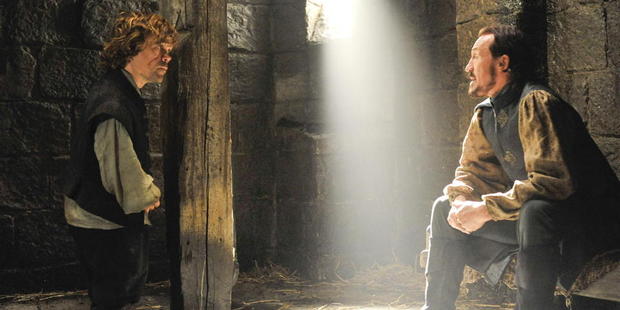 Robert Smith (has read every book, watched every episode, owns several T-shirts, and possibly has a George RR Martin shrine in his bedroom):
There wasn't a lot of real sword-play in this episode, but there was plenty of action in Tyrion's cell. His three visitors run everybody's favourite imp through an emotional gauntlet, with all three actors sparking off the always-awesome Dinklage. Jaime might be the only person who truly loves Tyrion, but won't lay down his life for that love, (even if it would piss off their father). Bronn offers some faint hope, but his brutal honesty won't let him risk everything for the sake of friendship, and Tyrion can't even hold that against him. But then there is Oberyn Martell, a new addition to the cast this season who has already made his mark with his charm and thirst for vengeance. At first his visit to Tyrion's cell seems like another excuse for cruel taunting of the dwarf, until he stands tall and declares himself a champion - not for Tyrion, but for his own need for revenge. That sets the stage for the ultimate duel between the Red Viper and the Mountain, and while we have to wait a little longer than usual for that enticing fight - there is no episode next week due to a US holiday - it is certain to be worth the wait.
Cameron McMillan (a Thrones trainspotter who can always be relied upon for up-to-date statistics and random factoids):
Littlefinger is winning the game* and by some margin at the moment. He successfully killed a king, which right there is worth a few converted tries, while last night's episode put him further in front by throwing Lysa Arryn out the moon door. In a few swift moves he's scored the new woman of his dreams and increased his Westeros property portfolio two-fold by adding the Eyrie along with Harrenhal. But what's his next move? Does he get rid of a Robin as well or would that alienate him from the rest of the Vale? A lot of people there won't be so sure that Lysa tripped and fell. What has worked in Petyr Baelish's favour to date is that he hasn't had much to lose, especially a loved one which is Cersei's weakness. But by falling in love with Sansa he may have just created a real weakness. Sure he's got a coward's way of gaining his success. He didn't actually kill the king himself while he threw a defenceless woman out a window (sorry to bring back the bad memories Bran) but he knows how to win. You need to be cold hearted, ruthless and cunning to win this game. Strength and honour is worth nothing. Look where it got the Starks. You also need a good gravy. People forget that.
* To be exact Tommen is winning since he sits on the Iron Throne but the only game he plays includes a ball of Pentosian yarn and Ser Pounce.
Bridget Jones (a latecomer, but only because she is incredibly impatient and prefers binge-watching. She'll look at spoilers, but will always deny it):
I'm not angry Bronn, I'm just disappointed. Really, really bloody disappointed. The scene between Tyrion and the newly-engaged, cape-wearing, fancy-pants Bronn was beyond heartbreaking. We know these two have a funny wee relationship; lots of banter, but a real friendship is there as well. And that's what made it all the sadder that Tyrion couldn't count on his right-hand man just when he needed him. Obviously, agreeing to fight someone like The Mountain is basically the battle version of wailing "goodbye cruel world" at the top of your lungs, but by refusing to step up for Tyrion, Bronn has shown us what's been behind all his action up to this point. Not necessarily gold and glory, or even that yes, he actually likes the little prince, but he's offered himself up before because he knew he could win. This time, the outcome is not so certain. Good luck with that Oberyn Martell.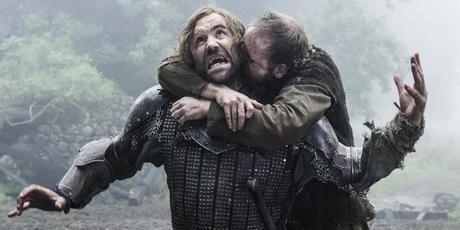 Russell Baillie (may possibly be hate-watching the show, we're not entirely sure where his allegiances lie):
So far as I can tell this happened: Well it was really another wheel-spinner of an episode. Yes there was sex (unseen but consensual), violence (casual disembowelling, but only in training for a bigger event), a mercy killing and someone almost significant got pushed out of a castle. She had done enough acting for an entire season in her few scenes. She won't be missed. Yes there were a few good lines. And lots of tales of traumatic childhoods which made some characters who they are today, poor dears. It seems Tyrion has been the bane of his sister's existence ever since his mother-killing birth. But it still felt heavy on the padding. Way too much time was spent on things like a couple of characters having a pie at a pub while others pondered potions in their bathroom cabinet and others changed some plans about punishing slavemasters in a city conquered a few months back. Some of this tedium may prove important in the remaining three episodes, otherwise this season risks turning back into a log slog. Still, Tyrion now has his champion for this forthcoming trial by combat. His one-handed bro Jaime and his old retainer Bronn both begged off taking on sister Cersei's sword-for-hire Ser Gregor/"The Mountain"- the big bully brother of Ayra Stark's captor-companion "The Hound". Obviously, their ancestors carried off a vast booty of definite articles and common nouns in some previous era and distributed them among their heirs. Tyrion's stand-in will be Prince Oberyn, the sly bisexual Spaniard, sorry, Dornishman who has his reasons for taking on The Mountain. Should be quite a scrap. Only three episodes to go. Can we just get on with it?
Chris Schulz (has watched every episode, is halfway through book one, and has a not-so-secret obsession with Brienne, the Maid of Tarth):
If G.R.R. Martin doesn't get around to writing books six and seven and Game of Thrones is forced to take an extended break from television, an opportunity for a cookery spin-off show presented itself last night. That was thanks to the character Hot Pie, now working in a remote Bed and Breakfast tavern who served Brienne and Gendry a tasty-looking kidney pie. He then began his audition for a Jamie Oliver-style cooking show, sharing his recipe for making the ultimate pie. His tips? Grab a pen and write them down: only use free range and organic kidneys, use pasty with real butter (not margarine), and - this is very important - "never forget the gravy". Also, bake your dog-shaped sweet treats at the same time to save on firewood for the oven. What shall we call his new TV show? How about: Pie Tips with Hot Pie. Let's just hope Podrick never makes a guest appearance - his barbequed rabbit the week before looked appalling.
Hayden Donnell (has memorised every word of every book and spends his evenings correcting historical inaccuracies on the Westeros Wikipedia page):
Siblings can be your worst enemy. They terrorise and tell on you in turns, steal your stuff and argue with your most clever insights. But when one of them is brutally murdered in an uprising against the king, there's going to be hell to pay. Oberyn 'The Viper' Martell's sister was killed decades ago by the worst bully in Westeros, Gregor 'The Mountain' Clegane. There's only so much pain you can bury beneath an understanding paramour and a never-ending montage of brothels. He wants revenge. His love stands in stark contrast to the hatred some of the other characters harbour for their family. Tyrion, the man whose life Oberyn will be fighting for, would rather his sister Cersei was dead. Sandor Clegane scrunched his face as he described the torture he received at the hands of his monstrous brother. Away in the Eyrie, Lysa Arryn thought angrily of her sister Cat, who had always been given a love she did not earn, before flying out the moon door to join her in death.
- nzherald.co.nz