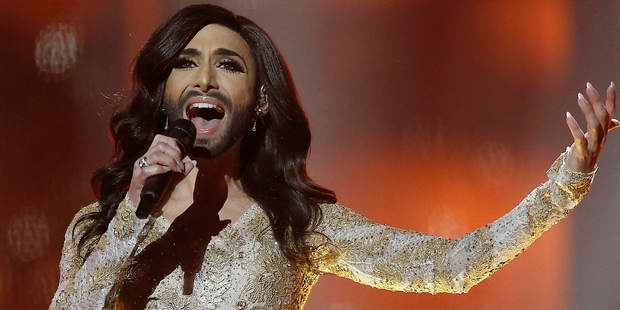 Chonchita Wurst, the bearded drag queen from Austria, has won the Eurovision Song Contest.
Earlier it was reported that Conchita, who was initially written off as too provocative, became a favourite to win today's Eurovision Song Contest, tinged as always with regional politics. Since 1956, Eurovision results have been closely intertwined with politics.
Twitter has exploded with photos comparing the drag queen to reality TV star Kim Kardashian.
Who'd of thought Kim Kardashian could sing! #Austria #beardedlady #EurovisionSongContest2014 pic.twitter.com/FjRnQNffrh

— MissBirmingham2010 (@MissKerryPrice) May 8, 2014
the singer from austria is actually kim kardashian pic.twitter.com/b3XyQeXFdb

— shan (@niaIllz) May 10, 2014
Russia's Tolmachevy Sisters were booed on Tuesday when it was announced the twins had made it to the final, while experts believe Ukraine could benefit from sympathy votes.
Conchita Wurst, the hirsute alter ego of Austrian performer Tom Neuwirth, will represent his homeland with the Bond theme-like ballad Rise Like a Phoenix.
In Russia, Belarus and Ukraine petitioners have demanded that the 25-year-old drag artist be dropped.
But much like the title of the song, the singer rose, on Friday, to second place in the odds table. Earlier, the frontrunner had been Armenia's Aram MP3, who stirred controversy when it was reported that he had said Wurst's lifestyle was "not natural" — a comment the comedian later claimed was a joke.
Other artists predicted to do well were Sweden's Sanna Nielsen and Dutch duo The Common Linnets, with a somewhat-unlikely Nashville-inspired country song.
- AAP