Since the trailer was unveiled at E3 last year, little detail has been publicised about upcoming Xbox One exclusive Sunset Overdrive. Last month, New Zealand Herald social media editor Paul Harper visited the Insomniac Games studio in Los Angeles to get a taste of what the open world shooter is all about.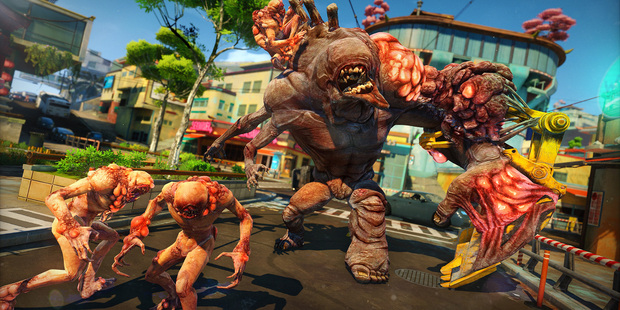 It's 2027 and in Sunset City, beverage company Fizzco is holding a party to launch their new energy drink, Overcharge Delirium XT. Unfortunately you have to work as a cleaner so you miss the big event. However in the rush to take the drink to market, Overcharge Delirium XT was not rigorously tested, and those who drink it mutate. The city is quarantined as the mutants, dubbed "OD'd", roam the streets. It's the end of days, but it is not your end of days. Where once you toiled, now you thrive. This is your awesomepocalypse.
There's no shortage of post-apocalypstic games on the market (they've been "done to undeath", as creative director Marcus Smith puts it), but while most take a bleak view Sunset Overdrive paints a different picture. You'll see no rubble in Sunset Overdrive, the developers told media in April. Instead, the game takes on the same stylised imagery seen in previous Insomniac Games (Spyro the Dragon, Ratchet and Clank). It's bright, vibrant and edgy.
Sunset Overdrive is a game which knows it is a game, and as such, it doesn't take itself seriously, frequently breaking the fourth wall. In true Insomniac fashion the arsenal of weapons is ridiculous. The TNTeddy launches teddy bears strapped to explosives, the High Fidelity gun propels vinyl records at enemies, while the Hover Turret is a handy fire-and-forget weapon - a toy helicopter with a firearm attached.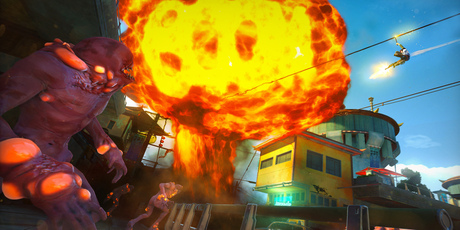 A word frequently heard at Insomniac's Burbank studios is "traversal" - how you get around is a big point of difference for this game. It's a mix between Tony Hawk's Skateboarding, Jet Set Radio, and Prince of Persia; You grind (sans board), pole swing, wall run, bounce and zip-line your way around Sunset City. The city is a giant playground. Mastering the fast-paced traversal in Sunset Overdrive while using the fantastic array of weaponry is vital, as there's little taking cover. The cooler your moves and the faster your kills (ie. the more aggressively you play), the more your "style meter" will increase. Level up and you'll unlock "amps", which modify the way the player and the weapons behave - from firing fireballs from your feet, to rad mini-nuclear explosions coming from your automatic rifle.
As is typical in open world games such as zombie-shooter Dead Rising and GTA, Sunset Overdrive features a main mission as well as side quests and challenges. In the slice of the game media played last month, the protagonist is tasked by fellow survivors to take out a radio tower. On the way we're confronted by several of the games enemies, most commonly the OD'd - the mutated people who drunk the Delirium XT. Enemies also include scabs (human survivors killing for loot), mutants with objects fused to their bodies (eg leaf blower), Fizzco's robotic security force, and incarnations of the Fizzco's mascot Fizzie (a giant Fizzie balloon greeted us at the top of the radio tower).
You can play as a woman or a man and dress however you wish - so all players can express themselves through the game. The punk rock-inspired creative directors argue that once the laws of a society are gone, social norms would go with them. All the rules would go out the window. Sunset Overdrive certainly embraces this idea.
Surprisingly, a highlight of the game is dying. There is no screen offering advice upon your demise, rather you respawn near where you died, dropped from a ufo or stepping out of a coffin zombie-style. It's super cool. You'll look forward to dying.
- nzherald.co.nz