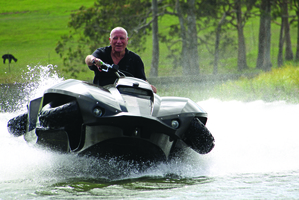 A headline caught my eye a couple of weeks back: "Kiwi philanthropist to get honorary doctorate." Was it Sir Stephen Tindall or Sir Owen Glenn? Or the arts' very own Sir James Wallace?
No, all wrong, it was Alan Gibbs, Telecom privatiser and profiteer.
Dear reader, I blanched. Give the man all the honorary engineering doctorates you want for his kooky amphibians, but let's not present altruism as his most essential core trait - he doesn't.
In Serious Fun, his 2012 hagiography, Paul Goldsmith (aka the right's pet Boswell) quotes Gibbs on business: "I don't pretend to do my bit out of the goodness of my heart ... I do my bit out of my own self-interest."
Based on a University of Canterbury press release, the APNZ headline refers to Gibbs' donations to Te Papa and his laudable funding of the site for Auckland's temporary NEW art gallery (with then wife and dame-to-be, Jenny Gibbs).
Fittingly, the gallery site was an old telephone exchange - more telco assets turned into arts assets. (Goldsmith says Gibbs thought gifts in health or education would be mere drops "in buckets managed by [state] bureaucracies in which he had little confidence". In the arts, money bought more influence.) The press release doesn't mention Gibbs' Act Party donations or his funding of a University of Canterbury scholarship, named for a right-wing economic theorist. Only his art funding, seemingly apolitical and uncontroversial, is apparently fit to be named.
The publicity goes on: "Gibbs was active in restructuring inefficient businesses such as ... Telecom so that their best elements could survive and prosper in competitive markets."
Let's reverse that spin: Gibbs was slashing and burning for his own profit. Not only did he broker the deal which sold the state-owned telco in 1990, he also bought shares in it, and ultimately his earnings from the deal were well into the nine-figure bracket.
Could the Government have profited instead, if Telecom had stayed in public ownership? The answer depends on your politics. At first I thought Gibbs' arts patronage was a sort of glitter-washing - creating a fig-leaf legacy so we'd forget how he got the money in the first place - but Goldsmith shows how proud Gibbs is of his business activities. And to his credit, Gibbs loves a committed political discussion, often stirring up the left-wing artists he commissions to fill up his Kaipara sculpture farm. "You're a bunch of socialists but you live off the capitalists," artist Bill Culbert remembered him saying.
While justifications are possible, this is part of a vexed question: What is the appropriate relationship between money and supposedly transcendent art?
Gibbs once even funded a trip to Cuba for Culbert and Ralph Hotere to convince them that communism was terrible. It didn't work; again, politics influenced perception on both sides. So give the man his due: Dr Gibbs is a philanthropist. And, more essentially, an evangelical neo-liberal businessman. Don't let the art obscure that; he'd be disappointed.