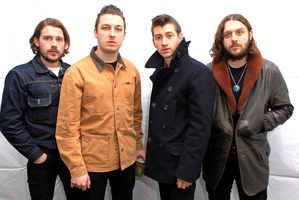 Smoke machines, sizzling lights, dapper suits and slicked back quiffs — the Arctic Monkeys sure are looking spiffy these days.
Perhaps it's because we haven't seen the Sheffield lads in a while, but the confident Monkeys that swaggered onto Vector Arena's stage barely resembled those rowdy, denim-clad youths we saw way back at the 2009 Big Day Out.
For one, front man Alex Turner has had a complete makeover, with his suggestive hip thrusts, fitted suit, sweaty fringe and wise cracks sitting somewhere between a Josh Homme-style rock God, and a dodgy Elvis impersonator working the Vegas strip.
Turner showed off both sides during the ballsy riffage of Arabella, briefly ditching his guitar to stalk theatrically around the stage, pinwheeling his arms and pointing at fans before delivering a searing and aggressive solo that became the best of the night.
Their songs have had an upgrade too, with the smart-ass youthful carnage of their earlier work being replaced by gruntier, Queens of the Stone Age-style desert grooves.
That's certainly where tonight's highlights were to be found, like the grinding riff of Don't Sit Down Cause I've Moved Your Chair that exploded into a sublime chorus of, 'yeah yeah yeahs'.
Or the electrified stomp of Do I Wanna Know?, a sluggish, bass-heavy thriller that showcased the Monkeys' knack for pairing Turner's wry lyrical wit with falsetto-drenched choruses perfectly.
Then there was R U Mine, the highlight from last year's career peak fifth album AM that combined bruising drum rolls with a rollercoaster riff that Turner rode with tongue-twisting lyricism indebted to hip-hop.
There were other great moments too: the full throttle momentum of Brianstorm, the biting sarcasm of Why'd You Only Call Me When You're High, and the obvious one-two of Dancing Shoes and I Bet You Look Good on the Dancefloor - those songs that reminded of their manic beginnings as a band.
It was a solid and slick stadium rock show let down by a sluggish start, occasional moments of filler and an all-new setlist that resembled a Monkeys jukebox stuck on random. Nothing that a few extra bananas on the backstage rider can't fix.
Arctic Monkeys
Where: Vector Arena, Auckland
When: Friday, May 2