Fans of dark comedy will love this.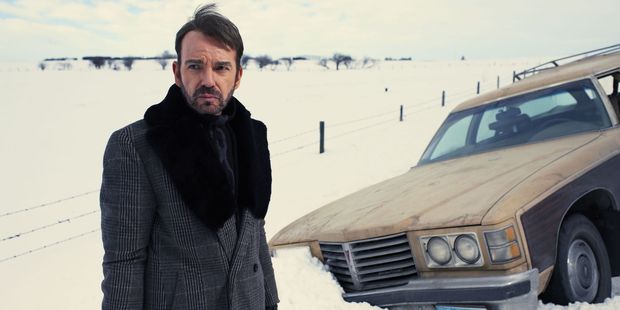 If you've seen Joel and Ethan Coen's 1996 film Fargo, you're likely to experience a distorted dose of deja vu when watching the opening episode of 10-part TV series Fargo.
Both screen works share the same snowbound Minnesota setting, populated with people whose stolid pleasantness often only partially conceals a strong passive-aggressive streak. Both are darkly comic tales involving the carnage caused by criminal acts of varying competence. Both begin with entirely fictitious claims that the story to follow is based on fact. And oh yah, you betcha, both have fun with an exaggerated take on the region's Norwegian-inflected accent.
Each also features an emasculated salesman schmuck (played by William H. Macy in the film and Martin Freeman in the series) and outlaw outsiders (Steve Buscemi and Peter Stormare in the big-screen version, Billy Bob Thornton in the small). And in Deputy Molly Solverson (impressive newcomer Allison Tolman), the TV show has an apparent analogue for the film's heroine, police chief Marge Gunderson, a role that earned Frances McDormand an Oscar.
But although the series' world is the same as the movie's, their respective tones are similar, and echoes of the older work abound in the new, the characters and plot are indeed different.
The result is you don't need to be familiar with the film to enjoy the TV show but the ride is more interesting if you are, as those echoes can convince you things are headed in a familiar direction before they suddenly take a hard left turn.
That aside, there's a buncha other darn good reasons to watch Fargo. It's beautifully shot and directed, cleverly constructed, and its cast also includes Colin Hanks and Bob Odenkirk (aka Saul the lawyer from Breaking Bad). The only real shortcoming is Freeman's accent, which slides like a car over-correcting on an icy road, but the way Freeman's put-upon nice guy shtick is used more than compensates.
As chance would have it, another series named after an American city starts this week in the same slot as Fargo, though there the similarities end. Created by Callie Khouri, an Academy Award winner for her Thelma and Louise script, Nashville stars Connie Britton as a country and western star whose career is in danger of being eclipsed by an up-and-coming Auto-Tuned singing sensation played by Hayden Panettiere (Heroes' cheerleader).
Britton's character has other issues, too, including her bankrupt husband, romantic yearnings for her lead guitarist and the manipulations of a dastardly daddy (Powers Booth) who is "always there when he needs you". In other words, there's enough soap to fill all the 10-gallon hats on display to overflowing.
That's no criticism, though - this is expertly executed and the music is best of all. Put together by T-Bone Burnett, with screen credits for the soundtracks of True Detective and O Brother, Where Art Thou?, the sensational selection of songs is almost enough to make me a country convert. With great performances, it's more than enough to lure me back to Nashville, when I'm not revisiting Fargo's chilly comic climate.
Fargo premieres Wednesday, 9.30pm, on Soho; Nashville debuts same day, same time, on TV One.