It's the photo that sent Star Wars fanboys and girls into overdrive. But who, exactly, is who? We break it down.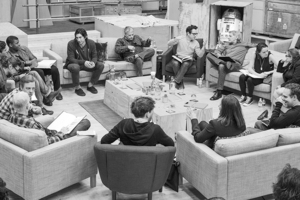 It's the photo Star Wars fans have been waiting for - director JJ Abrams with the cast of the all new Star Wars movie, Episode VII.
But who, exactly, is who?
Use our handy guide to everyone who appears in the photo below:
1. JJ Abrams (director): The man currently at the centre of the Star Wars universe, JJ Abrams has a long history of helming big budget sci-fi projects, including TV shows Lost, Fringe, Revolution and Almost Human. He's also behind two celebrated Star Trek films, and two Mission: Impossible films. Had previously said he wouldn't get involved in the Star Wars reboot but, luckily for everyone involved, changed his mind.
2. Harrison Ford (Han Solo): The man who really needs no introduction, thanks to a filmography now into its sixth decade. Yes, he's well known for his recurring role as wise-cracking adventurer Indiana Jones, but it's his role as Han Solo - and his comical relationship with his side-kick Chewbacca - that really kicked off his career.
How big his role in Episode VII will be isn't yet known.
3. Daisy Ridley: Ridley is the least known, with no Wikipedia page and only a handful of British TV credits to her name. Her first role came in 2013 on the BBC series Casualty, and she's appeared in an episode of Mr Selfridge and on Silent Witness. Ridley's role in Star Wars has been described as "a young black or mixed-race woman who may be a descendant of Jedi Knight Ben Kenobi".
4. Carrie Fisher (Princess Leia): She was the first Star Wars princess, playing Leia in the original trilogy. Since hanging up the ear-muff hairstyle, Fisher has both battled addiction and continued to work steadily in smaller roles, including When Harry Met Sally and Drop Dead Fred. She also lent her voice to the character of Angela in Family Guy.
5. Peter Mayhew (Chewbacca): Where do you go after Chewbacca? English actor Mayhew has played the role in four Star Wars films, the Star Wars Holiday Special, and on The Muppet Show. He also pulls out the suit for commercials and hospital appearances for sick kids. Apart from the big creature, Mayhew appeared in the horror film Terror.

6. Bryan Burk (producer): A producer and writer, Burke started his career working on the Emmy-nominated James Dean TV film. He's now a constant collaborator with Abrams, working on Alia, Lost, Fringe and Person of Interest, as well as the director's Star Trek Films.
7. Kathleen Kennedy (Lucasfilm president and producer): Kennedy is a true Hollywood power-player. Along with Steven Spielberg and Frank Marshall, she founded Amblin Entertainment, producing E.T., and the Jurassic Park trilogy, among other massive hits - her body of work has amassed 120 Academy Award nominations. In 2012 she became the president of Lucasfilm and the brand manager for the Star Wars franchise.
8. Domhnall Gleeson: Gleeson may be more recognisable than most of his fellow newbies, but Weasley brothers generally are. The 30-year-old Irish actor played Bill Weasley in both parts of Harry Potter and the Deathly Hallows. He is the son of actor Brendan Gleeson, who plays Alastor Moody in the series. Gleeson is also known as the simpering bandit in the Coen brothers' True Grit (2010), played opposite Rachel McAdams in 2013's About Time and appeared in 2012's Anna Karenina. He has also acted frequently on stage, earning a Tony nomination in 2006 for his performance in The Lieutenant of Inishmore.
9. Anthony Daniels (C3-PO): Yes, Daniels is, has, and always will be C3-PO. He's appeared as the golden robot in all six Star Wars feature films, and also showed his face in cameo appearances in Episodes II and III as Lieutenant Dannl Faytonni. Daniels has said it took six months to create C3-PO's look, but the voice didn't come to him until his first day on set, wearing the costume.
10. Mark Hamill (Luke Skywalker): The man who made every teenage boy in the '80s want to be the pilot of an X-wing fighter jet, Mark Hamill starred as Luke Skywalker in the first three original films. Apart from appearing at Star Wars conventions and putting on a bit of weight, he hasn't done too much since. How much of a role he'll play in Episode VII isn't known.
11. Andy Serkis: Serkis is famous for his digital shape-shifting, animation and voice work, and the British actor is known for playing Gollum in the Lord of the Rings films and the gorilla in King Kong (2005). It's widely speculated that he'll again trade on his specialty of using performance capture to craft a digital character.
12. Oscar Isaac: Isaac received plenty of attention for his acclaimed performance as a struggling folk singer in the lead role of Inside Llewyn Davis. It came after the 35-year-old had settled for supporting roles in other Hollywood films such as Russell Crowe's Robin Hood and Drive. He also played Jose Ramos-Horta in 2009's Balibo opposite Anthony LaPaglia, and features in The Bourne Legacy (2012) and Sucker Punch (2011).
13. John Boyega: Boyega is a largely unknown young British actor known for the 2011 science fiction monster movie Attack the Block, in which a teenage gang defends their south-London block from aliens. The 22-year-old has appeared in several British TV series, including Jeremy Piven's series Mr Selfridge. Rumours suggest he may play a lead role, which would make him the first black lead in the Star Wars series - James Earl Jones did do the voice of Darth Vader, but at his own request wasn't credited in the original release of either Episodes IV or V.
14. Adam Driver: Driver is a breakout star best known for playing Hannah's aloof lover Adam in HBO series Girls, but the 30-year-old has also been in a slate of films including the Coen brothers' Inside Llewyn Davis (2013) and Frances Ha (2012). He also played Washington war-room telegraph officer Samuel Beckwith in 2012 film Lincoln, and in January was added to the cast of Martin Scorsese's film Silence. For weeks rumours have swirled that Driver has been cast as a Darth Vader-like villain.
15. Lawrence Kasdan (writer): Kasdan is, perhaps, the most important man in the room. After all, the cast are there to read through his co-written script for Episode VII for the first time, and hopes are high that Kasdan can help recreate some of the magic that helped make The Empire Strikes Back and Return of the Jedi so memorable.
MISSING:
Max Von Sydow: The legendary Swedish actor has played everything from the knight in The Seventh Seal (1957), a priest in The Exorcist (1973), and Harry Haller in Steppenwolf (1974). The 85-year-old has also been in The Diving Bell and the Butterfly (2007), Rush Hour 3 (2007), Conan the Barbarian (the 1982 version), Ghostbusters II (1989) and Robin Hood (2010). He acted for the legendary director Ingmar Bergman in 11 films.
- nzherald.co.nz with AAP